For those of you who haven't yet heard of Cairo's newest food delivery app, Hellofood, we're here to tell you that it's the best one around. You can download it for free and with its user friendly interface, you can easily navigate through its wide selection of delivery options in your area.
Especially during Ramadan, Hellofood is your best friend. The last thing anyone wants to do after a long day of fasting at the office is go home and cook for iftar or try to sound like a coherent human being on the phone when placing your order. So why not just, with a few clicks and pushes, order yourself some easy, reliable delivery that will actually arrive on time?
There are several features that set Hellofood apart from its competition. Aside from offering a number of restaurants that aren't listed on other sites (including Lucille's, WienerWald and Crave) in addition to many that are, Hellofood makes our lives easier by clearly categorizing restaurants according to whether they're open or closed. Visually, this makes the process of restaurant selection much easier.
For Ramadan in particular, Hellofood is useful in that its "deals" tab takes you directly to a page listing all of the special holiday offers. At the moment of writing, in Maadi, there are special iftar deals available from nine different restaurants.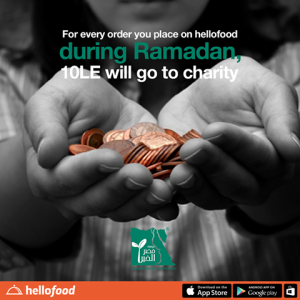 But most importantly, for every order placed during Ramadan, Hellofood will donate 10 LE to charity. So make sure to use Hellofood when you make your iftar and sohour orders this month and help give back to those in need.
WE SAID THIS: Too hungry to download the app? Head to their website at hellofood.com.eg!