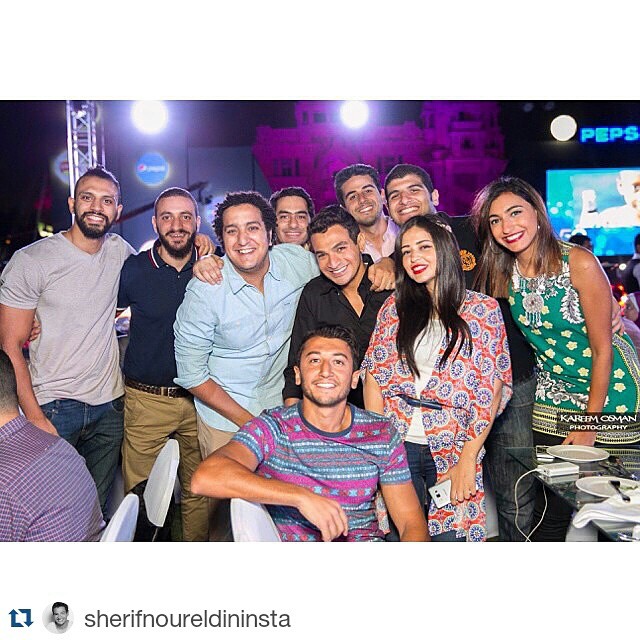 I was honored to be invited amongst a handful of Egypt's social media stars by Pepsi for their ad reveal on Wednesday night at the Baron Palace in Heliopolis, which featured a great atmosphere and a star-studded attendance. The event unveiled two projects that Pepsi are undertaking this year: their Ramadan 2015 ad campaign and their Ramadan 2015 CSR initiative.
Let's start with the first one.
Pepsi follows the trend they set for themselves with "Yalla Nkammel Lametna" – a concept they launched three years ago in which they revive our Ramadan habits and traditions – but this time, they've given us a twist.
As you can see, the production value is massive. Every time you watch this ad, you'll see a new detail that you missed before (did you notice Youness Shalabi in his famous blue T-shirt from El 3yal Kebret walking in the Boogi w Tamtam parade? I bet you didn't, go back and look for it b2a). That's what happens when you put together the budgets of the biggest brands in the region (Pepsi, Chipsy and Lays) – big production, massive attention to detail and an ad that is a pleasure to watch.
If you remember my review from last year, I said that they will continue on this platform for a while, but will eventually run out of stars. What I like about this ad is that they're finally moving away from the nostalgia of the past and more into the Ramadan of the current era. Listen closely to the lyrics; they're about leaving the past as a great memory and creating new memories of our own, then passing these on to the next generation.
Every scene of the ad also has a mix of black and white and color (even the rest of the cast, not just the stars), reflecting the commercial's theme of the old generation passing on the torch to the new. Chico, Fahmy and Hesham take over as the new Solasi Adwa2 El Masra7, and in the climax scene, Haytham Zaki has one more dance with his late father, the legendary Ahmed Zaki, which I'm sure brought tears to the eyes of many (inspired by the Jackson siblings' dance during the 2009 MTV VMAs six months after Michael Jackson passed away).
Rumor has it that there was another planned reunion with Mohamed Heniedy and the late Alaa Waley El Din (instead of hugging the trio), but that didn't go through.
The music features the legendary "Eddiha Pepsi" jingle with a bit of an upbeat remix, which adds a light, youthful angle to the ad.
The choice of Hussein El Jasmi is questionable, though. While there's a mutual relationship of love and appreciation between him and the Egyptian people (since Ba7ebbek Wa7ashteeni and Boshret Kheir), I believe that an Egyptian singer would have made more sense. But then again, if the intention is to roll this out across the MENA region, it makes sense to feature a star with credit in all markets.
While this is a great copy, there are a couple of points that could have made it better:
Enough with this platform already. I wouldn't call this a new campaign per se, more of an extension of the previous years. In 2013, they surprised us by resurrecting Fouad ElMohandes, Nelly and others. Then, they came back with more celebrities in 2014, but the impact and resonance was less.
I think this year should be the last as people are already bored. Even before the ad was released, people joked, "I wonder who they'll bring back from the dead this time." I hope the track they are moving in from now on follows the ad's theme of the old passing on the torch to the new. There isn't much left of the past you can talk about and you've already exhausted all the celebrities you can possibly get (alive and dead) over the past three years. Next year, hopefully we will see something totally new.



As with the previous copies, the nostalgia angle of the commercial alienates consumers under 20 or even under 25 years old. They have totally different habits and interests in general and specifically for Ramadan. They haven't seen Fatoota and definitely not Fawazeer 3ammo Fouad. For them, Ramadan is Konafa bel Manga and 2atayef bel Nutella.
There is a big gap between Generation Y (those born in the late 70s and early 80s) and the millennials of this age. I sometimes get surprised by the reactions to some ads that I release myself, launching with doubts and fears and getting brilliant feedback – and vice versa. Sometimes, I wait for a certain response on a line that I think would be the hit of the ad, and it passes totally unnoticed. Mind that, guys – we're getting old, these kids are totally different than us.
The Burj Khalifa of Dubai, the Kingdom Center of Riyadh along with the Gulf skyline lit up with fanoos Ramadan, with an opening sequence and end shot of Cairo by night… Huh? I know the copy ought to be regional and all, but show this to the average Joe (or 7anafi) on the street and he probably wouldn't know what to make of it.
On the flipside, airing a totally Egyptian, insight-driven copy wouldn't score too well with the Gulf audience, even if you inject it with an Emarati singer and a Saudi football player (Jamal Bajandouh). Above, I question if the ad works for Egyptian youth, let alone Saudi or Emarati youth who probably wouldn't recognize Haytham Zaki walking down the street (or the mall, for that matter).
I believe the ad falls a bit in between, not too Egyptian nor too Gulf. I hope it scores well in both markets.
The copy is great, but a bit hollow in terms of business proposition, if you ask me. It contains little consumption or integration of any PepsiCo product (except for the jingle), so if you mute the sound you probably wouldn't know it's a Pepsi ad. Even so, why did Chipsy chip in for this, anyway? They didn't have their smiley bags nor even a logo in it (except for a one-second appearance on the family coffee table in the very beginning).
Also, the copy is too long, even by this year's standards. Not even the PepsiCo budgets can accommodate running a 2:30 minute-long ad for a full month, not to mention copy wear out. People will get bored of this rather quickly and the cut-down version won't serve as a decent replacement (as the concept of "Nekammel Lammetna" is nearly worn out itself).
The only way out of this is a smart activation linking TV to on ground and digital that allows people to engage with the campaign away from the TVC. But I believe the Pepsi people are too smart not to have this ready in the first place. We'll see.
Midway through the lyrics, Jasmi says, "De7ka fel telephone, mesh zay elli tshofha el 3oyoon" – touch khafeefa with Vodafone (touchat from a lot of people this year, ya 7aram), who were criticized for being too Pepsi-ish?
I'm sure this is sheer coincidence though. Pepsi and Vodafone are on very good terms, from the days of the "biggest offer in Egypt".
Moving on to the second half of their Ramadan proposition, their Liter of Light initiative.
Being a global corporation gives you weight on many fronts, two of which have come in handy quite nicely for this initiative: giving back to the community you operate in and knowledge sharing across markets.
This is exactly what PepsiCo did this year. After the great success of their Liter of Light initiative in the Philippines four years ago, they brought this brilliant initiative into Egypt by lighting an underprivileged village in Assyuit. Pepsi has always been an active citizen in the Egyptian CSR community and this project merges well-doing with technology.
This year's initiative was was carried out with the founder of the Liter of Light initiative (Illac Diaz) and in collaboration with Masr El Kheir, Sunutions startup and The Dean of Electronics in Arab Academy for Maritime Sciences.
To sum up: two thumbs up for Pepsi – one for "Takmeel Lammetna" (for the last time I hope) and another for a smart way to light up Egyptian houses.
Now Pepsi has spoken; Coke, your move.
WE SAID THIS: Don't miss RamaScoops: The Snacking Edition.