Three years ago, the Rana Plaza building in Bangladesh collapsed killing 1,133 people and leaving 2,500 people injured. With the gigantic number of losses, it was highlighted as the fourth largest industrial disaster in history.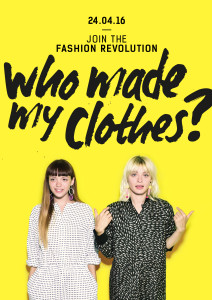 There were five clothing factories in Rana Plaza, dedicated to manufacture clothes for the brands of the western market, most of which required their employees to work long hours in unsafe environments.
After the Rana Plaza collapsed in 2013, the Fashion Revolution was born. People from all over the world have come together to revolt against the circumstances that lead to these disasters and promotes the use of eco-friendly resources.
The Fashion Revolution is a movement calling for a better, safer, cleaner, more transparent fashion industry. It encourages consumers to ask brands #whomademyclothes during Fashion Revolution Week from April 18-24 and to question where their clothes came from or how they were made. More than 80 countries around the world will be joining this movement, with well-known influencers and celebrities and this year, Egypt will participate in the Fashion Revolution for the first time!
So how can we be part of the Fashion Revolution?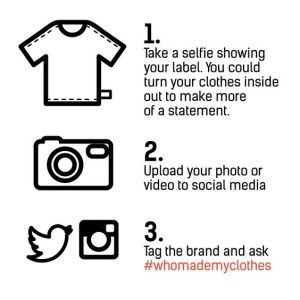 If you're a retailer, you can post on your social media explaining how your products are made and what the working conditions of the people who make them are like to ensure that the product was a result of a safe work environment. Tag @fash_rev_egypt and @upfuse and they'll repost, helping you gain international recognition that your products meet ethical standards.
As a consumer, you are encouraged to ask brands #WhoMadeMyclothes and get the story behind the manufacturing process. Take a picture of your label, post it on social media and tag the brand in question.
And that's not it: To understand more about why the Fashion Revolution started and how much of a difference it makes, Up-Fuse, an eco-friendly design studio, is holding an event on the last day of Fashion Revolution Week, April 24th, which features speakers from the fashion industry who will talk about ethical and conscious fashion and how to raise awareness about the importance of this movement.
WE SAID THIS: To find out more about the Fashion Revolution Movement in Egypt, like their Facebook page here.