We Sat Down With Hisham Kharma for a Q&A Session About His Latest Album, Kun!
Via Aly Hegazy
Earlier this month, Egyptian Music Composer and Producer Hisham Kharma dropped two artistic bombs at once. Kharma unveiled his latest music video for his song Kun, which his new album, that was released a couple of days later, was named after.
Last Saturday, the 13th of April, Kharma had his signing session and press conference for his new album at Cairo Festival City Mall's Virgin Megastore. After getting ourselves a signed album, we had to take the opportunity and sit down with the artist for a special interview.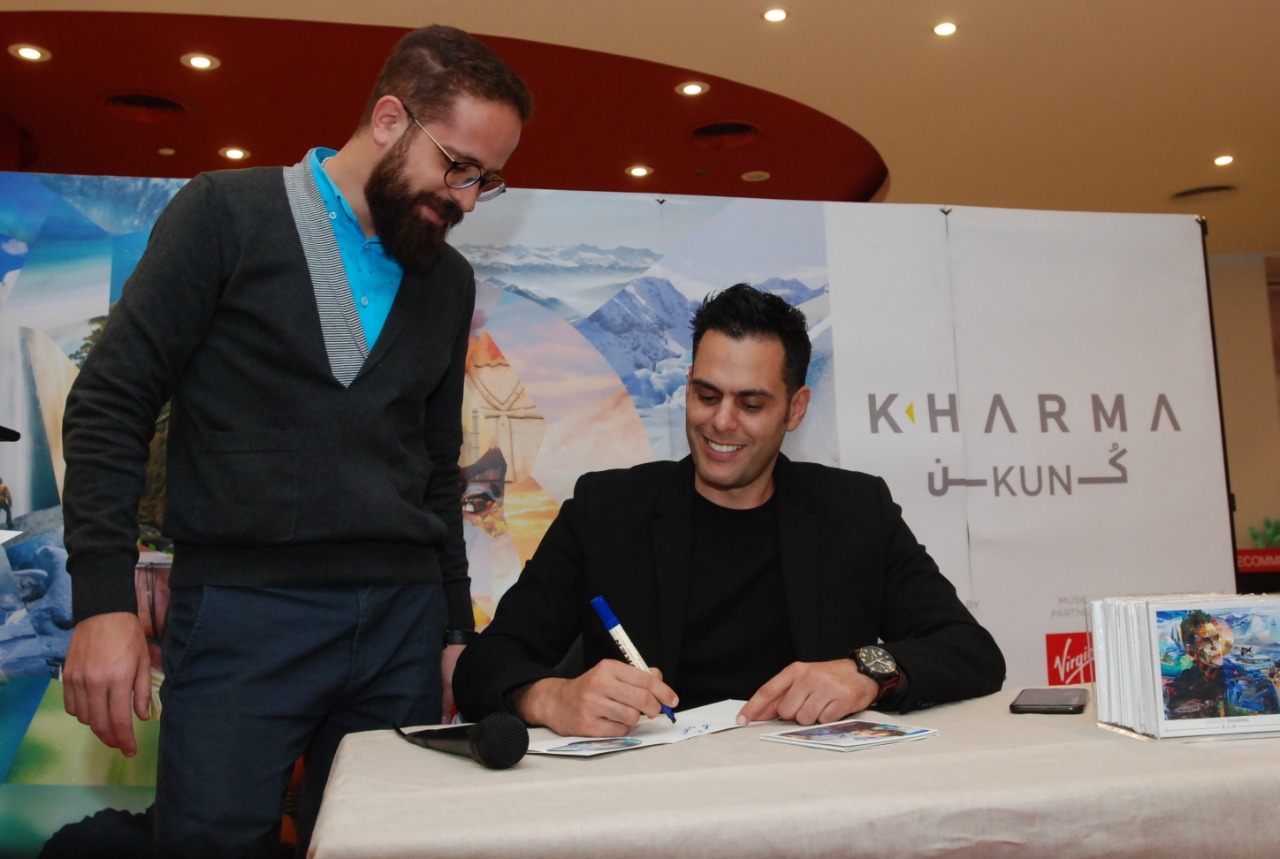 Tell us more about the journey that led up to Kun from Al-Yaqeen.
My Journey from Al-Yaqeen to Kun was simply a journey of searching for my own sounds and musical expression. I have been experimenting the past three years with different sounds, exploring different genres and cultures and Kun is an album that I am truly happy with. It reflects the mindset I'm embracing right now in terms of melodies, sounds, and orchestration.
What was your source of inspiration for this album?
My sources of inspiration are never the same, but I would say the main drive is the fact that I can connect with other people with my music regardless of their culture or where they come from. And I genuinely enjoy it at our concerts when I feel I'm connecting with the audience through music and intangible emotions.
Why did you choose Iceland in particular as the filming
location for Kun's music video?
Iceland came as a pure and beautiful coincidence. I've always wanted to shoot in beautiful and unconventional places; it was always in my plan. One day, Ahmed Kadry, the Director of the music video, who also happens to be a very dear and close friend, called me and told me that he is going to Iceland to shoot some video content for his reel. He asked me why not tag along and shoot a music video for the album; I did not hesitate!
What is the closest song of all to your heart?
Every song has a certain connection, but I would say Kun is very close now because I fell in love with Iceland and how beautiful and magical it is as a country. And ever since our road trip there, we've always played it in the car as we drove through to get in the mood; it is now associated with that trip so it reminds me of it.
Tell us more about the artwork and the message behind it.
Kun is 'be'; be who you are and what you love, and I love traveling, cultures, colors, adventures, and other unrelated stuff like Free Willy! This explains why there's a whale in the visual! So, the Designer, Fady Youssef, who is a brilliant Egyptian designer living abroad whom I've worked with him for ages, and I agreed on the visual treatment. I basically sent him keywords of all the stuff that I like and the things that inspire me, as well as the music, and he brilliantly translated those into that design.
How do you feel your music has evolved from the very first album to this point?
Of course, it has evolved on so many levels. First, the more you evolve as a person, your music or art evolves for sure. Also, technically/technologically, I've been studying and experimenting with new sounds and tools that get evolved by the day. This, of course, helps a lot in coming up with new stuff.