Intro
By Farida Abboud
What does summer mean to us, you ask? Summer is why we willingly drive for miles every weekend to get to away from our daily routine, responsibilities, the unbearable Cairo traffic, the weather, and everything unpleasant. Our days spent by the seaside call for calming hues inspired by the shoreline, capturing the spirit of the summer with its positive vibes in our homes, a place where we can relax and unwind; which is why we are giving you this style guide.
Bleu et Blanc, Without the Rouge.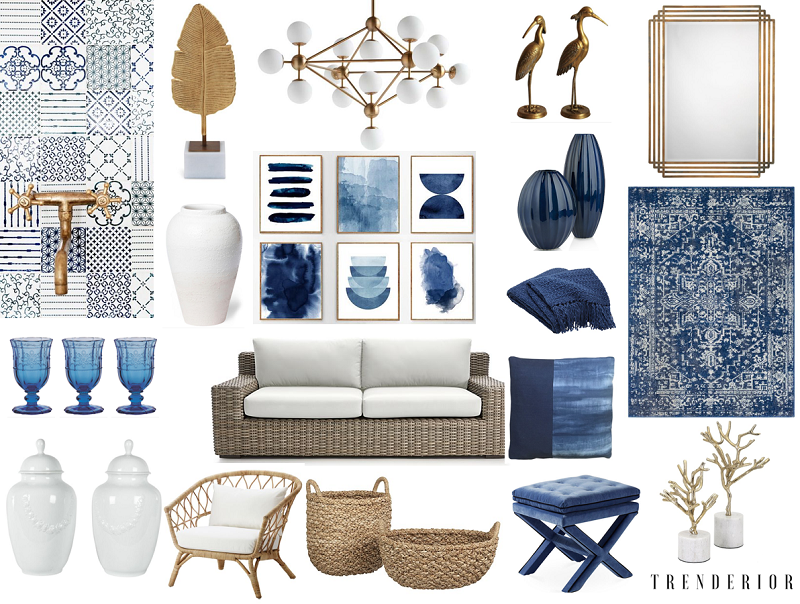 This classic color combo can never go out of style. Whichever shade you use, blue is always a great choice for a summerhouse. For this color palette, we chose to mix royal and navy blue, with white, brass and wood; giving off the at-ease, natural nautical feel and will make the house look simple and fresh.
Shabby Chic
Shabby Chic is all about aged, worn and distressed furniture, mixing vintage and luxury. Your color palette can range from calm pastels to white and cream tones, and distressed wood is your star. You can start with a couple of pieces that stand out, and work around them. This Mint Green gives off an authentic Shabby Chic look with the ease of the beach life.
A Boho-Inspired Summer House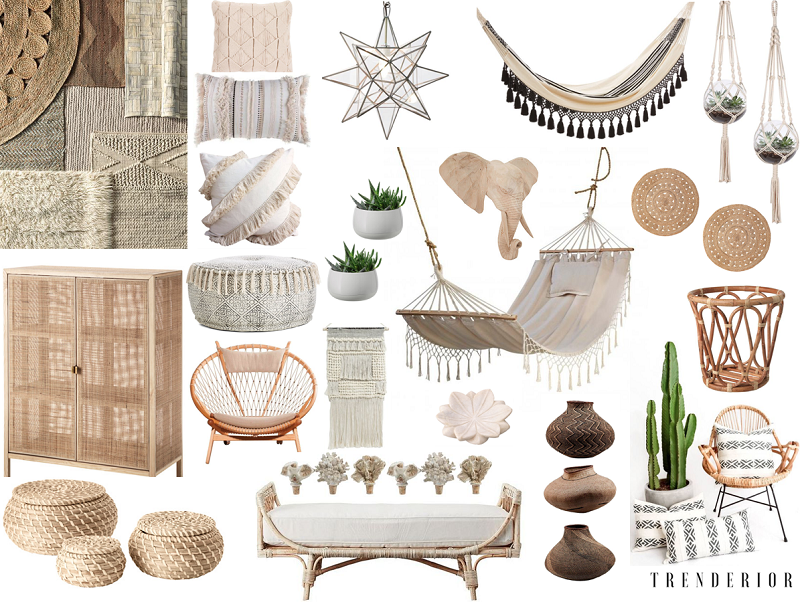 Neutral hues + rich textures + earthy plants = laid-back vibes.
The boho-inspired decor is all about natural and earthy feels, mixed prints, and lots and lots of leaves – hanging plants, tiny pots, you name it.
Feel free to go over the top with the colors to achieve this style, but we prefer neutral hues for this look.
Modern Coastal
It's light. It's breezy. It is simple, and it is elegant. The key to this design is to choose a calming color palette; the kind of palette that will give you an instant feel of relaxation the second you walk into the house. Think sandy-tans, off-whites, and pastel colors such as aquamarine. Think minimal design and modern soft textures. You want to add in modern pieces, that are not so sharp and bold, but more relaxing and unwinding; such as decorative lanterns, throw pillows, woven baskets, oversized shells, indoor plants, and a statement chandelier.
A Modern Psychedelic Blast of Color
If you are not a fan of calming and soft hues, this one is for you. Indulge in bold colors and unconventional pieces. Go all out with bright artwork, colorful throw pillows, over the top decorative pieces, bright aesthetic flowers, and brass pieces to give off the air of luxury.
WE SAID THIS: Make sure you visit Trenderior Instagram account for more inspiration!