by Mervat Mohsen
It was a night to remember when Egyptian Soprano Fatma Said belted out classic hits in several languages to a large audience at the state-of-the-art Grand Egyptian Museum on Friday night, Jan. 20. The acclaimed soprano, the United Philharmonic Orchestra under the brilliant direction of Maestro Nader Abbassi kept the audience breathless with anticipation at the mastery of the trio in the hall of the fanciest Museum the world would ever know for some time. King Ramsis II himself was on hand to receive hundreds of guests from Egypt and the world, representing all walks of life and skills in almost every domain.
While singing some of the world's most popular hits, Fatma was clad in a long golden strapless dress, coiffed like a queen from ancient Egypt and accessorized with a poignant green stoned ring that indelibly caught two large screens. She sang with ease, at her home in Egypt, flanked by ancestors and an appreciative gathering. Some of the songs included "Ah-je veux vivre" from Romeo et Juliette by Charles Gounod (1818-1893), "TU che di gel sei cinta" from Turandot by Giacomo Puccini (1858-1924) and "Una voce poco fa" from II Barbiere Di Siviglia by Gioachino Rossini (1792-1868).
The opera singer enthralled the audience until the very end. During the second part of the show, she explained to the vastly entertained spectators that she planned to give a new twist to an old song by taking it back to its vintage roots. She rightly gave a spontaneous edge to the piece. The song was called "Masr Heyya Ommi" or " My Mother is Egypt", composed by Kamal el Tawwil and delivered by Egypt's famed comedian Fouad el Mohandes in a movie, Viva Zalata (1976). The singer laughingly tripped while dancing and singing to the tune and was quickly helped up by the vigilant conductor Nader Abbassi to continue the song to a standing ovation by the entire crowd.
Fatma carried herself with ease and professionalism. The published program contained a few words by Fatma Said, dedicating her performance to her now-deceased grandmother Tata (1943-2023). The final song was Francesco Sartori's "Time to Say Goodbye" (Con te partiro) which she aptly explained was addressed to her grandmother who never missed a performance, but, for the first time, was destined to skip Fatma's historic performance at the Museum. The clique who attended the evening's hits were virally sending titbits from Fatma's passionate performance to friends and families around the globe. Before bidding both her matron and the audience goodbye with tears almost brimming, Fatma told her audience-turned-purring buddies, that her grandmother's chair was empty tonight but that she knew she was still with her, watching and encouraging her to prod on. The artist, an avid supporter of many charitable causes and who received an honorary award from Egypt's National Council for Women, was not one to miss a cheer to all women in "AD Ay Sa'ab" (El Choclo), composed by Angel Villoldo (1861-1919), lead arranger Jochen Neuffer, arranged by Vladimir Nikolov, text by Tamer Hussein.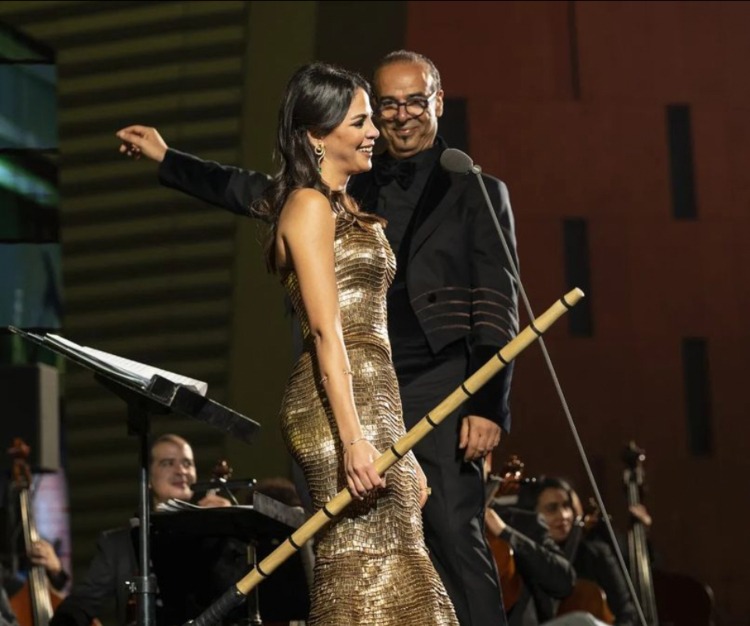 Fatma Said was elegantly positioned along with the orchestra to face an awed audience and to simultaneously address the statue of Ramesses II, a little to her right. The 3200-year-old figure was discovered in 1820 by Giovanni Battista Caviglia in the capital of ancient Egypt, Memphis, near Cairo, weighing 83 tons and made of red granite. It was almost funny to think that good old Ramesses II, the king of kings, was destined to be entertained with power, women and song both in life and in this afterlife to the best of classic music and song. I guessed he was born to stay lucky.
WE SAID THIS: Don't Miss…Egyptian Opera Singer Fatma Said's Journey To Success