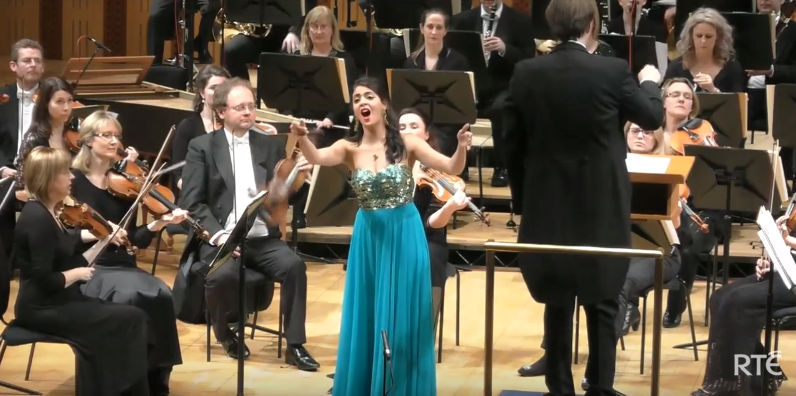 To Egypt and to the world today, she's the 2016 Winner of the 8th Veronica Dunne International Singing Competition and the first Egyptian/Arab Soprano to be accepted at La Scala Academy. To us, her family, she's "Tamtam" the talented, beautiful, young lady who we have had the privilege of seeing grow up and witnessing her path to success, from the German nursery rhyme "Alle Meine Entchen" to Celine Dion's "My Heart Will Go On" to Charles Gounod's Romeo and Juliet aria "Je Veux Vivre" — a progression few singers have been able to make.
Talent, family support, overcoming obstacles, hard work and focus are the keys to the success she has earned today. This combination is true for anyone who thrives and is especially true for Fatma Said.
Early on, her parents included music in her extra-curricular activities and her school the Deutsche Schulz Der Borromarinnen Kairo (DSB-Cairo) supported these efforts with a formal academic curriculum. Then, at the tender age of 12, her school music teacher noticed her potential and introduced her to soprano Dr. Neveen Allouba. She joined Allouba's Vocal Studio and debuted at the small hall of the Cairo Opera House at just 14 years old. Unbeknownst to us all, this would be the first of many more stages that would be graced by her voice and presence.
Since then, Fatma has performed concerts all over the world, including Germany, Austria, France, Spain, Switzerland, Finland, Italy, Turkey, Greece, Oman and most recently Ireland, where she won the international competition against 180 singers from all over the world.
Living alone abroad, pursuing a non-traditional and highly competitive career — one that is physically and mentally exhausting — are just a few of the many hurdles she has had to overcome at a very young age. However, her love of music, enthusiasm, positive outlook and energy combine to keep her determined to achieve her dream.
For us as a family, one of her achievements that had a great impact on us was when she won the Grand Prix in the Giulio Perotti International Opera Competition in Germany on Feb. 11, 2011 — this was the same day that Mubarak finally stepped down. As a family we celebrated, and it felt like a double win for Egypt.
While each of her many concerts and productions are significant, what stands out was when she sang with internationally-renowned tenor Juan Diego Florez in Palma de Majorca, Spain last summer and in Geneva, Switzerland in 2014 when she performed with him at the UN Culture for Peace Concert. Part of her performance was dedicated to Egypt and she sang Mohamed Abdelwahab's "Sout Elgamaheer" (Voice of the People); she transformed the famous Arabic song into a magical operatic performance.
Her dream is to be invited to sing at the biggest opera houses of the world, especially New York's Metropolitan Opera House, which I am sure she will accomplish.
May she be an inspiration to everyone young and old that no dream isn't worth pursuing and a reminder that Egypt needs us to keep dreaming and achieving.
Mabrouk to Fatma and to Egypt.
WE SAID THIS: Don't miss 8 Egyptian Women Who Are Kicking Butt Abroad.