This Once-in-a-Lifetime Offer Allows You to Buy Your New Home and Forget About Your Utility Bills!
When you're looking for a new place to call home, the first thing you should be looking for is a practical space that fits your needs, a place where you can add your own personal touch. But that's not all; the location of your new home is just as important! Where your home is situated needs to have what it takes to make your life easier.
Another important factor when choosing your dream home is how much are you willing to invest and for how long. This is where offers like Alburouj's come in handy, so keep reading to find out how!
Alburouj is now offering a "No-Utility-Bills" deal and we couldn't be more excited! The offer will allow you to buy your fully finished apartment at Orion, Alburouj's latest phase, without paying electricity, water and gas bills. Talk about convenience; this is a dream come true!
Unit prices start at 1.2 M, which you can pay using their 10-year payment plan; a 5% down payment and monthly installments that start at only 8,000 EGP mean you have no excuses.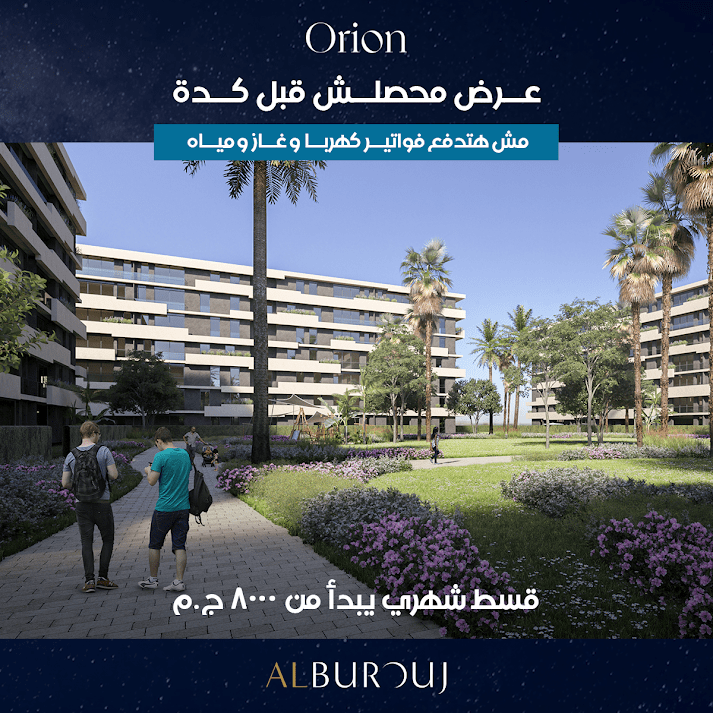 When it comes to controlling your finances, it's clear that Alburouj's offer is one of a kind that can't be ignored, with a variety of options to satisfy all tastes. And when it comes to the amenities that will ensure your comfort convenience, Alburouj really doesn't fall short.
Bringing you the best of both worlds, East Cairo's Alburouj offers a wide range of facilities that you can expect to find in the city of your dreams, as well as the tranquility and beautiful sceneries of your favorite retreat. Stretched across 1200 acres, Alburouj features various phases that cater to every need, with a breathtaking 72-acre Orchard Park and a list of amenities that will match all your expectations.
Now that we mentioned amenities, Alburouj knows exactly what a healthy community needs. Housing El Sawy Culture Wheel, which hosts a round of entertaining activities for all family members, as well as the prestigious CADMUS School that offers high-quality education, everything you and your family will need is right around the corner.
To top it all off, the Alburouj Medical District features various clinics with professional healthcare services, while Alburouj's Smart Village East is set to become East Cairo's ultimate business destination with its top-notch facilities and practical spaces.
If you're willing to take a step towards your dream home, look no further than Alburouj! For more information, call 19333, or check out Alburouj's website.
WE SAID THIS: An offer like no other! Buy your home and forget about your utility bills!