Considered to be the crown jewel of Makadi Bay, SUNRISE Tucana Resort is a sanctuary like no other; here visitors can get away from the city's hubbub and indulge in a number of soulful, luxurious experiences.
With an artistic coastal design and unrivaled, exquisite facilities and amenities, SUNRISE Tucana Resort offers a spectacular blend of 256 upscale rooms and suites, as well as a variety of lodging alternatives to meet the demands of the guests.
For its large selection of restaurants and bars that follow the "Premium All-Inclusive" model, it is a haven for all gastronomes. The resort offers customers a variety of additional benefits, including a sparkling wine welcome, daily mini-bar refills, and premium, imported alcohol at certain outlets.
Located 37km (40 min) to Hurghada Centre and 32km(33 min) to Hurghada International Airport, the resort features a distinctive location.
Services Provided
The magnificent resort provides free WiFi throughout the property, multilingual staff, concierge service, laundry service, a mini-market, and a beauty salon/barbershop. Not only that, but the spectacular rooms also come with a variety of views including pool, garden, and sea views, as well as partial sea views.
The list of amenities goes on with unique luxury food and beverage concepts that include a welcoming reception with sparkling wine, fresh juice, macarons, and chocolate. This is a 24-hour service that includes alcoholic and non-alcoholic beverages. In addition, for breakfast, lunch, and dinner, SUNRISE Tucana Resort provides four luxury à la Carte restaurants.
The Executive Jacuzzi Suite with Sea View and 2 Bedrooms: 1 with King Size Bed & 1 with Twin Beds, 2 Bathrooms with Shower, Living Room, private Jacuzzi, and a Balcony.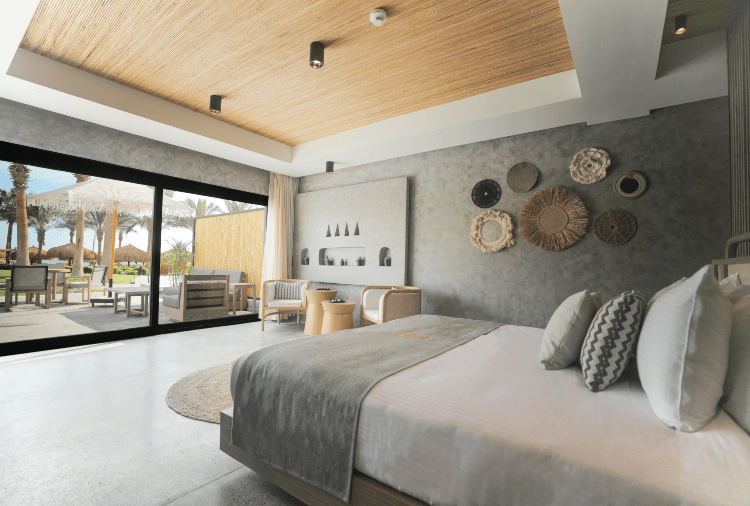 The Lexi suite, on the other hand, includes a King Size bed or twin beds, a bathroom with a shower, a lounge space, and a spacious patio with access to the common Swim-Up pool.
The Junior Swim-Up Suite comes with a Pool View, Bedroom with King Size Bed or Twin Beds, Bathroom with Shower, Seating Area, Terrace with access to shared Swim-Up Pool.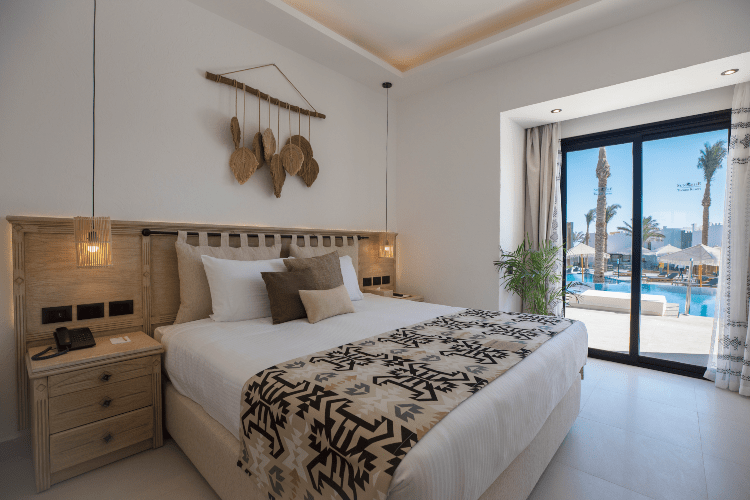 Dining At SUNRISE Tucana
Lucina restaurant (International à la carte), Gaia restaurant (Italian à la carte), Yades restaurant (Greek à la carte), and Felucca restaurant (Seafood à la carte) are the four main restaurants. There's also the Royal Lounge, which serves continental breakfast, snacks, and lunch.
Recreation & Leisure Facilities
SUNRISE Tucana Resort offers a variety of recreational opportunities that encourage fun and relaxation in a unique style. This includes an aqua park, a heated oasis pool in the winter, an infinity pool, a royal pool for adults only that will also be heated in the winter, and a spectacular beach!
Tennis courts, football fields, table tennis, darts, and body & soul sports will also be available (such as Yoga and Thai Chi). Mini golf, archery, beach volleyball, basketball, gym, chess field, and Boccia are just a few of the activities available at SUNRISE Tucana Resort, the crown jewel of Makadi Bay.
Swimming competitions, boat tours, parasailing, scuba diving, snorkeling, kayaking, and aqua aerobics are just a few of the water activities available as well.
Entertainment
The Tucana Kids Club offers a diverse selection of activities, including sports, arts and crafts, painting, cooking, movie evenings, and more. Babysitting services are also provided for an additional fee.
Daily activities and evening entertainment with live music are also available at Makadi Bay's crown jewel. A health club is also offered, with a fee-based sauna, massage, jacuzzi, and steam services.
Services & Privileges Valid for Royal Club Members & Suite Bookers
Discover the best that the jewel of Makadi Bay has to offer in terms of luxury, quality, and comfort. Being a Royal Club guest elevates your holiday from a terrific time off to the most enjoyable experience; it is more pleasant than you could ever imagine, thanks to exclusive facilities, access, and service.
Royal Limousine Service and Express Check-In and Check-Out, Royal Club Lounge & Manager, royal Dining, 24-hour concierge service, Business Center Services, complimentary tennis court reservation, special Credit vouchers for Spa, Beauty Center, and Laundry Services, and a "Happy Hour" from 17:00 to 18:00 are just a few of the available amenities.
Extra services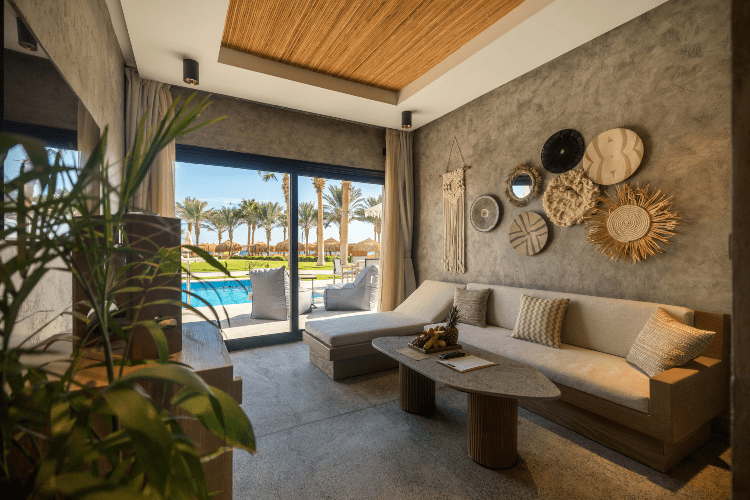 SUNRISE Tucana Resort has a variety of venues available for your occasion. With their open beachside, poolside, and garden spaces are ready to host your meeting, conference, wedding, or any other type of event. They also offer a well-equipped conference room with a screen, wireless microphone, TV, computer, high-speed internet connection, video capability, data display, and flip chart, which can be customized to meet the needs of your event.
WE SAID THIS: The Makadi Bay jewel is here to provide you with all of the exclusive and exquisite experiences you've been craving!