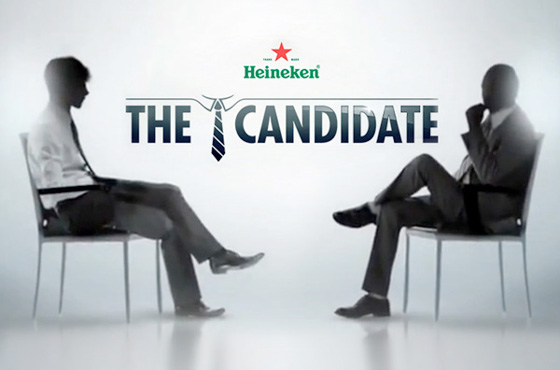 It is always nice when a brand actually listens to its fans and gives them a chance to have a say in their decision making process, even if it is as a small as selecting the next Candidate for an internship position.
Heineken really raised the bar of creativity when they launched their Candidate campaign. The idea of Selecting a candidate for an intern position is really hard when thousands had applied. So they decided to be creative " If only other brands can do the same!"
After secretly filming their interviews. The young job-seekers were forced to respond to extraordinary circumstances, i.e. walking around holding the boss's hand; reviving him after he 'blacks-out' during the interview; and, finally, helping rescue a stranded Heineken employee from the roof after a 'fire-alert'. How they responded spontaneously to each situation helped determine who was best suited for a job at Heineken's HQ in Amsterdam
The winner, Guy Luchting, has secured a job at HEINEKEN'S HQ in Amsterdam. His job includes accompanying the UEFA Champion's League Trophy as it makes it way around the world, prior to arriving at Wembley for the Final on May 25th.
"I didn't know what was happening in the job interview. First they take my hand and I think 'Hey, that's friendly', and then suddenly, the interviewer falls on the floor, and the next thing I am outside the building hearing the fire alarm! It was all quite crazy and unexpected. Having been selected, I am extremely excited to start this job and experience the UEFA Champions League" says Guy
According to Cyril Charzat, Global Brand Director at HEINEKEN,"We want to extend our sincerest Congrats to Guy, he really demonstrated the qualities we value at HEINEKEN – creativity, spontaneity and passion. With The Candidate, we want to encourage young adults to get out of their comfort zone and through innovation of thought and skill they can experience success – as did Guy."
Check out the video of this amazing campaign.