Many mock the common saying "The Egyptian child is the smartest," but, upon seeing the countless examples of this living proof, some might reconsider their doubts. Among the many leading examples that many from all over the world might look up to, is the Egyptian student Yasmine Yehia Mustafa. Her impressive achievements, considering her skills from a young age, as well as the challenging circumstances she grew up in, are just part of her story. Her unlimited potential has enabled her to go beyond the scope of our planet, deep into the abyss of outer space.
Back in 2015, Yasmine landed first place globally in the "Intel Science and Engineering Competition," in the Earth and Environmental Sciences category, with her project entitled "The Potential Strength of Rice Straw." The competition consisted of 1,700 contestants from more than 87 countries, and the committee was composed of several Nobel Prize winning scientists, making Yasmine the only Arab girl to receive such an award since its launch many years ago.
Moreover, NASA has also named a group of asteroids "MOUSTAFA 31910," after her family name, in a permanent gesture of declaring and appreciating her ongoing efforts within the field of Earth and Environmental Sciences. Not to mention that Yasmine was only 17 years old during that time.
Going back to the beginning of the story, Yasmine, (now 23 years old), hails from a simple family in the village of Kafr Al-Manazila, in Damietta Governorate. She lost her father when she was young, yet "he was capable to implant ambition and self reliance within her" as she stated. Yasmine was able to excel, topping her class throughout her school years, becoming fond of scientific researches in the process. "When I joined the Schools of Outstanding Students in Science and Technology in Maadi, my journey began with scientific research, and currently I study petroleum engineering at the Middle East Technical University in Northern Cyprus," she said.
Yasmin's project included proposed methods of cleaning and disinfecting water sources first, then converting them to solve the problem of electricity, and reducing air pollution. In her project, she used a biological treatment to help purify and heat water by burning rice straw, and her scientific research ultimately is to increase biodiesel fuel in generating electricity.
The achievements don't stop there though, as Heinemann, a publishing house, contacted her three years ago with a keen interest for her in creating a book, and include details of her scientific career and her story. The book was recently printed in a narrative context, which required an episode of discussions between the company and Yasmine, as well as great effort from "drafts," in order for the book to be concise, articulate, and simply..great. Over one million copies were printed and distributed to schools and universities, as a unique model for students to learn from, inspiring younger generations along the way.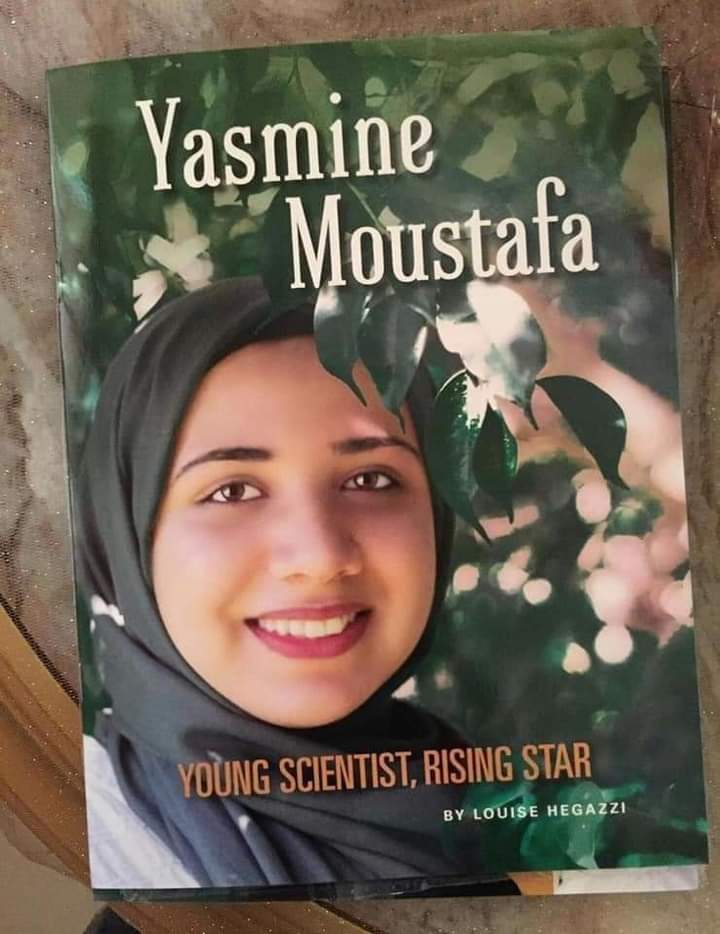 Aside from all the achievements we've been trying to compile in the previous paragraphs, what is particularly impressive about Yasmine Mustafa's story, was how she decided to channel her potential, jumping through all obstacles regardless of her circumstances, and showing sheer persistence in pursuing her dream. As Yasmine once said in an interview, "leaving the village was difficult, but my family was very supportive (especially my mother), who didn't tell me that I'm a young girl who can't travel on her own, but rather encouraged me to travel to America to join the competition."
She continued by saying, "all those who blamed me in the beginning are now proud of me, and are asking me to sit with their children so I can teach them the steps of scientific research." Breaking the norms and traditions can be extremely risky and challenging, but when one is adamant on pursuing their dreams under any cost, they can do wonders. Those who were once judging them, only dream to follow their lead in the end!
WE SAID THIS: Thank you Yasmine for setting the benchmark, the entire Arab region rejoices with you!