We had the pleasure of being invited to Soma Bay to cover The Kite Surfing International Competition of 2013 and we have to admit that it was just the perfect weekend for us!
The competition was fantastic ,the weather was great, and it was all around great to see some of the world's most talented athletes.
We got to sit with the winner John Heineken, last years world champion; get his insight on the sport, what he thinks of Soma Bay, and is he really related to the Heineken family?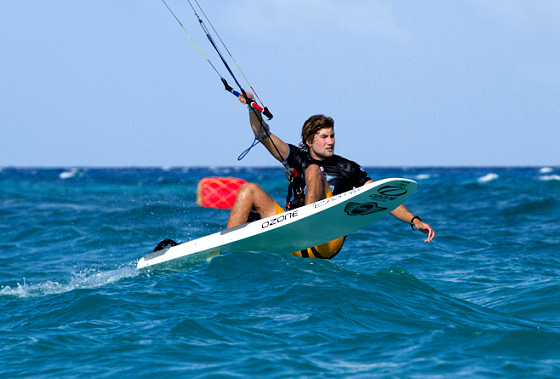 1-Tell us a little about yourself, how did you get into Kite Surfing?
I grew up sailing competitively and racing high performance boats alongside surfing which led me to pick up kite boarding. Once I found out kite racing existed it was kind of a natural progression for me to put the two together. You know it is the most high performance form of sailing out there. So kite racing was sort of a natural progression for me.
2- Do you participate in Free Style competitions?
I don't really do free style competitions, I really prefer wave riding.
3-Is this your first time in Egypt or you have you visited before?
This is my first time in Egypt
4-How did you find the location in terms of kite surfing and in the term of personal Enjoyment?
It is great for everything, we have been taken care of by the organizers on all levels. The kiting conditions have been amazing so really it has been one of the best events I have been to in the last couple of years.
5-Who out of the younger generation of Kite surfers should we keep an eye out for?
All of them. I think this has been one of the most competitive events of the year and last year. Anyone in the top 10 is a competitor, I don't want to name individuals' names because you should watch out for all of them.
6- How is Some bay compared to back home?
It is great for me actually because I come from a very windy city" San Fransisco" so this being another windy spot made me feel comfortable here. I was happy, we actually got to race with all our kites the smallest and the biggest and we got the whole range of wind conditions. But we definitely got enough windy conditions to make me happy.
7-What are your other favorite kite spots, apart from here of course?
I have to say San Fransisco, my home town. There are so many places to ride, that's where I train all the time and I love it.
8-How long have you been racing?
Four years or so…
9-They say it is an easy sport to pick up, is that true?
It really is. There is a lot of power out there to harness, but once you learn how to, it is a lot of fun.
10-You are competing in the world champion as well?
I will be yes.
11- And you are the world Champion of Last year?
Yes
12-We hear that kite surfing is possibly going to become an Olympic sport, is that true?
I believe that it will be in the future. It was very close to getting into the 2016 games and still has a chance but I think in 2020 it will definitely be in.
13- What advice would you give to someone who has never picked up a water sport and is interested in kite surfing?
Just go somewhere like Soma Bay. This is an amazing spot. Get a lesson and once you learn from somebody who really knows what they are doing you are going to be really hooked.
14- Every one talks about how addictive it is, although it's not a team sport, what do you think?

Yeah it is an individual sport we are on the water racing by ourselves but if you don't go train with good people and develop a group mentality you are not going to do well overall. It really is really a group sport in that prospective you have to have a good mentality and work with other people to do well.
15- are you related to Heineken?
Destinlly I wish closer!