Samia Suluhu Sworn In As Tanzania's First Female Muslim President, And What This Means For The Arab World
Samia Suluhu, born on January 27th, 1960, in the Sultanate of Zanzibar, has just been sworn in as Tanzania's president, making her the first female Muslim president of the Eastern African nation. Suluhu was sworn in as president after the nation's previous leader, John Magufuli, suddenly died to a heart condition that he had been battling with for almost a decade. Suluhu, already serving as Tanzania's vice president, ultimately rose to the sudden task and the responsibilities bound with her sudden transition, cementing a new block in Tanzanian history. Her ascent to power makes it the first time in Tanzanian history in which a leader outside of elections was replaced. We've compiled 10 facts about this inspiring leader, who serves as a beacon of hope for not only Tanzania, but for both men and women alike!
Deeply involved in politics since 2000
Suluhu was elected as a member for the House of Representatives in 2000, only to then be appointed as Minister by Zanzibar's previous President, Amani Abeid Karumi. In addition, Suluhu at this time was the only high-ranking female member of the cabinet.
Became a member for the National Assembly in 2010
Just 10 years after her entry into politics, Samia Suluhu was voted as the MP for Makunduchi constituency, which ultimately served as her first entry point in national electoral politics.
Joined the cabinet in 2014
Suluhu was appointed as the Minister for State of the Union related affairs for the vice president's office in 2014. However, she was also chosen to serve as the vice chairperson for the Constitutional Assembly of Tanzania, who are responsible for formulating and preparing the nation's constitution.
Second female vice-president in the East African region
Ever since President Magufuli won the General elections in 2015, Suluhu from that time onwards was officially the second female vice-president within the East African region. Uganda's Specioza Naigaga Wandira was the first female vice-president in the region in the mid 90's.
Her daughter follows in her footsteps
Mwanu Hafidh Ameir, Suluhu's daughter, is the only one from her children to pursue a political career and share the same ambitions from the Tanzanian president's children, who also has three sons. Mwanu currently serves as a member for Zanzibar's House of Representatives.
Holds a masters degree in community economic development
Samia Suluhu, who studied statistics at the Zanzibar Institute of Financial Administration, also holds a masters degree in community economic development. The degree was part of a joint program between the Open University of Tanzania and the Southern New Hampshire University in the USA.
First Zanzibari to hold the office of vice president in Tanzania
As if her previous titles and continuous rising in the ranks weren't enough, Suluhu, originally from Zanzibar, was both the first female vice-president of Tanzania, as well as the first person from Zanzibar to hold office of vice president in the East African nation.
Second female president in East Africa
Ethiopia's Sahle-Work Zewde earned the title of first female president in East Africa, and Suluhu's recent transition as president of Tanzania makes her the second in the region!
Previously worked as a clerk
After graduating from university, Suluhu landed a job as a clerk in the Ministry of Planning and Development. In 1992, she was also briefly involved with a project launched by the World Food Programme (WFP).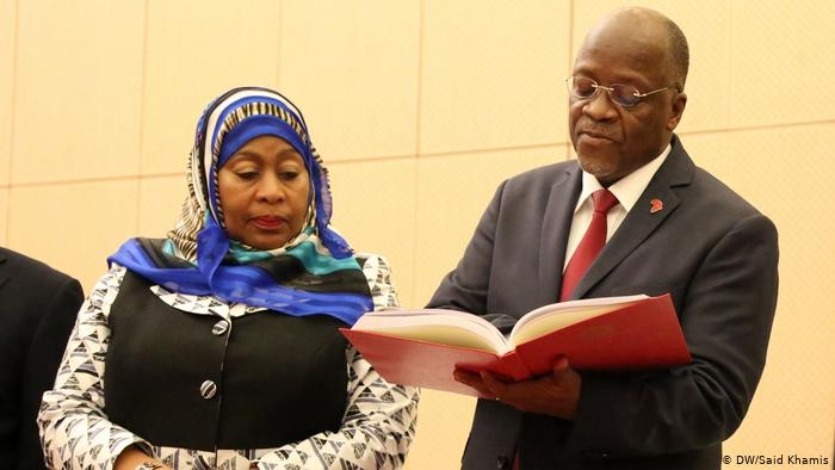 The main face of Tanzania
President Magufuli rarely travelled outside of Tanzania, and consequently, Suluhu was the main representative for the nation since 2015 for international meetings. During these international trips, she was able to earn additional experience and has become fully equipped in dealing with the international audience.
Being the first female Muslim president of Tanzania, Suluhu now holds the authority, as well as the opportune moment during her leadership, to continue representing unity of all religions as well as filling the gap of gender based matters. Soft spoken as she is, President Suluhu holds a vital key in maintaining firm bridges between the East African nation and the Arab world for years to come. Tanzania is entering a new chapter, amidst an authoritarian system that took place during President Magafuli's reign. President Suluhu intends on making amendments to his policies, and the Human Rights Watch have stated that this moment may be an opportune time in history for Tanzania to have a fresh start for problematic practices in the past.