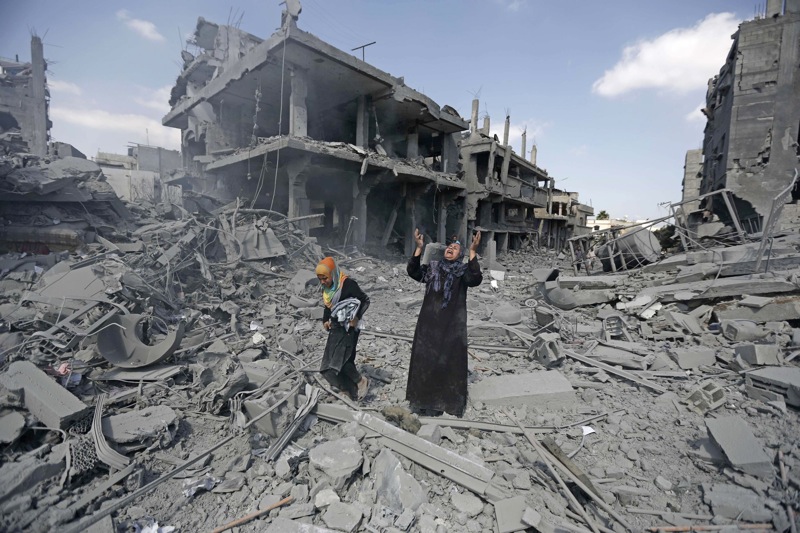 Gaza-based journalist Ayman Aloul has offered the world an alternative to the ALS Ice Bucket Challenge making the social media rounds: The Rubble Bucket Challenge.
"This challenge is not for specific people but for all people who sympathize with the Palestinian people," he says in the short video.
"The use of water is more important than to empty over our heads and, even if the water is available, it is difficult to freeze it," Aloul explains.
"We do not ask for material aid… we ask for solidarity, especially from those who have followers and an audience," he continues, challenging any five famous personalities ("like actors or presidents") to take on the Rubble Bucket Challenge.
"We do not have water, this is what we have," he says, after getting a bucket of concrete rubble, dust and broken glass – the remains of a destroyed building – poured over his head.
A Rubble Bucket Challenge Facebook page has since popped up, featuring passionate videos of people getting doused with debris.
Maisam Morr explains: "This campaign does not aim at raising money because your money will not bring those families back to life. However, by accepting this challenge you will help us form international pressure" against Israel.
"I refuse to waste water because, unfortunately, there's lots of people in the world that don't have water," says Wesam Kandil in his video for the Rubble Bucket Challenge, which he says is "for all the innocent kids and families that are dying in their homes by Israeli bombs."
"I have to wear a helmet because I'm gonna get hurt, but the people there don't have helmets nor do they have a warning," he continues.
"This is how the children in Gaza feel," says a woman in her Rubble Bucket Challenge video before nominating three people: PLO Chairman Mahmoud Abbas, U.S. president Barack Obama and Israeli Prime Minister Benjamin Natenyahu.
Roberto Jose Paz in the UK nominated all his Facebook friends, saying, "There needs to be some kind of peaceful solution and for Israel to remove the blockade of Gaza and just allow Palestinians the freedom that we all enjoy."
Michael from Australia nominates "#allaustralianfriendsofpalestine" and writes: "In #gaza, almost 500 children have been killed in the latest war on Gaza, many of them in their houses as they collapsed around them. In honour of #gaza I am doing the #rubblebucketchallenge instead, in order to highlight living conditions there."
Dalia Dayekh from Lebanon did the Rubble Bucket Challenge and nominated "everyone of you who has one percent of love for the Arab world and for the people and children of Gaza".
Nick Branch from the U.S. puts it plainly in his video:
Mohammed Shalalda challenges his German friends. "Now your turn," he writes.
Faraz Patel from India says, "It's not about any religion, it's not about any race, it's just about humanity… You don't have to be a Muslim to stand up for Gaza, you need to be a human".
This young Syrian man takes the Rubble Bucket Challenge for Gaza and Syria:
WE SAID THIS: Check out Creative Protests for Gaza from Around the World.