Queen Elizabeth II's Contested Legacy in the Middle East
«·"·fl… Ê«·'ÌŒ ë»— «·√Õ"œ
A 96-year-old woman passing away due to natural causes is not normally newsworthy or surprising, let alone shocking. However, the death of Queen Elizabeth II on September 8, 2022, has consumed social media and television news channels worldwide. After months of speculation and concern about her health as the longest-reigning British monarch missed numerous official functions and began to appear increasingly fragile, Queen Elizabeth II died surrounded by close family members at Balmoral Castle in Scotland.
Following the confirmation of her death, the government's plan for dictating state functions and media regulations in the period following the passing of the monarch called Operation London Bridge kicked in and all news presenters appeared wearing black ties, billboards across the country showed images of the recently-passed monarch, church bells rang muffled as a sign of respect, flags flew at half mast, and a ten-day period of national mourning was announced. As this was happening, King Charles III ascended to the throne and the outpouring of both choreographed and natural outbursts of grief continued throughout the country. Even when considering that 57% of Britons are in favor of maintaining a monarchy, as opposed to 29% in support of a republic; according to a recent Savanta ComRes poll, the national reaction has been surprising, even to ardent supporters of the monarchy. However, what has been arguably more surprising is the expressions of mourning expressed by people and states all over the world, including many nations formerly colonized by the United Kingdom, raising the question of enduring colonial legacies and whether Queen Elizabeth II as a person can be separated from the history of the institution she headed for 70 years.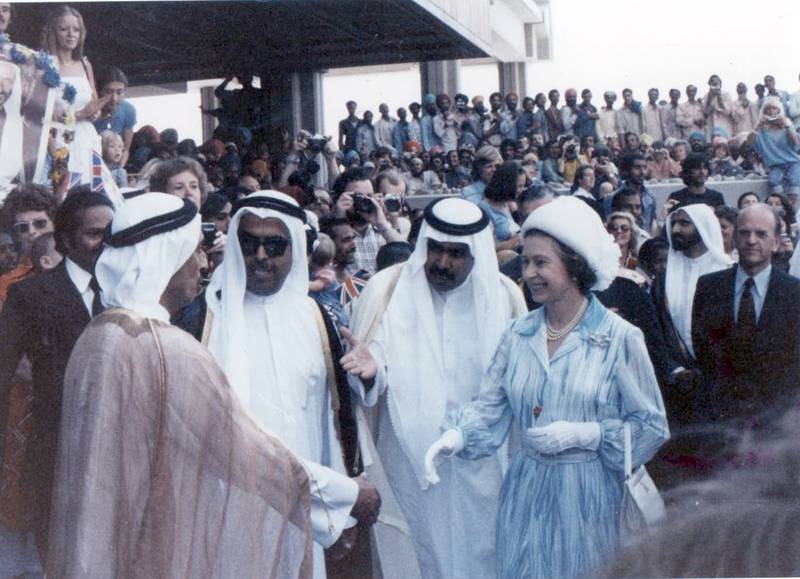 Condolences From Middle East Leaders
Looking towards the Middle East, a great variety of opinions and debates emerged as some officials and citizens took to social media to express their condolences and sadness at the British monarch's passing, while others pointed toward a complicated colonial legacy that must be understood. Mohamed Bin Salman, the crown prince of Saudi Arabia, stated in an official cable that "I am saddened by the news of the death of Her Majesty Queen Elizabeth II who devoted her life in the service of her country. Her Majesty was an example of wisdom, love, and peace, and the world remembers today the great impact she had throughout her reign." Many other Gulf leaders also joined in by giving their condolences, like Hamdan bin Mohammed, the crown prince of Dubai, who described Elizabeth on Twitter as a "Queen of love, wisdom, and humanity." Further afield, President of Iraq Barham Salih stated, "I feel deeply saddened by the death of Her Majesty Queen Elizabeth II, I offer my deepest condolences to the royal family and the people of the United Kingdom. Queen Elizabeth will be remembered as a great symbol of history who served with grace, dignity, and steadfastness", according to the Iraqi News Agency. Egypt's president Abdel Fattah Al-Sisi, according to Al Ahram, also took to Twitter and wrote "I present my extreme condolence on my behalf and behalf of the Egyptian People to the Royal Family, the British government and the people of the United Kingdom in the death of Queen Elizabeth II who ruled her country for long decades with a great wisdom."
Some nations across the Middle East have even declared periods of national mourning to mark Queen Elizabeth II's passing, such as the UAE, which commenced an official three-day period of national mourning. The caretaker Lebanese government led by Najib Mikati announced on Friday that flags on government buildings would be lowered to half-mast and radio and TV programs regulate their output in a respectful manner as part of a national mourning period of three days until September 11, in addition to an extra day of national mourning for her state funeral on September 18. However, many Lebanese have gone to social media to announce their anger at how the anniversary of the horrific Beirut port explosion on August 4, 2020, which killed 218 people, only receives one day of national mourning. Additionally, the total four days of national mourning for Queen Elizabeth II is more than the three days of national mourning immediately following the Beirut port explosion. Having an even longer period of national mourning was Jordan, with King Abdullah II, whose family's history of extremely close relations with the British monarchy and the British state goes back a century, announced seven days of national mourning.
Middle Eastern Social Media Expresses Unease About Her Legacy
Messages from officials in the Middle East commemorating her death were mirrored by many citizens on social media. However, many Arabs from the Middle East and the diaspora expressed their criticism of the uncritical mourning and celebration of Queen Elizabeth II's life. Critics pointed to the British state's military and colonial involvement in the region during her reign, starting with the Tripartite War of Aggression in 1956 in Egypt's Suez Canal, along with military operations in Oman in 1957, Jordan in 1958, and Kuwait in 1961. They further elaborated that this is in addition to the continuing occupation of Yemen's Aden that ended in 1967 and that of Bahrain, Qatar, and the UAE, which only gained independence in 1971. Commentators argued that it is false to separate her reign from Britain's place as a colonial power, which while diminishing during her reign continued for decades nevertheless.
While the more murderous instances of Britain's colonial history, like the Amritsar Massacre, Bengal Famine, and the slave trade, predate her reign, she was also the queen during instances of colonial brutality. Many on Twitter have pointed to the horrific repression of the Mau Mau rebellion in Kenya from 1952 to 1960, which saw British forces maim, torture, or kill 90,000 Kenyans, according to the Kenyan Human Rights Commission, for which the British state or royal family are yet to properly apologize for. During her reign, the United Kingdom was also involved covertly on the side of the monarchists in the conflict in Yemen between 1962 to 1969. Believing the war to be unwindable, depressingly it was reported that British Prime Minister Harold Macmillan stated the aim was to destabilize the country so thoroughly for the next few decades that the inevitable republican takeover will be too weak to succeed or have an effect on regional politics. However, considering that Queen Elizabeth II arguably had no influence on these events, instead being driven by parliament, people on social media have debated whether it is fair to associate her with these events.
As a mostly symbolic figurehead, Queen Elizabeth's actual or potential influence on these events, for better or worse, is debatable; but what is clear is the symbolic value she holds, as the embodiment of the crown of the United Kingdom and its territories. How we deal with wider colonial legacies and whether individuals can be separated from the institutions they represent is up for debate, but what is beyond doubt is the importance of the passing of Queen Elizabeth II, whose reign saw the world change dramatically.
WE SAID THIS: Don't miss… Ancient MENA Kings & Queens Who Deserve Their Own Movies