Italy's last victory against England has left all eyes on the Azzurri for possibly topping Group D.  Known for his pace, stamina, passing and technique, Antonio Candreva is definitely someone to look out for in the Italian squad.
Anticipating Italy's second game tomorrow, Adidas holds this Q&A with Antonio Candreva, where he talks about his absence from World Cup 2010, his expectations for this year, and the chances Italy's got to go the distance.
You've been in and out of the Italy side – do you now feel ready to cement a place in the side?
Yes, my caps have been a little bit spread out since I first came into the side back in 2009. But that is to be expected if you're trying to get into this Italy midfield. It is outstanding and there's a lot of competition for places, so I am proud I've been able to play for the Azzuri. Now I feel ready to make my mark at a tournament.
You missed out on the World Cup in South Africa, being called up to the 30 man squad but not making it into the final 23…
Yes, it was a disappointment. I'd have loved to have gone to South Africa, but it wasn't to be. It concentrate my mind though, and I think I've produced the best form of my career in the last few years, putting myself in the frame for 2014. The boss has put some faith in me and I now want to repay him.
You certainly looked confident in the 2013 Confederation Cup Final – putting a Panenka style penalty past Iker Casillas of Spain in the final…
It was a good moment and I enjoyed that. But it didn't count for anything in the end because we didn't win. We showed we were an equal of Spain that day, because the game was 0-0 and we matched them. But when you get to penalties, you need to do the job and win the shootout.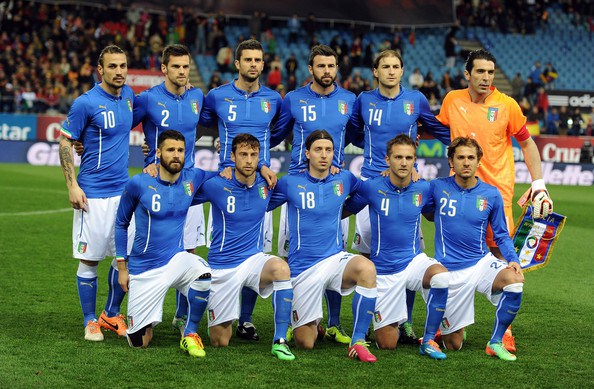 Will you step up to take a penalty in Brazil, if needs be, and how do you deal with such a big kick, mentally?
Of course. I've always taken good penalties and the idea doesn't worry me. You just have to totally shut out the occasion, the crowd, the significance, and concentrate on nothing other than striking the ball correctly. But hopefully Italy will win all our games outright and it won't come down to any penalties. It's a horrible way to go out of a tournament, and it's not the best way to beat people, either.
You've club-hopped a lot over the last six years – do you now finally feel settled at Lazio?

Yes. I'm a Roman and the city is where I feel comfortable, and I'm loving the club. I played at Livorno, Juventus, Parma and Cesena, I was a little bit all over the place, and that makes it hard to focus on your football sometimes. But now I've had a couple of years at Lazio I am happy, and they made my loan permanent last year, which was great. I think I have won over my critics with the way I've played over recent years, and now I just want to enjoy my football and keep playing well.
You've been on target with quite a few goals, too…
Yes it's something I've added to my game a little bit at Lazio and that makes me very happy. I haven't scored one for Italy yet but if I ever did I'd be extremely happy.
Bagging one at the World Cup would be quite a good way to break your international scoring duck…
I'd love to do that. I'm looking forward to the World Cup so much and to play in Brazil at such amazing stadiums, with such great crowds, will really be something else. To score at a World Cup would be unforgettable, but it's more important for the team to win.
You've been nicknamed 'the shy one' for your careful, meticulous play – is that something you like?
I don't mind it too much, you could be called something worse. I like to keep the ball and I think it reflects that most of all. But I think I am imposing myself a little more on games now, so maybe I'm getting less shy.
You're a very versatile player. Has that helped you in your career, or are managers never quite sure where to play you?
Maybe sometimes managers can't decide my best position. But for me, my versatility is certainly an asset. I can play in any midfield role. but my favourite position is attacking midfielder, and I've been doing that well for Lazio recently. I need to keep proving my worth, and I'll play anywhere that my manager, for my club or my country, wants me to play.
You've said in the past that Daniele De Rossi is your idol – what's it like playing in the same team?
It's fantastic. He is a superb player and a great guy. Playing in the same team as a midfielder like him, training with him, teaches me an enormous amount. And of course we have Pirlo, and many other great players, too. It is superb to be among them, and to try to raise my standards to be as consistent as them and play more and more games for Italy. I'd like to stay in this team for a long time.
And of course they have some World Cup winner's medals…
Yes. I was a young player, playing for the Italy youth teams, when we won the World Cup in 2006. I watched it on TV with my family and friends and it was a hugely exciting time for Italian football. That team was so tough, such a group of fighters, and it knew how to win. There's a similar spirit in this side and people should expect us to do well again out in Brazil. We are among the contenders because we have winners like De Rossi on our side.
The side needs to make amends for their poor show at South Africa 2010, though, when they exited in the group stages?
It is true. No Italy side should be going out of the group stages, we need to be making it to the Knockout phase of the tournament. To go out at that stage for two World Cups in a row would be a disaster for our side and our fans, so we need to start strongly and guard against any complacency.
But it won't be easy against England and Uruguay…
That is for sure. Between them they have some of the strongest players in the world, and they will be looking at an early exit as just as much a disaster as we do in Italy. We need to stop Cavani, Suarez, Gerrard, Rooney and all the rest, and then impose our attacking style on them.
Is this Italy side a bit more expansive than some of the very defensive Italy sides of the past?
We can never criticise those sides because they were winners. Defending is an artform in Italy and we do it very well. But we also like to play good, beautiful football, and as a playmaker I want to make exciting things happen. We are not a dull side, we keep the ball well and have some fine forwards. But of course winning a football match is much easier when you have a powerful keeper, a great backline, and can keep clean sheets.
How do you relax outside of football?
I like to keep it simple and be with my family and friends. I look after myself to play football and the rest of the time I just like to take it easy. Rome is a great place to relax and hopefully Brazil will be, too. It'll be great to visit some of the cities there and experience a different football culture. I imagine the crowds are going to be crazy, and it's an exciting thought. Hopefully we can make it all the way to Rio. That's the dream.
WE SAID THIS: Check out our Q&A with MESSI!