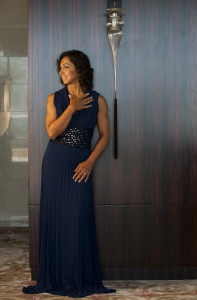 It is a new year and according to the University of Scranton, the number one most common resolution is losing weight. And because we believe that fitness isn't just about weight, it is all about having a healthy lifestyle, we decided to interview the wonderful Nazli Mahmoud, who changed her life through fitness and decided to help change others by becoming a personal trainer. Here is your dose of fitspiration to keep you motivated for the whole year!
Firstly, can you tell us more about yourself?
I am a 37-year old mom of two boys (7 and 5) originally from Iran, who got married to my Egyptian husband 10 years back and moved to Egypt and now lives here as an Egyptian. I regard it as my second home.
I studied graphic design and used to work as a designer and illustrator, but later having my second son I had to give up my job to take care of the boys. After losing weight and the effect it had on my life, I decided to study and become a personal trainer myself.
Were you always interested in bodybuilding and fitness?
I started playing basketball at age 10. My mother was an aerobics instructor and I used to be in the gym often, but my passion was basketball, which I played for 10 years in the youth team. But then entering university, I slowly had to give up training to keep up with my studies.
What is your typical daily diet and workout routine?
I mainly train CrossFit and follow paleo eating 90% of the time, but if I really crave something I would eat it! I train three days and get a day rest between. Recently, I added isolation training to my routine to tackle my weak points.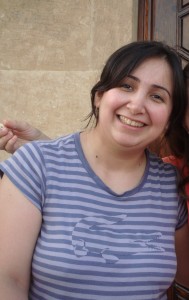 Tell us about your journey and struggles. What was it like to reach your goals?
After two consecutive pregnancies, I had 20 kg extra weight and being petite, it was very obvious and disturbing for me. Plus, I was always tired and feeling down. So I decided to go back to the gym. I tried aerobics classes but that did not grab my attention and give me the motivation I needed for losing weight. So I hired a personal trainer whom I thank til this day.
She helped me to stay focused and supported me when I was feeling lazy or less motivated to go forward. I trained with my PT for two years and by the end of the first year, I had already lost a lot of weight, so I got back to spinning classes and other group activities, plus my own training.
After two years of hard work – training sometimes at 10 pm after putting the boys to bed and heading to the gym – not only did I lose 20 kgs but also gained a lot of confidence and became a much happier person.
With the encouragement of my PT, I enrolled to be a PT myself. Knowing how bad, abandoned and helpless you can feel being overweight, I decided to help others to reach their fitness and lifestyle goals as well.
But my adventure in fitness didn't stop here, as post-revolution me and the family moved to Dubai. And then again stress and starting from zero and not being active as before made me lose my shape, but I was determined to stay fit.
There, I tried almost all the fitness trends available in the Middle East and by the end of first year, I got hooked up with CrossFit. It was then that my whole fitness life got a new meaning, not only in training when I got to know about heavy weight lifting but my eating habits changed dramatically and it changed me to what you can see now.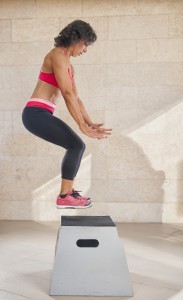 What is your proudest moment?
When I finally got back to the shape I was dreaming of, or maybe better than what I was expecting!
How do you stay motivated?
For me, training is part of my daily life, like eating or sleeping. I cannot pass a day without being in the gym, it's like my home. There are days that because of daily life and kids I get tired, but when I train, all the negativity gets expelled out of my body. I also have good friends that push me to train and accompany me to some of my workouts.
Can you give us your thoughts on the whole "fit mom" media war? (Is she fat shaming or inspiring?)
I think in reality, most women after having kids will lose their body shape and what you see of perfect fit models on the cover of magazines or in the media is not the whole reality. Either most of the photos have been edited or they've been through surgeries. As an overweight person (wouldn't call it "fat"), I was not treated nicely and there are people who judge you by your appearances.
Each person has a reason to be overweight (sickness, pregnancy, depression, etc.). Instead of judging them, it's better to support and encourage them. The optimal target is to lose the stubborn, body-deforming fat not just to look good but to have a healthy lifestyle.
What do you think is the #1 obstacle that Egyptians face in getting or staying fit?
I think it's the unhealthy lifestyle most Egyptians have. Soft drinks and fast foods are the killer and all the gatherings are for food. Even in the clubs, you rarely have any healthy eating choices.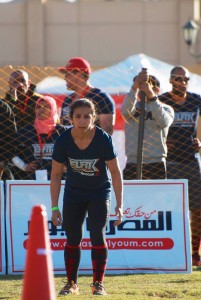 How do you see the fitness scene now in Egypt?
Being back to Egypt for a year now, I see a lot of positive changes in the fitness community. There is a lot of good, young potential in our community that, with a little support, can flourish. Of course, the new trends like CrossFit are present here and most trying to practice it have very little knowledge, which can be dangerous. But anyway, it's a good move and I hope the trainers first get educated, certified and then help others stay safe out there.
What's your advice to beginners?
I always tell my clients that whatever your goal is, start with a positive attitude. Don't stress yourself. There are always shortcuts like surgeries and drugs, but you won't and can't keep that body if you don't teach yourself to be disciplined.
Go and, at least for the beginning, get a certified personal trainer. Train for the first three months with them. Most people think paying for a PT is too much, but believe me there is a big difference when somebody is tailoring a body just for you and focusing and supporting you. There is no price for getting a healthy, fit body.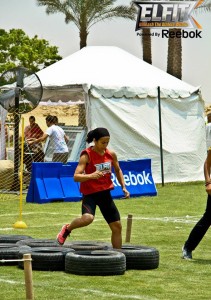 Congratulations on winning the ELFIT Fitness Challenge! What are your upcoming fitness goals for 2014?
Thank you. I love competing, most of the girls I competed with were in their 20s and keeping up with them was sometimes very challenging, but I love the accomplishment at the end of the race.
I'm training for the CrossFit Games 2014 open in March (which is held every year) and there is another fitness event which is happening in Egypt in February as well and some future plans to compete outside the country, which I am working on with my personal trainer and nutritionist Dr. Alhussein El -Shennawy (yes, I still need some kind of mentor even if I'm a certified PT myself!).
WE SAID THIS: Don't miss Resolutions Solutions, a guide to help you achieve your fitness goals in 2014, and 5 Tips to Break the Stress Cycle in 2014 – remember: Health is mind, body AND soul.