2022 is soon coming to an end, ushering in a new and exciting journey as 2023 draws closer. To many, the new year marks a fresh start, an opportunity to restart and attempt to tick off our goals and aspirations. For others, it is a time to sit back and reflect, a time to remember everything we were able to accomplish in the past year. In either case, it's always good to cement the end of those 365 days by having a memorable new year's eve. Time to kick start the year with a real bang with the hottest events, parties, and shows across Egypt.
Nicole Saba's Glitter and Gold New Year's Eve
Nothing says new year's eve more than a star-studded head-banging concert and that's exactly what you'll get to experience at the 2023 Glitter and Gold new year's eve event. Lebanese superstars Nicole Saba and Ragheb Alama headlining the show, who will take the stage at New Cairo's Dusit Thani Lakeview. Alama shared teaser posters of the upcoming event on his Twitter account, captioning the post with a special message "I hope the New Year will bring the world love, tranquility and peace":
To attend the concert, you can buy tickets by calling either of these numbers: 01117111233, 01006116677, 01118111338
byGanz's Disco Mania
byGanz events, considered a leader in the electronic music scene, is bringing a whole new concept to mark the new year, Disco Mania, set to take place at Soma Bay. Get your glitter and sequins ready for a night of music and dance that will be dominated by a star-studded lineup including Lebanese singer & songwriter Aziza who will belt out a collection of songs from the 80s and 90s as well as magnetic dance sequences performed by The Girly Show.
It will definitely be a night to remember as byGanz does not shy away from throwing giant, jam-packed spectacles like their very recent DJ-fueled Saraab festival. To book your spot, you can buy a ticket using tickmarche's official website.
For The Love Of House
House music lovers rejoice, coming all the way from Ibiza, Franco de Mulero in cooperation with the Record Label For The Love Of House is bringing together an unforgettable night with 'Prince of Pacha' DJ OUZO and DJ MOHASSEB headlining the show. Party the night away with glamorous acrobatic dancers and more in the most energetic party set to take place at Pacha Sharm El Sheikh. To reserve a spot, you can either go for a private table on the dance floor or you can try out the surrounding terraces. Send an inbox message to the event's official Facebook page or give them a call at +20128 215 010 to book your spot.
El Leila Dope! NYE ft. Moustafa Amar
Time for that much-needed dose of 2000s nostalgia as Cairo Jazz Club 610 is taking us back in time with the timeless tunes of Moustafa Amar. The star will be rocking the stage on New Year's Eve, singing some of our favorite classics including 'El Leila Dope!' for an unforgettable time to cap off the entire year. Known to host some of the biggest names in music including the highly anticipated live performance by Saint Levant, Cairo Jazz Club 610 is the place to be for the ultimate new year's eve celebration. Book your spot now by sending a message to Cairo Jazz Club's official Facebook page anytime between 12-8 pm.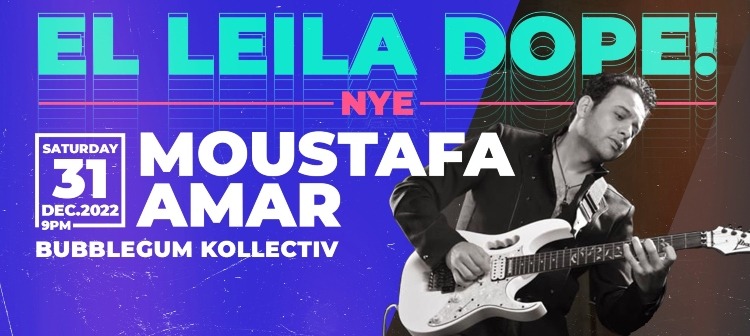 NYE Block Party
Hitting up El Gouna's The Venue is the party of the year, led by Nacelle, an event management company known to hold the biggest jams across Egypt. This summer they partnered with Shorelines and threw a massive festival at Almaza Bay with a jam-packed lineup of artists like American electronic music duo Thievery Corporation and Marc Wahba. This year, they are bringing a diverse lineup from the Reggae and Dub beats of Rootzadelics to the tech-infused tunes of Egyptian DJ Aly Goede.
To book a spot and take part in one of the biggest parties of the year, you can head to their official website to purchase a pass.
Now with just a few days left until the end of 2022, you have plenty of events and shows to pick from to make it a night to remember and truly start the upcoming year with a bang. We'd love to know which place you'll hit up for a head-banging night of endless dance, music and fun.