Fitness will always be at the top of most people's New Year's resolution lists. The unfortunate truth is that going to the gym isn't always enjoyable. That's why the resolution often gets dropped in the early part of the year. Instead of giving up on fitness entirely, why not try a different approach?
There are ways to get exercise and improve your health while still having fun. In this case, just add water. Taking your workout to the nearest body of water is a great way to make fitness more enjoyable and easier to commit to. In this article, we'll discuss some of the fun, calorie-burning activities you can try at any river, sea, or lake near you.
Paddleboarding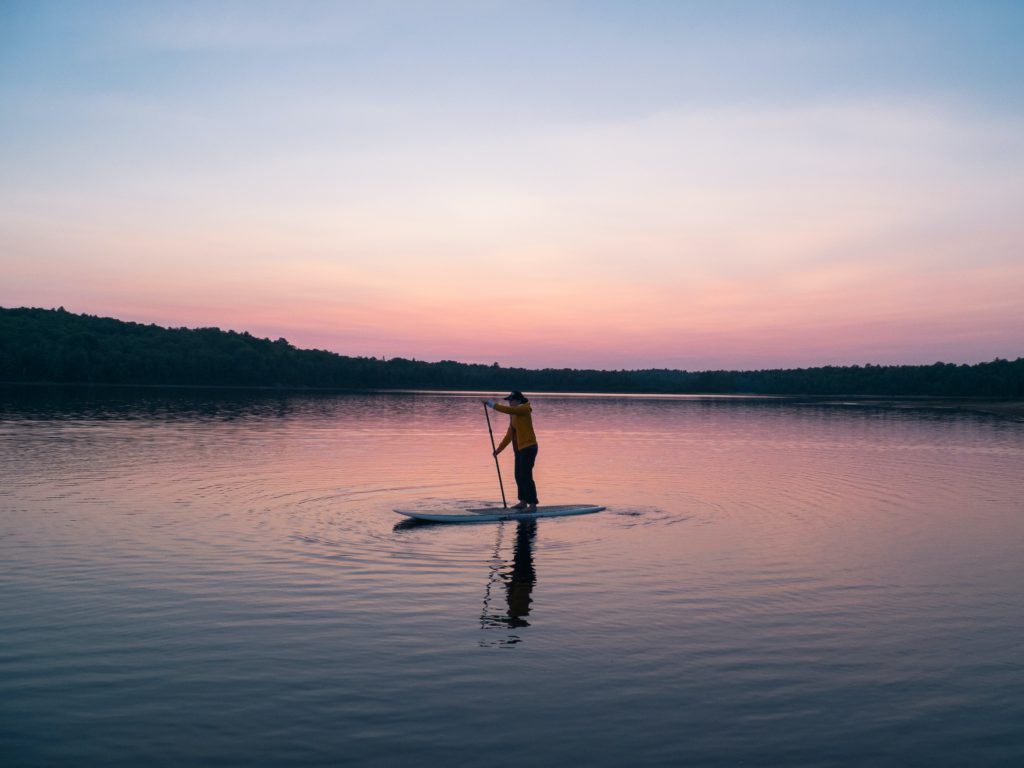 While it's awesome to get in your daily exercise, your day at the beach doesn't have to be super strenuous. For those looking for a happy medium, paddleboarding is the perfect solution. You'll get plenty of physical activity without overexerting yourself.
A stand-up paddleboard allows you to cruise around in style. Using a single paddle, you can give your arms and shoulders a decent workout while basking in the beauty of nature. You can even get an inflatable paddleboard that's easily transported in a small vehicle and can be stored away in the winter.
Kayaking
Kayaking has similar properties to paddleboarding. The main differences are that you're seated more securely and are unable to stand up. The paddle of a kayak also has two ends that provide additional mobility.
Kayaks are more difficult to transport than paddleboards, but they can be just as fun. Circling a river or a lake and checking out the shoreline and coves can keep you busy all day. Plus it's a fantastic workout for your upper body.
Canoeing is another option you can consider. Canoes can seat multiple people, so you can cruise around seated next to a close friend or significant other. This is a great way to take a family member or two out for a beautiful day.
Water Aerobics
On a particularly hot day, you might want to fully immerse yourself in the water to cool off. On days like these, try your hand at some water aerobics. This will get you in the water for some quality exercise without needing to swim out farther than you feel comfortable.
You can complete a successful water aerobics session using a number of different techniques. Do some jumping jacks, leg and arm lifts, flutter kicks, or just walk in the water with the extra resistance. You can even bring some ankle weights or small dumbbells to give yourself more of a challenge. Just be sure not to push yourself past your limits and always stay safe while in the water.
Wakeboarding
Some of the most popular water activities involve a boat. If you own a boat or have access to one, there are a number of fun water sports that you can try. Perhaps the most popular of these is wakeboarding. Using the boat's momentum, you cruise across the waves using a board strapped to your feet. Experienced riders can even pull off a number of tricks.
It might not look like much work since you're just holding on to a rope. But give it a few minutes, and you'll start to feel the burn. It takes a lot of focus to get your body to move in a way that controls the wakeboard and keeps you balanced. On your first try, you might tire out quickly before you get used to it.
If wakeboarding is a little too difficult for you initially, you can also try water skiing or kneeboarding. These are much easier to pick up and can be just as fun.
Windsurfing
Windsurfing is a step above wakeboarding and probably the most difficult water activity on this list. While you don't need a boat to participate in this activity, you do need some specialized equipment in order to set sail.
Replacing the motor of a boat is a sail placed on top of your board. You must harness the power of the wind to glide across the sea. Successfully learning to windsurf is invigorating and will make for a great summer goal to tackle if you're up for the challenge.
Beach Exercises
Not all of your water activities need to take place in the water in order to be effective or enjoyable. There are plenty of exercises you can participate in without leaving the shoreline. You don't have to get wet at all, meaning you can get your exercise done even on a colder day. And the beautiful sea view is tough to beat.
For example, you can do some yoga or Pilates on the beach. All you need is a mat or beach towel to secure yourself in the sand. You can get in a good workout while gazing at the water. Running along the perimeter of the sea is a great resistance workout. That's because running through the sand is challenging compared to running on other surfaces.
WE SAID THIS: Give all of these water activities a try. Not only will you have more fun pursuing fitness in 2022, but you also might find a new hobby. Grab some friends and family, and you can make water trips a fun tradition for all to enjoy.