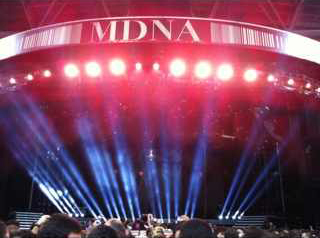 I had the pleasure of watching probably one of the best performances touring the planet just last week in Istanbul.
Yes, its Madonna's World Tour MDNA… I had heard the bad reviews of her showing up 2 hours late in Abu Dhabi (which she only repeated in Istanbul), and while I sat there as close to the stage as the field of gay men would let me, I waited tweeting @perezhilton asking him what the deal was since for one reason or another he was also on tour with her (confused face)… Anyways so when finally deciding that the stadium of approximately 50,000 people was full enough she came out, and from then on it took the journey your woldest imagination could come up with and made it a reality.
From the jab at GaGa to her spreading the love with scenes with Nikki Minaj and Lil Wayne, Madonna held nothing back. I had also heard that she had not played a lot of her 'old stuff' which I will have to disagree with as I thought she made a perfect mix of both her new album (which she was technically touring to promote) to all her old mash-up's between Like A Prayer to Jump covering all the favorites and keeping people on their feet the entire time.
Then there was the Boob! Yes it is true, Madonna as expected with no shame and NO FEAR printed on her back and singing a rendition of her 1995 single Human Nature, flashed her boob. It was brief but it was done, with her son back stage and the world to see, true to her nature and everything she represents she did what she wanted and went with the flow as if it was nothing.
The MDNA Tour is going till September 20th, ending in the U.S. If you have a passport, a credit card and a visa, find a convenient show and GO! As someone that works in the industry I was in absolute awe. The woman at the age of 53 has more energy then most 25 year olds I know and puts on a show like no other. For those of you who are not that interested in all that and have been searching for the youtube video. Here it is!
WE SAID THIS: There Is Only One Queen!