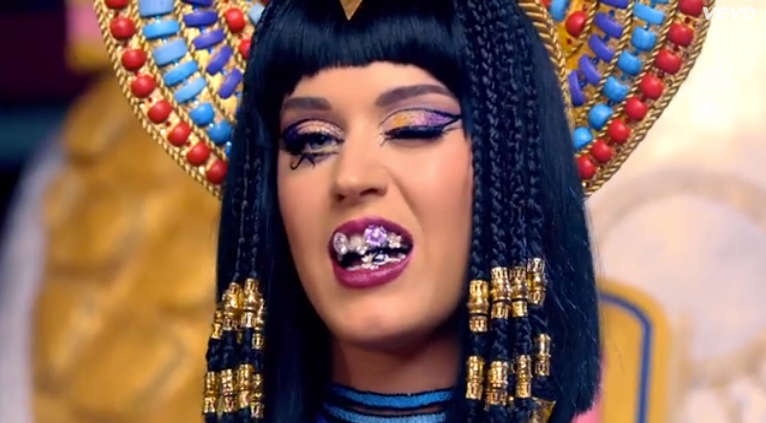 RUMOR ALERT! It's been awhile since we had a celebrity visit Egypt, you know due to all the political instability and all that the Western Media is so keen to display.
Here's the thing, we all lived through the revolution and Egypt for the past three to four years and we all know that although the world thinks Egypt is a war zone, it's far from it.
Well, one celebrity seems to have faith in the land of the pharaohs and has decided to celebrate her 30th birthday in Egypt, simply due to her obsession with Cleopatra and the region.
According to Star magazine, towards the end of October, Katy Perry and her friends will be flying into Egypt to celebrate for a week between Nile Cruises and five-star hotels:
When Katy Perry turns 30 on Oct. 25, she won't be taking the landmark day lying down! According to a member of Katy's inner circle, the Cleopatra-obsessed singer is planning to celebrate her big day with a first-class bash in Egypt!

"She's sparing no expense to make sure everyone has a blast!" dishes a friend, revealing that 60 of Katy's friends will be joining her on a 10-day vacation that will include a stay at a five-star resort, a Nile River cruise and private tours of the ancient sights.

She's even beefed up security, given the nation's political instability.

"There's going to be a team of former Navy SEALs who will work 24/7," adds the insider.

The tab for this Middle Eastern mega bash? $4 million! But Katy doesn't care.

"She's paying for everything and everyone," divulges the friend. "She's used to top treatment and is happy she can afford to let her loved ones experience it too." Sphinx a lot, Katy!
WE SAID THIS: Now all we got to do is find out how we can get an invite!