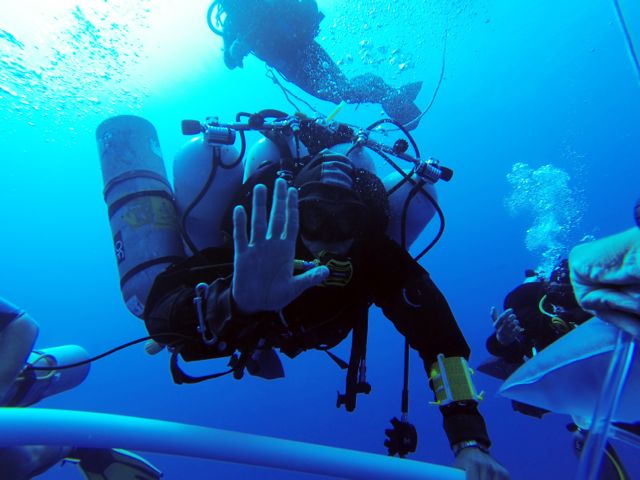 At 290 meters below the windy surface of the Red Sea in Dahab, just minutes after his bobbing head disappeared into the depths and just 28.25 meters away from the world record he had been training for four years to break, 40-year-old Egyptian Ahmed Gabr felt himself quiver.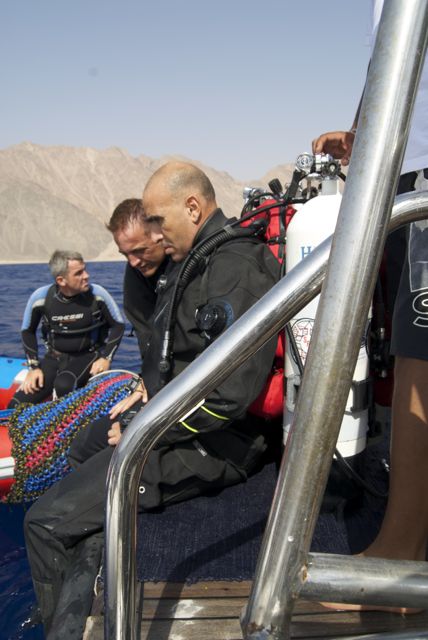 Gabr has about 9,000 dives under his belt, all leading up to this one – an attempt to reach 350 meters below sea level, a well-rounded goal to beat the previous Guinness World Record for Deep Dive (Male) at 318.25 meters.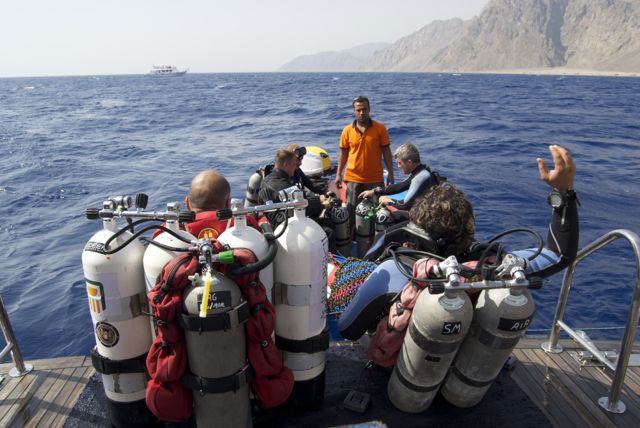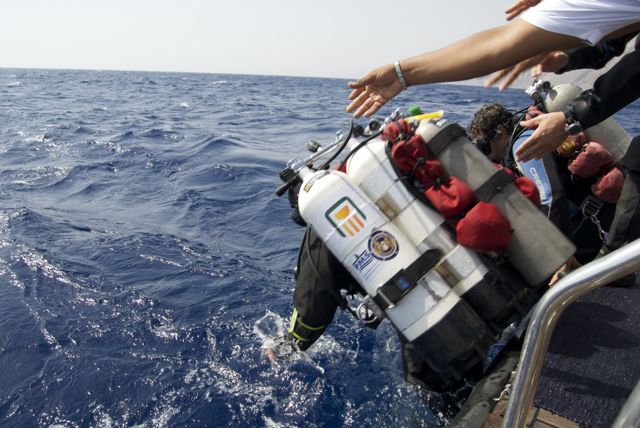 Strapped on his back and filling his lungs were five tanks filled mostly with Trimix, a blend of oxygen, nitrogen and helium gases used for dives beyond 30 meters.
The percentages of Gabr's Trimix remain a proprietary secret, as does his exact dive plan – two major technical components that were developed and refined by Gabr's expert team over months. One miscalculation, a single clinical error, the smallest margin of uncertainty could mean Gabr's life.
"And at the end of the day, it's all just theory, isn't it?" Oliver Watkins, one of Gabr's support team members, told us after the dive. Only a handful of people have reached depths over 300 meters and getting there doesn't only take physical acumen and endurance, it also takes a whole lot of math, chemistry and physics.
The mix of breathing gases and precise timings of ascent stops are designed to prevent and minimize a range of potential risks, from narcosis (which can cause hallucinations, unconsciousness and death) to decompression sickness (which can cause joint pain, paralysis and death) and High-Pressure Nervous Syndrome (HPNS), which causes neurological and physical symptoms that could lead to fatal lapses in judgment.
Gabr was supposed to reach maximum depth in about 12 minutes. The rest of the nearly 14 hours he spent underwater were for his ascent. In the end, Gabr himself used nine tanks, while combined, he and his dive team went through 92.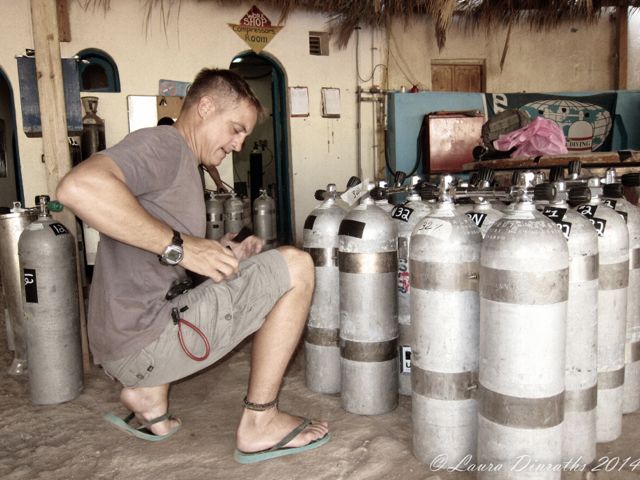 The first ten or so minutes of Gabr's dive went perfectly according to plan. He was dropping at a rate of almost 30 meters per minute, or half a meter per second.
Before him hung a rope, underwater tested and measured by a university in Cairo and then re-measured and verified by Guinness World Record Official Adjudicator Talal Omar who came to Egypt from Dubai just for this dive.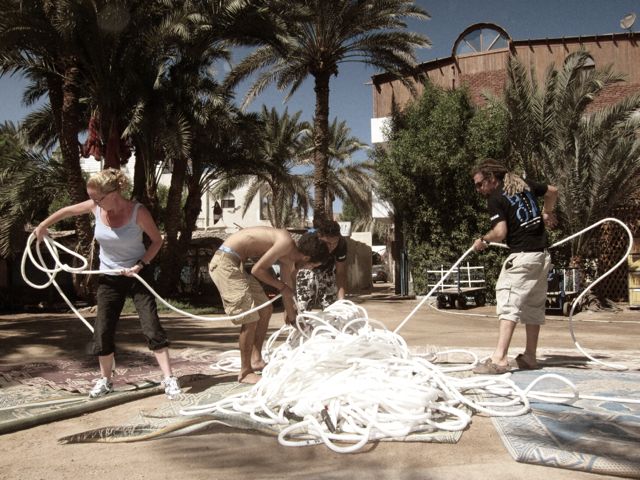 Attached to the rope were tags marked with depth measurements and at the end, an anchor designed, built and tested especially for this record-breaking attempt.
And below that, some 300 meters of oceanic blackness until the sea floor. What lies there and in between – our eyes will never have the privy of beholding.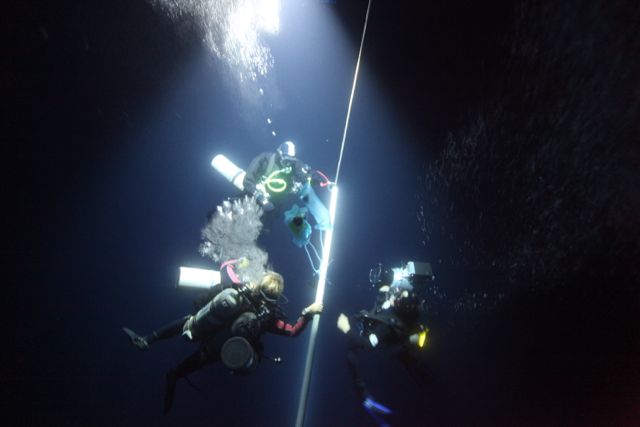 So at 290 meters deep, Gabr felt a quiver – he felt the first symptoms of HPNS, a deep diving disorder caused by rapid descent and the helium in his Trimix tanks.
Gabr, who is ex-Special Forces, did what his years of training taught him to do: remain calm and focus on the task at hand.
In addition to his multiple training deep dives, Gabr was among only four people in his class who successfully passed the U.S. Marine Corps's Combatant Diver course – a terrifying program that begins with a zero week of grueling qualifying tests.
One of them is "drown-proofing", which includes a punishing back-to-back series of breath-control and swimming challenges – all with your hands and feet bound by Velcro. You cannot touch the sides of the pool, you cannot break your restraints, at one point you must secure a face mask with your teeth and if at any point you fail, you are given only one more chance before getting kicked out of the qualifying round.
At 290 meters, at least Gabr had his hands and feet free. So he pushed through and kept going.
As the meters passed, the HPNS intensified. Symptoms include tremors, jerking, intense sleepiness, nausea, dizziness, disturbance in vision and decreased mental performance – all potential causes for a fatal error. And symptoms remain until pressure is stabilized.
Gabr's training and years of experience has bolstered his control and confidence underwater. But one of the most vital skills for a deep diver is knowing when to turn back.
At 332.35 meters, his body shaking, aware that his goal was just over 15 meters away, aware of the almost 14 hours still ahead of him, Gabr grabbed the depth tag on the rope and turned back.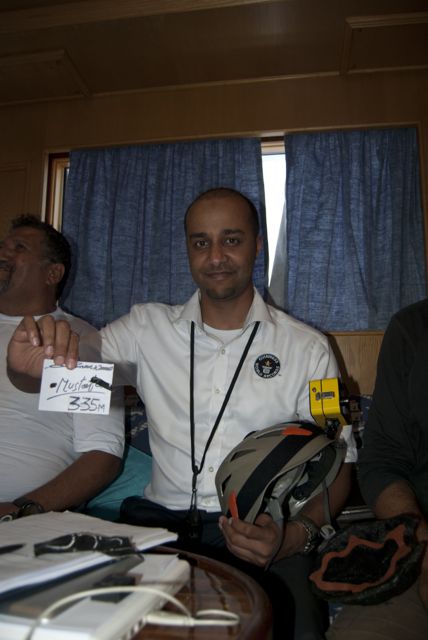 "You cannot focus with any emotions. One thought of emotion, that could mean your life. So you can't think. You just do what you need to do first, follow the procedure first. Once you get to the safe depth, then you can think of emotion. That was at zero meters," Gabr said.
On his way up, Gabr had to make over 50 stops, ranging from one minute per meter at the lowest depths – a relatively rapid ascent – to over 100 minutes just below the surface – patience is key.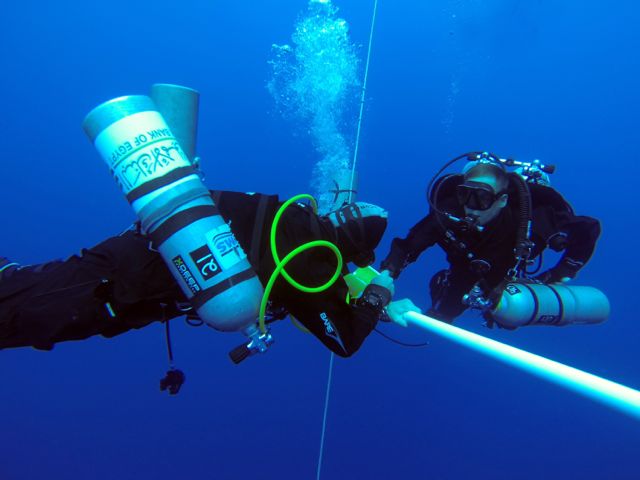 And all you can do is "just wait," Gabr said.
What did he think about in all that time? "How to get out," he laughed.
"The rest of the dive, I think of the dive. That's it. My life and members of my team. That's it," Gabr explained later.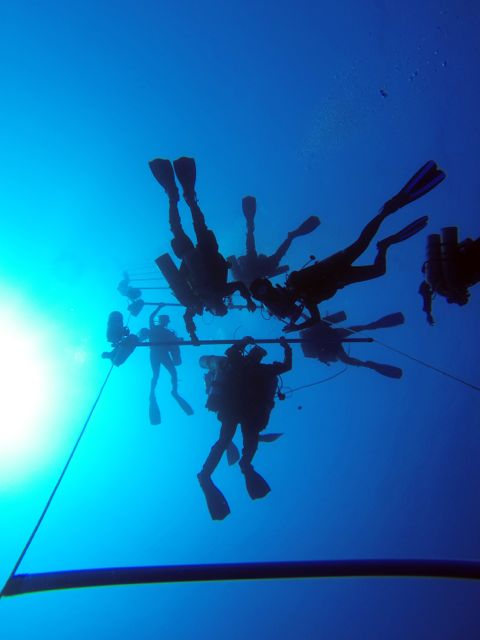 And he was in good company. Gabr had about 16 support divers with him, the first waiting for him at 110 meters and around five others at various stops along the decompression ladder to assist with extra air, equipment exchanges, tank retrieval and to accompany him on his journey to the surface.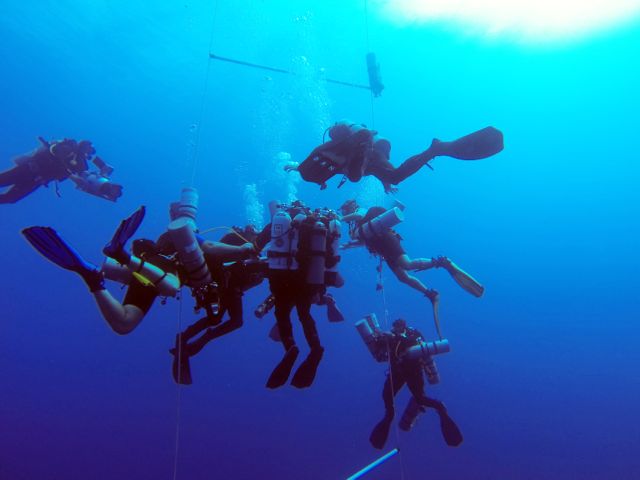 Back on the surface, where winds were stronger than expected, members of his support team – "a dysfunctional family", as support diver Catherine Wilson lovingly refers to them – and the entire town of Dahab were anxiously counting the seconds.
Originally scheduled to take place in Safaga in June, Gabr decided to complete the dive in Dahab instead for its solid technical logistics and reliable currents. "It has perfect conditions," Gabr told us.
"We're so proud that he's doing this in Dahab," Wilson told us. "We are all Dahabians in one way or another and we want to put Dahab on the map."
"Nine years ago in the same town, Dahab, this world record was broken," Event Manager and support diver Daniel Goodman wrote to us. " We have just witnessed this record being smashed by Ahmed, I do not believe that it will be broken again."
Gabr's team comprise a lively mix, from tech divers to freedivers, from dreadlocks to ex-military, from underwater videographers to logistical specialists, from instructor trainers to drivers who were specially trained to handle the sensitive equipment used for this dive.
"These people are the best in town," Gabr told us of his support team. "We became friends. We became family… They support me from the heart… I only have them and they have me."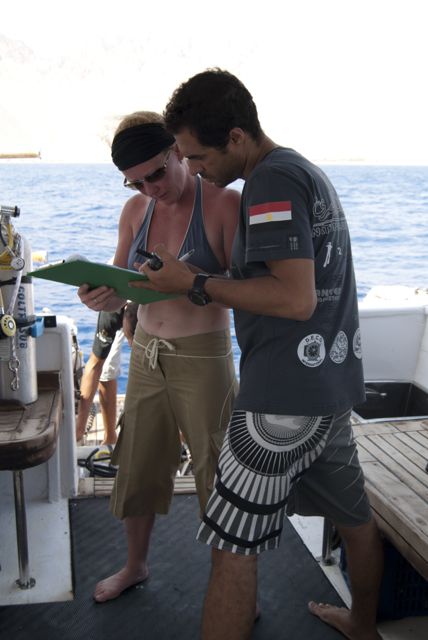 At his request, Gabr's son and his wife, who is a few months pregnant with their second child, were nowhere around the dive site until he surfaced. A feat like this, with all of its risks and physical demands, also requires intense mental strength.
"I didn't want any kind of emotional pressure," Gabr said. "I'm here for one job, let me get the job done first and then let me focus on the emotions after."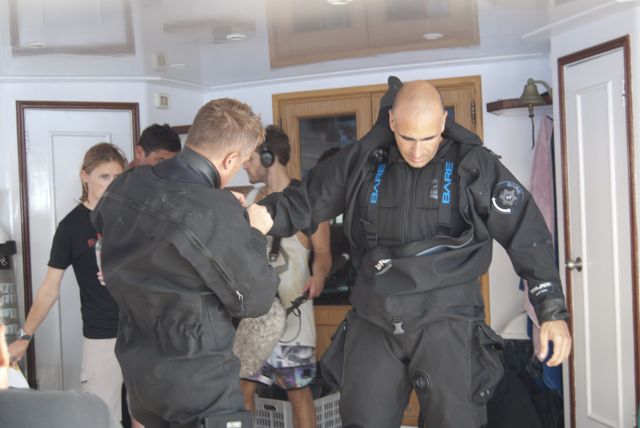 "As my mentor [Dr. Ahmed Kamal] said, you are from bubble to bubble to bubble – and that's it. This is what I actually applied and that helped me a lot," Gabr said.
As part of his preparations, Gabr did breathing exercises, visualization of all possible scenarios and meditation.
"You need peace… just let things go," Gabr said. "Don't bother with any other bubbles that come up around you… Focus on the bubbles that happen."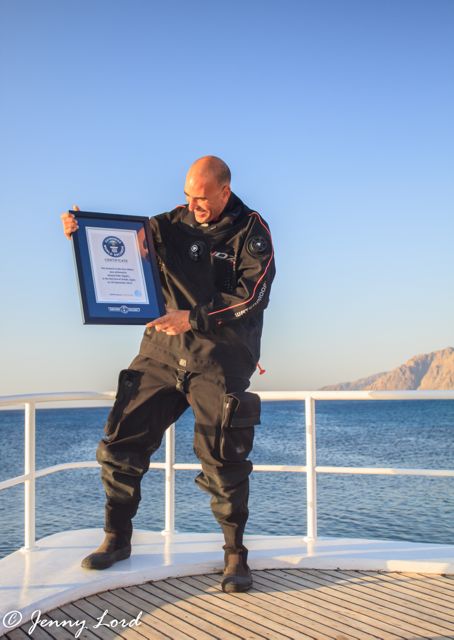 Gabr was scheduled to start his dive at 8:00am but didn't drop until around 10:30am, pushing the rest of the dive plan back. He emerged – hungry, tired and in high spirits – at approximately 12:20am on Sept. 19 received by three boats and one jetty overflowing with love, support and pride.
To everyone's surprise, Gabr exited the water and walked unsupported onto the boat deck, where he stood and saluted – a gesture of respect, he said later, for the overwhelming support he's received.
"This event [is] a lifetime changer for all of us," Goodman wrote to us. "God knows we all need a bright light these days, this bright light is firmly over Egypt, a place that I love and cherish, a place that is not seen as it should be."
"I believe in Ahmed, it is why I supported him, why the whole of @worldrecord350 Team supported him, without hesitation, without financial remuneration, each and every one of us" Goodman continued. "The team did it because we know it to be right."
After the dive, Omar told Gabr that he broke two records – first, the Guinness record for deepest dive and second, for the love of everyone supporting him.
"I'm not a hero," Gabr declared the next day, sitting in front of his support team. "These people behind me are heroes. I just execute the plan."
WE SAID THIS: A heartfelt congratulations to Ahmed and his entire team!