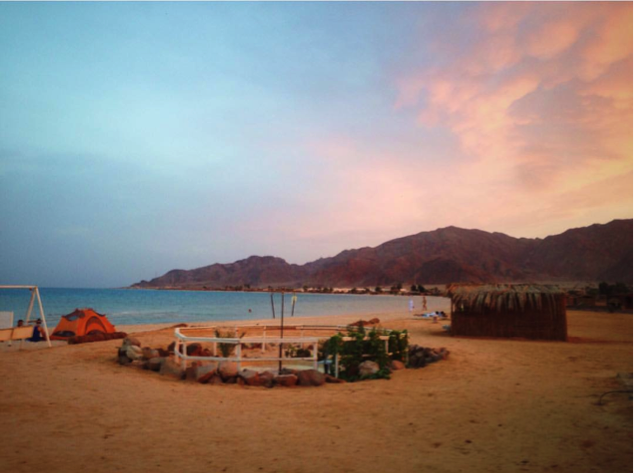 On a Wednesday last month, I awoke early in the morning to a cacophony of car horns and barking dogs and I knew I desperately needed an escape from Cairo's urban metropolis into the stunning Egyptian nature that exists throughout the country.
It was the first day of the Eid vacation, but I had yet to plan an adventure. While I had no concrete plans in mind, I had been asking around for advice on where to travel and Dahab was a consistent response.
After a bit of online research, I threw some clothing into a backpack, filled several water bottles, packed my tent and camping hammock, and hustled to the Turgoman Bus Terminal. I arrived with torrential sweat pouring profusely down my back and was ecstatic to discover that a bus was departing from Cairo to Dahab at 12:30 PM and I was just in time to catch it.
Once we were on the open road driving through an eerily apocalyptic desert landscape, I opened a book and began to read, but before I finished the first paragraph, the man sitting next to me began blaring music through his cell phone speakers, which reverberated in my ears for the next five hours until his cell phone battery finally died. Although the music was initially aggravating, I quickly got lost in the rhythms and dozed off.
12 hours and six checkpoints later (all of which required me to remove my backpack from below the bus and present it to the authorities and their dogs), I arrived in Dahab. It was almost 1 AM and I had no idea where I was going to spend the night, so I approached an Egyptian man and his girlfriend who were also passengers on the wearisome bus journey and asked them if they knew of any nearby campsites.
Luckily, the man, Ali, told me that he and his girlfriend were trying to find a way to head to a town called Taba farther north in the Sinai region. He asked if I wanted to try to make the trip with them and I instinctively agreed, even though the security advisor at my UN office told me not to travel any farther north than Dahab. I had heard a lot about Taba's completely undeveloped, peaceful quietness and that was precisely what I was yearning for.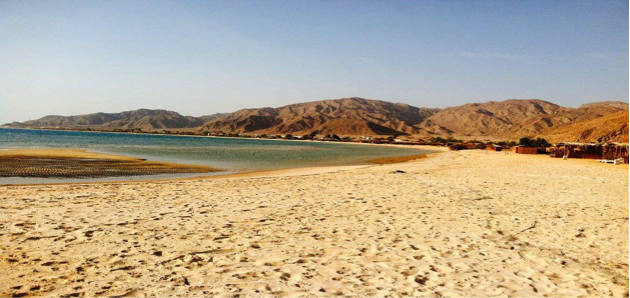 Without difficulty, Ali found a microbus driver who was willing to drive the three of us from Dahab to Taba, at which point the most terrifying leg of the journey began. Ali translated the microbus driver's warning that foreigners were forbidden from passing through the numerous checkpoints between Dahab and Taba because the region is largely unregulated and I ran the very slight risk of becoming a bargaining chip for North Sinai Bedouins against the Egyptian government.
After pleading with Ali and the driver, they reluctantly agreed to allow me to join them with the slight disclaimer that I would have to conceal myself on the floor of the microbus under a blanket during each of the checkpoints. Now it was my turn to reluctantly agree.
We passed our first checkpoint as soon as we began driving north along the coast of Nuweiba and Ras Shaitan. As the microbus rolled to a cumbersome stop, I lay on my back with my entire body blanketed. I closed my eyes and held my breath, making every possible effort to remain perfectly still and silent.
The police officer's voice interrogated the driver, "Kollo masryeen?" to which the driver timidly responded, "Aiwa, kollohum masryeen."
The officer shined his flashlight into the microbus and I could see the translucent beam of light through the threads of the blanket. Time froze until I felt the languid wheels of the microbus roll back into motion and, once we were back on the road, Ali told me I could resume breathing.
I gasped for air as it had been at least a full minute since my last inhalation. I repeated this exact same process three more times on the road to Taba and each time I mummified myself under the blanket, I could hear the domineering officer's question, the timorous driver's response and the thumping of my heartbeat.
At 2 AM, we arrived in Taba and pulled into a campsite called Asala Beach. Even in the opaqueness of the night, the view was more illustrious than anything I could have conceived. After introducing myself to the campsite owner, a soulful man named Mr. Hamada who told me that I was the first American he had ever seen at Asala Beach, I dropped my backpack in the sand, stripped off my clothes and waded into the Gulf of Aqaba.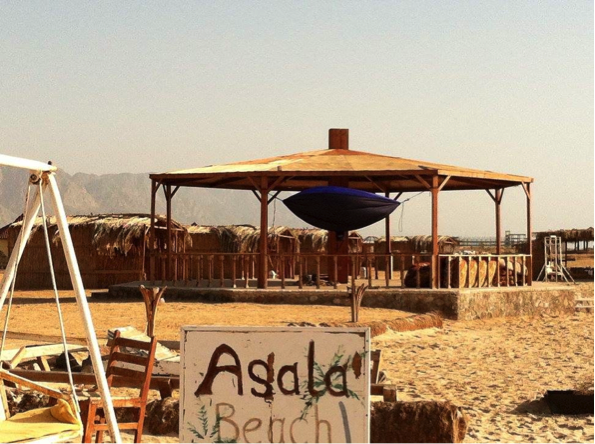 Directly in front of me, shoreline lights from Saudi Arabia, Jordan and Israel sparkled luminously in the twilight.
For the next four days, I spent hours fully captivated by and immersed in the soothing sounds of the waves gently crashing on shore. Also during those four days, I went cliff jumping in nearby waterfall canyon Weshwashy, traversed intricately patterned boulders in Nuweiba's Colored Canyon and went free diving in Dahab's Blue Hole.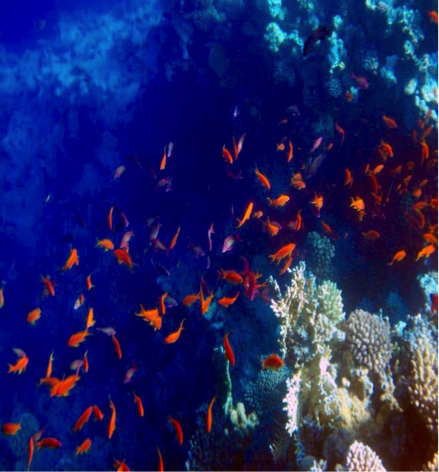 Each morning, I awoke and found myself in awe of the surrounding beauty. I spent hours staring into the horizon and I honestly believe I smiled for 96 consecutive hours (even while asleep).
The vibrant colors of the coral reef and fish weaving through its arches, the refreshing waters of the sea and waterfall, the smooth curvature of the boulders and mazes of sandstone rocks in hues of yellow, purple, red throughout the Colored Canyon – it really was paradise.
As I covered myself with a blanket once again on my way back to Dahab from Taba, I felt instilled with an inner serenity knowing that I would be able to keep the pacifying sounds of those waves resonating in my mind even when I was back at work in the bustling capital.
WE SAID THIS: Don't miss 39 Photos to Remind You How Beautiful Sinai Is.