Traveling is something we all constantly dream about, but we tend to overlook comfort and always go for the cheapest option. Recently, I traveled on a Cathay Pacific flight to Taiwan and it was by far the most enjoyable flight I've ever been on. (Enjoyable enough to feel the need to write an article just about the flight!)
Traveling to Taiwan from Dubai meant that my itinerary would include an eight-hour flight from Dubai to Hong Kong. And that is when the excessive pampering starts on Cathay Pacific. On those long flights, Cathay Pacific go a long way to make you feel comfortable, pampered and pretty much like a queen, especially if you're traveling business class.
Until the end of October, Cathay Pacific are offering incredible rates from Dubai to Taiwan from as low as AED 2,555 for Economy class to AED 7,965 for Business Class.
Lounge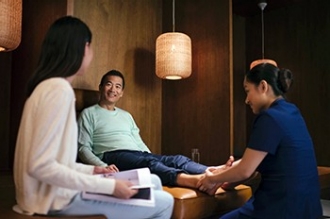 If you ever happen to be traveling through Hong Kong airport, The Pier First Class Lounge is a must! Recently renovated, it is designed with comfort and a feeling of home. The dining and pantry area serve impeccable food, but the highlight of this specific lounge is getting a foot massage that will dissolve all that fatigue and stress. Remember to book it as soon as you enter the lounge as it is on a first come, first serve basis.
Comfort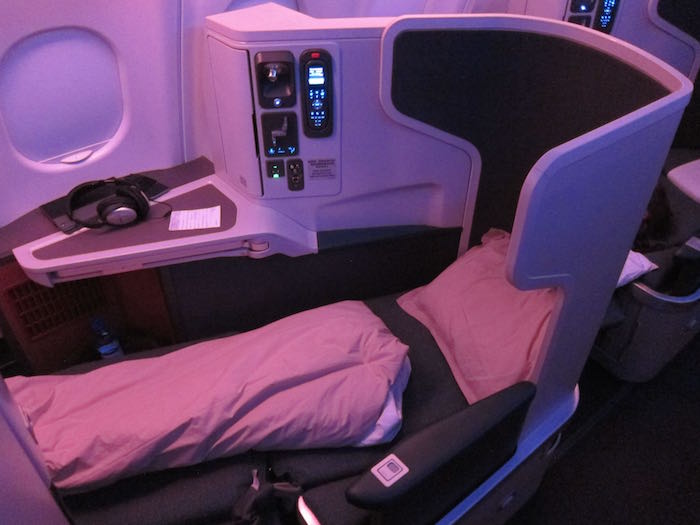 The seats in Business Class aren't just normal chairs with more legroom, but are designed in a way that you feel you're in your own compartment and have your own privacy. The curvy, wing-like dividers allow you to feel excluded from the people around you and still not feel too trapped and claustrophobic.
I felt like a little kid with the excitement of a brand new remote control car, wanting to press all the buttons and try all the options! (I hope I didn't ruin anything!) and was ecstatic to realize that the seats come with a flat bed option. I've never slept in a plane — or anything that moves — before, but I slept like a baby with the aid of my flat bed and cozy, thick blanket.
Food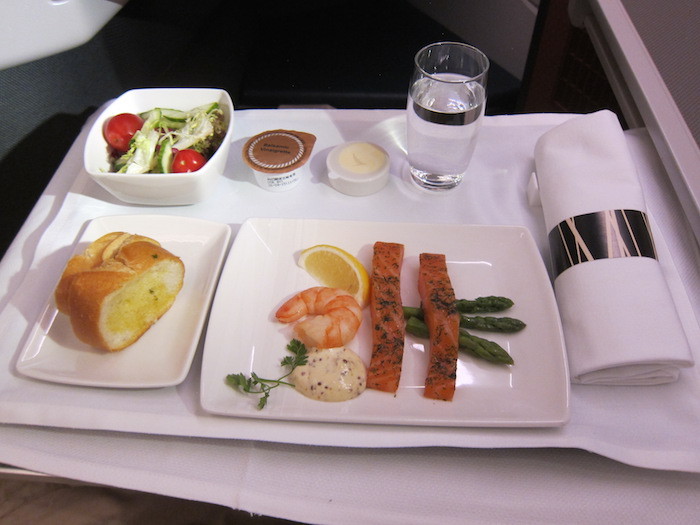 Airplane food is known to be a total disaster, mainly because the meals need to be pre-cooked and prepared in such a small area on the aircraft. But to my surprise, and my taste buds' total joy, the food was spectacular.
For starters, we were offered freshly-baked garlic bread (don't ask me how they managed that!), hommos, seared salmon and prawns with capers and a deliciously fresh, seasoned salad.
The main dish was an exquisite Cantonese dish made of brown rice and prawns, marinated in a mixture of delicious herbs. And if that wasn't enough to leave me astonished, the chocolate pudding with raspberry sauce topped it all off. With the perfect mixture of sweet and sourness from the raspberry sauce, you won't be able to put your spoon down until it has completely disappeared.
Throughout the entire flight, the delicacies just keep coming, from a selection of the best cheeses, to chocolates and a lot more. On this flight, you'll be full enough to last until the following day without feeling hungry.
Amenity Kit
And since the flight is pretty long, we were offered an amenity kit that has pretty much everything we could think of needing in our flight. Toothpaste, toothbrush, mouthwash, ear plugs, eye shade and even anti-skid socks as well as creams and lotions.
Entertainment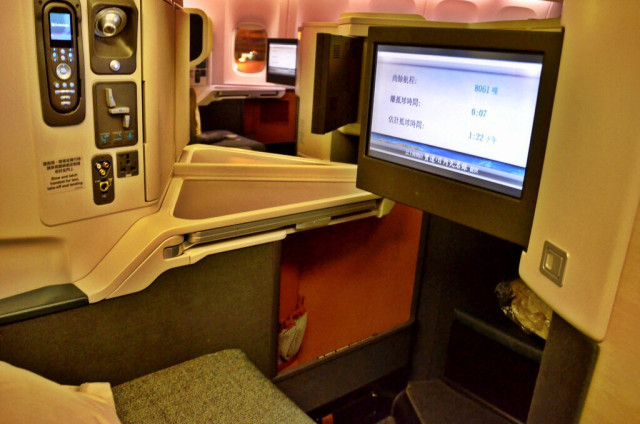 Each seat has its own screen that can be adjusted to your liking and is filled with a variety of entertainment options, from the latest Hollywood movies and TV series, to Asian movies and documentaries, too.
On my way to Taiwan, I stopped at Hong Kong for two days and I remember telling my friends I enjoyed the plane ride even more than I enjoyed Hong Kong! Not just because of the extreme comfort, but also because during the entire week, one of the most delightful meals I had was on that plane.
Service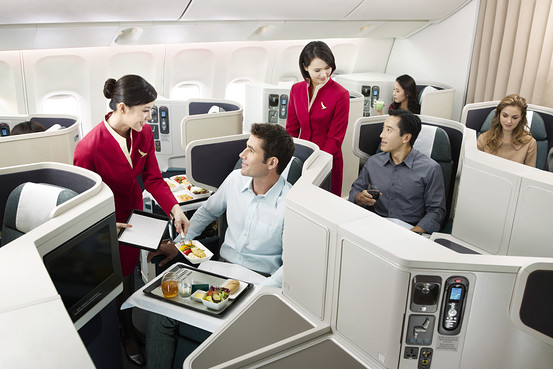 Throughout the entire flight, the cabin crew was friendly, helpful and eager to provide the utmost service possible. It really is a luxurious experience with the flight being one of the highlights of any trip.
WE SAID THIS: Don't miss 14 Reasons Why It's #TimeForTaiwan