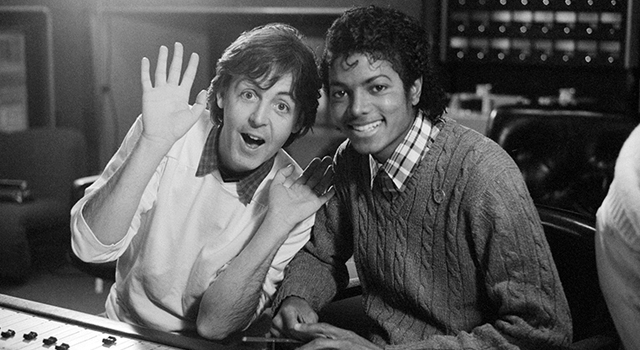 Hooray for the end of Bloc Party's indefinite hiatus! The British indie band are back from their two-year absence with new single "The Love Within" and a more polished sound, but we haven't yet decided if that's a good thing. I kind of miss the big sounds and, you know, the yelling. Judge for yourself:
Paul McCartney has released a new version of his Michael Jackson collaboration "Say Say Say" with added vocals by Jackson, a more modern beat and an amazingly feel-good music video. As a bonus, here is the original video because it is magical.
Obviously, we love Ciara. And we love her more for this cover of the Rolling Stones' "Paint It Black":
It's that time of year again, when we can use our voting powers for good and vote for this year's inductees into the Rock n Roll Hall of Fame. This year's nominees include Janet Jackson, Nine Inch Nails, the Smiths, N.W.A. and Deep Purple. You can see the full list of nominees and vote on the Rolling Stone website . Last year's inductees included Green Day, Joan Jett & the Blackhearts, Lou Reed and Ringo Starr.
 Now that's what I call a supergroup – Pearl Jam and Soundgarden drummer Matt Cameron, Soundgarden bassist Ben Shepherd, Queens of the Stone Age's Alain Johannes and OFF! guitarist Dmitri Coats have joined forces for new grunge band Ten Commandos, with an album expected as soon as next month. And their first single "Staring Down the Dust" features none other than Screaming Trees vocalist Mark Lanegan:
A college student from Ohio has taken it upon himself to create a Weezer and Kanye West mashup album called Yeezer, and it is genius. It includes songs like "American Island" (American Boy with Island in the Sun), and "The Buddy Holly Workout Plan" (too obvious to mention here). You can stream or download the full album for free here.
Lily Allen is contributing two songs to the soundtrack of new film Pan, which debuted this weekend. "Something's Not Right" and "Little Soldier" were written and produced by Keane's Tim Rice-Oxley; check out the former here:
And to celebrate the release of the Goosebumps movie this week, Jack Black, who plays R.L. Stine himself in the film, made a rap video called – no kidding – "The Bumps Gonna Goose Ya":
WE SAID THIS: Don't miss Last Week's For the Record:  Abu Dhabi's F1 Concert Line Up Announced