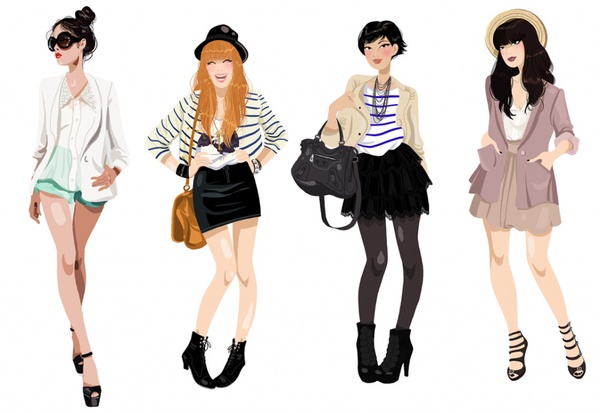 Personally, I can't take one more hashtag littered duck-faced, long-hair-dont-care, ootd, "no filter" post. I'm talking to you "fashion bloggers".
Now, if you are a legitimate fashion blogger, by legitimate I am referring to the likes of Garance Doré or Margharet Zhang, this rant is not directed at you. But if you are just another self proclaimed fashionista with way too many followers than is believable, and way too many brands tagged in your photographs, combined with an an intolerable air of self importance, I'm talking to you. Yes. You.
Primarily because you and you're annoying turban are probably the reason why street style photography pioneer Tommy Ton has shut down his famous blog.
Where do I start? With the numbers perhaps. Lets conduct some Instagram analytics, shall we? Math was never my strong suit, but when you have tens of thousands of followers (in some cases hundreds of thousands) and not even 2% of that number in likes, something just isn't adding up. Your Instagram followers count may read 100 thousand, but you're not really fooling anyone. We're on to you. Or at least, I am. Go buy another Céline tote instead of buying followers.
Real Fashion Blogger STRIKE ONE.
Next comes the visual side of things. Observe blogs like shinebythree.com and sincerelyjules.com, notice any similarities? These blogs, and even the ones that are largely photo-based (like thehautepursuit.com), are impeccably manicured, boasting carefully crafted content which clearly took time and effort. Again, TIME and EFFORT.
Blogs are made up of two things, photographs and text. Photographs are perhaps the most important part of a blog, no matter what it is about, but when it comes to fashion in particular the photographs must captivate the reader, interest them in exploring the contents further and of course, ooze cool. Even when photos consist of a messy composition of items against crumpled bed linens, they are perfection illustrated.
What's my point? My point is just because you own a Canon Rebel T5i does not make you Mario Testino. (This also applies to your so called "street style", you may be in a street and think you have style, that doesn't necessarily make you street style material.)
Real Fashion Blogger STRIKE TWO.
Lastly, words! Many of the world's most prominent blogs about fashion are not just composed of photographs of girls with the perfect messy topknot or shots of outfits laid out on hardwood floors. Garance Dore's blog is crammed to the teeth with incredible photographs and endlessly interesting stories, which keep hordes of dedicated readers checking back week after week.
Margaret Zhang's effortless cool is obvious not just in her tomboyish, laid back character and sense of style, but also in her writing. Zhang, currently completing degrees in commerce and law at Sydney University, writes posts conveying her point of view on the fashion topic du-jour with a dry sense of humor and a shot of self-deprication. Pure gold.
I am not saying you have to be Jean-Paul Sartre to have a fantastic blog, there are blogs that mainly consist of photographs and little text, case in point thesartorialist.com. These blogs have a message, something to say. Something interesting. They don't just barf up trends, they tell stories. Stories that incorporate style and fashion in a way that is refreshing, not just emphasizing how cool that leather pleated skirt by Alexander Wang is and where to buy it.
Real Fashion Blogger STRIKE THREE. (A.K.A – You're out. Yes. You.)
I realize that the "fashion blogger" pandemic is on the rise in the region, and it would probably be easier for me to stop browsing the EXPLORE page on Instagram (never gonna happen). That being said, it would be nice to come across a fashion blogger with a true sense of style and an original means of putting it out there, as opposed to the trend obsessed, label clad, hash-tagging maniacs, whose outfits, in the words of Jimmy Fallon, are "EW".
WE SAID THIS: Don't miss The Rise of the Fashion Bloggers, So You Think You're A Fashion Blogger… and 10 Misconceptions About Fashion Bloggers.