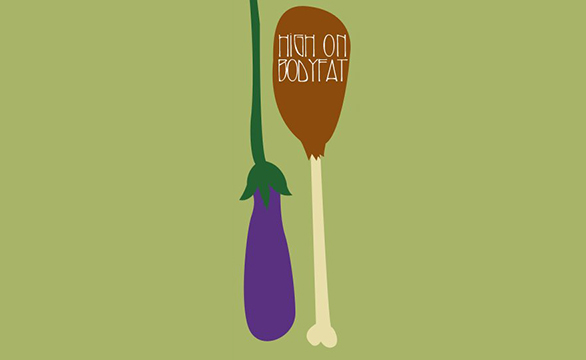 In the past couple of years there has been an explosion of talent in Egypt ranging from music, videography, photography, painting, graffiti, animation and much more. I personally believe that the revolution had a major role in the unleashing of that talent due to the fact there there was a lot of freedom in artistic expression which led to all this creative genius to unfold.
Out of all the clutter of talent that I got to witness, one band really caught my attention, and many others' lately, High On Body Fat. A two man band, Ahmed Safi El Din and Marwan Imam joined forces at the end of 2010 putting together comical musical talent with song covers in arabic remakes and mash ups of well known songs to bring humor to all the crowds and trust me they DO! Their name comes from their physical forms, because they are kind of chubby, so they decided to dub the name in their favor, which I must say works really well.
Having a few well known songs such as "Tant Samya" and "Shanaby" they have really shown their talent to make everyone laugh hysterically on their songs. Having performed at many venues including Bikya, Sakia El Sawy, Makan, Grizzly Diner, AUC and many more, they have also gone on tour with Chipsy Delights last spring performing in many different locations in Egypt. And recently they joined Arabs Got Talent, MBC's arabic franchise of Britain's Got Talent.
They have gained a lot of recognition throughout the country for being the Egyptian candidates of the competition and everyone was giving them a lot of support throughout all the different social media platforms and I have got to say I was excited having been to one of their shows and follow their Youtube videos regularly to see them perform on Arabs Got Talent. Due to a technical problem, the performance went really bad and wasn't heard well.
They have released an apology video(below) on their Youtube Page explaining what happened and performed the song to everyone as it really deserved to be heard probably. I gotta say, who doesnt like apologies? Nontheless, it was great.
Keep an eye out for these two, because they're going on a summer tour soon and are sure to entertain. Check out their facebook page here, and follow them on twitter @HighOnBodyFat.