By Heba Tallah Mohamed
Halima Aden is a Somali fashion model that has recently received widespread media attention due to her approach to modeling. She shattered a seemingly countless number of stereotypes across the fashion world, being Somalian, Muslim, and a hijab-wearing model.
Talking about her upbringing, Aden mentioned in her TEDx talk that "when I moved to the US, I knew that I had to face some struggles to reach my goals in the modeling career as a hijabi girl".
Although she's only 21 years old, she has already managed to be "the first" in many ways. She was actually the first hijabi to compete in Miss Minnesota. She's also the first hijabi model to do the catwalk on several international runways and appeared on the covers of worldwide magazines, such as Vogue Arabia, Allure, and British Vogue.
2019 brought a major shift in Aden's career. "Don't change yourself, change the game", said Aden in an Instagram post on her being the first veiled Muslim woman to model for the swimsuit line Sports Illustrated. Although Sports Illustrated said that was not the original plan, "the burkini initially started as a one-of-a-kind, custom piece for Halima, but after seeing such a positive response to the editorial, we didn't have to think twice about putting it into production", said Cynthia Rowley, the fashion designer of the line in her interview with Glamour magazine.
Aden stated on her Instagram that her appearance in Sport's Illustrated sends a message to both her community and the world that "women of all different backgrounds, looks, upbringings…can stand together".
On the other hand, Aden received huge criticism for her being a Muslim girl yet modelling for a swimsuit line and encouraging other girls to join in. According to Swimsuit, she wanted to show the world that Muslim girls had choices they can make. "You don't have to wear a bikini if you don't want to wear a bikini. Wear a burkini if you want to be a part of it…I wanted to show girls that they had an option", Aden said.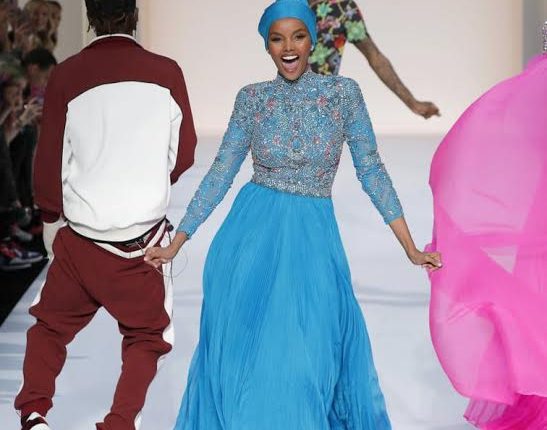 Also, her recent participation in New York Fashion Week was yet another moment of inspiration from her. She did the catwalk modeling for the US brand Sherri Hill and offered her Instagram followers the chance to win the cyan blue gown she wore as part of a competition with UNICEF. According to Arab News, she posted on Instagram saying "please be sure to donate this month at the designated link in my bio for your chance to win the one-of-a-kind couture evening gown! Thank you in advance for your support of children around the world!"
WE SAID THIS: Halima Aden totally changing the game in the modelling industry!