It's a week before 2014 and the one thing that is on everyone's mind is where to go this New Year's.
Our editors have compiled their picks of the hottest events going down this eve in Egypt.
Bring Back the Night
If you're not fond of Cairo (who is these days) and you're jetting off to Egypt's Hamptons i.e. Gouna, then you best not miss out on what's going down at the Arenna Inn Paladium.
Superstar DJ Sharam Jey will be behind the decks, alongside songstress Ashibah and local super DJ Misty.
There's no better way to end a party than waking up the next day thinking "Let's bring back last night!"
Cuz a little party never killed nobody!
**Sharam Jey***
Resident at ***Be Crazy Ushuaia Ibiza – Blue Marlin Ibiza***
When it comes to heavy weight DJs, Sharam Jey is it. With more and more hits charting on Beatport's Top 10, Sharam is a force to be reckoned with.
One of the men known for creating the G-House movement will be hitting Gouna for one night only. Get ready for a stunning combination of funk's deep basses inspired by the latest 80s Hip House movement, with some of today's hottest hip-hop beats.
***Ashibah***
Breaking out into the Deep House scene as a DJ and vocalist, Ashibah has collaborated with some of the hottest talents out there.
From KOLOMBO to NHAN SOLO, VINTAGE CULTURE, & NOTIZE…
***MISTY***
It won't be a party without our local superstar MISTY behind the decks.
Signed to 1980 Recordings with a slew of new hits to be released internationally, if Misty doesn't make you move, then who will?
***Surprise Show***
You thought that was it? Don't miss this one-of-a-kind show straight from Ibiza's hottest club (we'll keep you guessing) that will be sure to blow your minds.
**************************
For more details call:
+225199058 or +20101 6666 360
Please follow this link to book and we will confirm your reservation in 24hrs:
https://docs.google.com/forms/d/1nJiJ9HxdW7MivKrJmzb8rqdIMxts10Q6E5fE57n5Zk0/viewform
Speakeasy Soiree:
Prohibition America, when the likes of the Great Gatsby and all the swinging parties we've seen in the movies came to life, is taking up residence at the Nile Pharaoh.
As Cairo becomes more draining and dreary, what better way to party than at a Speakeasy Soiree?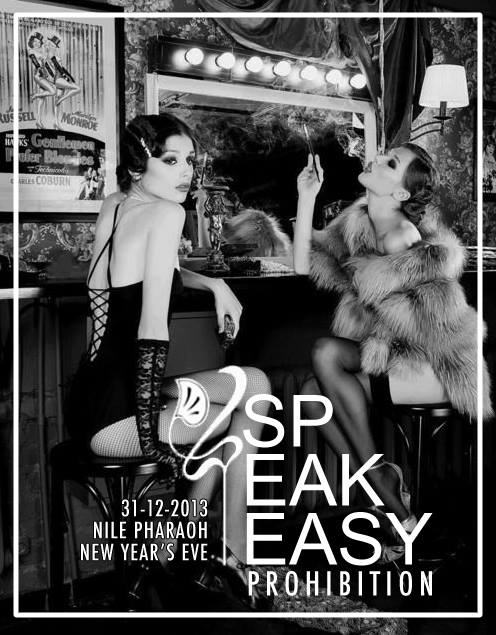 For one night only, Hassan Abaza is bringing over the top extravaganza and tunes that will take you to another world and show you what it's like to rediscover those classic night hours!
Transform yourself. Whether you'll come as a gangster, the flapper, the stockbroker, the only girl, the gambler or the dynamite socialite, that's up to you! One thing's for sure though, the roaring 20's are back with a bang!
See you New Year's Eve, old sport!
Discreet:
The Legendary Tamarai is giving Cairo one last shabang before they close their doors for good this January. The one club that has become synonymous with fun and glamor is bidding us adieu.

We hear they'll be bringing back all of Cairo's favorite nights. Think Classico, Nostalgia, and many more of the parties we've grown to love and frequent constantly.
For Enquiries/Reservations contact:
E: reservations@tamarai-egypt.com
M: 01224566666
WE SAID THIS: Happy New Year from the Empire!