From Promoting Tourism To Creating Powerful Cinema: Here's Everything You Need To Know About Egyptian DOP, Ahmad Al Morsy
Photography is one of the most significant parts of any media because it determines the look of the film, ad, or series. It establishes the tone and looks of the motion picture. However, if we're talking about Directors of Photography (DOPs), we can't forget about Egypt's best, Ahmad Al Morsy. Al Morsy is a talented DOP who has spent years honing his trade.
We're talking about a DOP and a Director with over 50 films and 2000 TV commercials under his belt. With his debut feature Al Unf Wal Sokhrya in 2001, Al Morsy became Egypt's youngest DOP.
For his film Rasa'el Al Bahr, Egypt's official submission for the Academy Award for Best Foreign Language Film, he got three awards in 2010. Later, he was the director of photography for Wahed Saheh (2011), Al Hafla (2013), and The Blue Elephant (2014), which broke box office records in Egypt.
To make such an exceptional and unique material, a lot of expertise and talent were linked. Among the advertisements were others that concentrated on highlighting Egypt's magnificence. Al Morsy, for example, collaborated with the Egyptian Tourism Promotion Board on cultural events related to antiquities, such as The Pharaoh's Golden Parade, and another TV ad, in which he elegantly highlighted Egypt's most attractive touristic sites and elements, such as the landscape of the pyramids, the Red Sea and Mediterranean coastlines, as well as daily activities and nightlife.
What about films? Al Morsy's filmography is quite spectacular, to say the least! Not only that but also his film, Aswar Al Amar, was the second film in the world to be shot on the ARRI D21 camera in 2009, with Al Morsy combining digital cameras and 35 mm films.
Other than being an exceptional DOP, Al Morsy is also a phenomenal director who directed a promotional video, which comes as part of a series of collaborations between Ahmad Al Morsy and Egypt's Ministry of Tourism and Antiquities and Media Hub.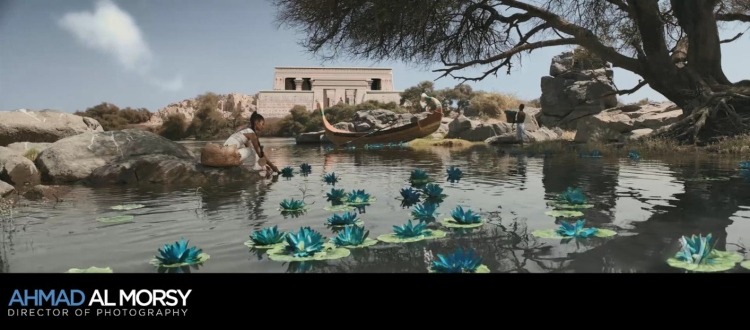 Al Morsy is a unique talent with experience in not only films but also commercials, establishing him as a versatile DOP who is a man on a purpose. A creative objective aimed at demonstrating the authentic and genuine influence of photography on such works.
His latest work as a DOP for an action film, Al Aref, has earned him the Best Cinematography Award at Cairo Film Society Festival. Consequently, we're dying to see his latest work!
WE SAID THIS: We can't wait for Al Morsy's new upcoming project: Kira & El Gin