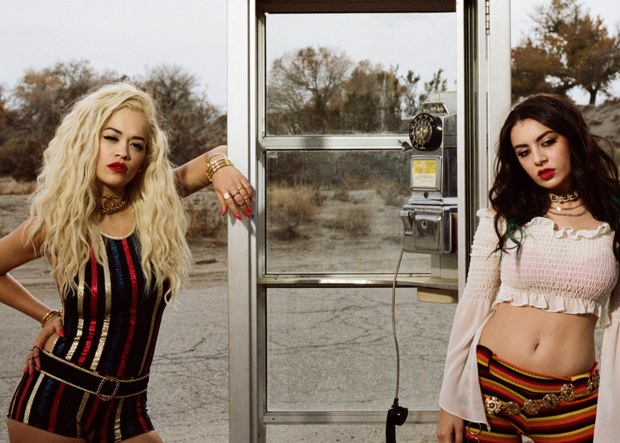 This week, Charli XCX dropped the new version of her single "Doing It", this time featuring Rita Ora. And the brand new accompanying video is a fun-filled tribute to Thelma and Louise, complete with fab costume changes, bucking broncos and a (stripper) police chase:
Meanwhile, Chris Brown crams a bunch of Eastern stereotypes – Samurais! Buddha statue! Geisha makeup! – in the video for new track "Autumn Leaves", featuring Kendrick Lamar, who does not appear in the video. The rest of the clip, which was filmed in Hawaii, has some pretty beautiful scenery… and some writhing bikini-clad beauties, if that's your thing:
Interpol's new "Everything is Wrong" video introduces us to the three members of the band: drummer Sam Fogarino, a charming dog-lover, guitarist Daniel Kessler, a gentleman who helps a lady cross the street, and vocalist Paul Banks, who walks around making snide comments and is generally an asshole. And the best part is… Banks directed the clip. Check it out here:
The Weeknd is known for his bold, perhaps even provocative, lyrics and music, so it makes sense that he'd contribute to the Fifty Shades of Grey soundtrack. His track "Earned It" is a sultry ballad, accompanied by an NSFW video featuring burlesque dancers and the film's lead actress Dakota Johnson, who plays Anastasia Steele, suspended in a compromising position. The film will be released next month.
And if you're a Weeknd fan, you'll love this acoustic "Wicked Games" cover by R&B up-and-comer Yufi Zewdu:
WE SAID THIS: Don't miss last week's For the Record: Maroon 5 Crash Weddings in 'Sugar'.