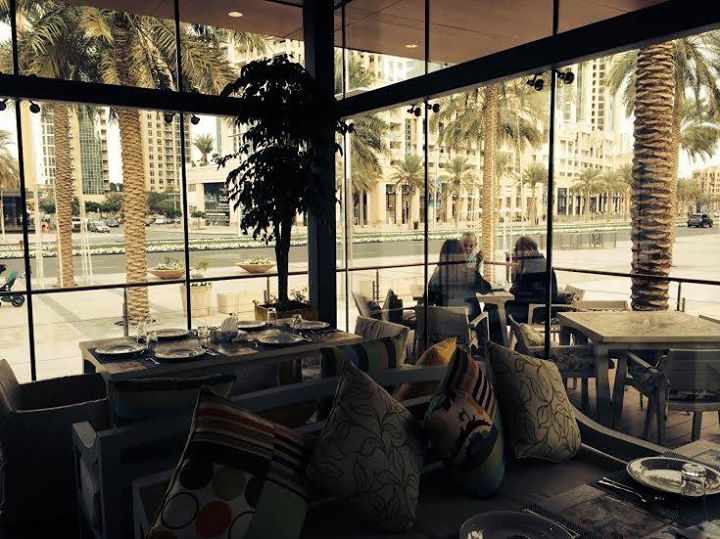 With all the food options in Dubai, you know one of the hardest things to find? Koshari. Actually, Egyptian food in general. If you're craving the motherland's cuisine, you pretty much only had a few options. That is until recently.
A few months ago, Misitiqa opened it's doors to the downtown boulevard with a delicious Egyptian menu similar to that of Andrea. Simple grilled chicken, siman (quail), and the most popular Egyptian delicacies cooked to perfection.
I was impressed with the clean and chic décor: white with subtle Arabian designs in turquoise and maroon. The soft colors were a good touch, it was refreshing to sit in an Egyptian restaurant and not be blinded by the over abundance of clashing colors.
The staff is super friendly and full of recommendations. They welcome you like a long-lost relative they haven't seen since childhood.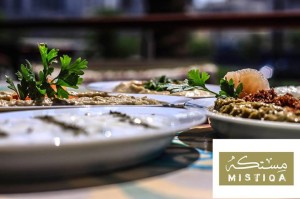 I sat outside to enjoy the boulevard's dazzling lights and front-row view of the Burj Khalifa. We all ordered various dishes to try and, I have to say, each one was incredible.
The macarona béchamel was especially delicious, oozing with creamy goodness and served in a traditional clay pot. The mixed grill, koshari and molokheya were also on point. Oh, and you mustn't forget the hawawshi, it was finger lickin' good.
Someone at the table then ordered feteer meshaltet with 3asal we ta7ina (layered pastry with molasses and tahina, a popular Egyptian delicacy) – it was everything you dreamed it would be. The dessert menu carries typical oriental sweets, including Om Ali and rice pudding.
We finished our meal with tighter waistlines and completely satisfied appetites. The shisha was great (no one makes shisha like Egyptians do!), it was the perfect ending to a wholesome Egyptian meal.
All in all, I would give Mistiqa a 4 out of 5. Superb ambiance, great food, and amazing service – I recommend you try it!
Mistiqa is located in the new Emaar Boulevard – Downtown District of Mohamad Bin Rashid between Emaar Pavilion and Vida Hotel.

WE SAID THIS: Check out our review of Nay Lebanese Lounge in DIFC.