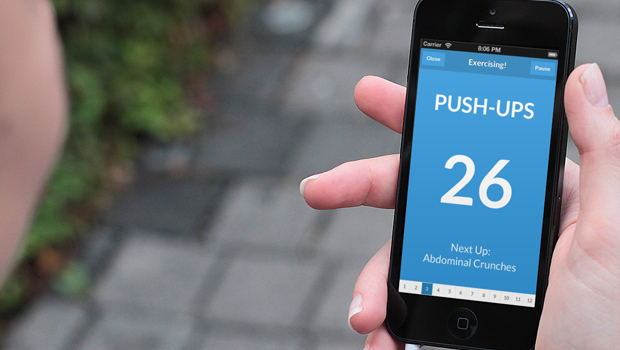 Who says you need a personal trainer when you have an iPhone or Android phone. The App Store is filled with apps about health and fitness, all available at the click of a button. No more excuses, get fit, get healthy and get active using some fitness apps. Whether you are interested in running, yoga, or even a quick workout, the apps can totally help you out. All you need to do is download them, pick your workout and start. The awesome thing about workout apps is that you can do your workout anywhere, anytime, even for a break at the office. Here are my five favorite fitness apps.
1. Nike Training Club
This app has over 100 workouts by Nike trainers and world athletes. Enter in your information and workout goals, and it will provide you with detailed instructions and motivation. You have the option of choosing individual workouts, four week programs, whatever you need to get your body toned, fit and strong.
2. From Couch to 5K
Whether you are looking to take up running or improve your distances, this is the app for you. From Couch to 5K, provides you with a detailed nine week training program. At the end of your training, you will be able to run 5k easy, at which point you should download the next app, From couch to 10K. The app is like a personal trainer telling you when to walk, when to jog and can also sync with your music.
3. 7 Minute Workout
Once you download this app, you officially have no excuse not to exercise throughout the day. The 7 Minute Workout app will outline an entire workout for you in just seven minutes. A timer is activated once you start to workout, and you don't even need to look at your phone. There is a voice promoter telling you when to stop for breaks, and when to start the next exercise.
4. Daily Yoga
There is nothing better than starting off your day with a quick yoga session. The Daily Yoga app gives you the option of choosing the time intervals for your yoga session, starting from 10 minutes up to 30. All you need to do is place your phone in front of you and get into position. A video will begin showing you exactly what to do and how to stretch, with a soothing calm music playing in the background.
5. Pocket Wod-CrossFit Enthusiasts Trainer, Exercise and Fitness
This app is for the CrossFit lovers out there, where you can have access to a CrossFit workout right in your pocket. Whether you are at home or at the gym, just whip out your Pocket Wod and start. The app provides you with movement videos, a library of workouts, stop watch, interval timers, with all your workout data securely stored.
WE SAID THIS: Also check out "Mobile Apps to Keep You on Track"!