Around 11:30am yesterday, Jan. 29, 2015, Belgian Red Bull athlete Cedric Dumont became the first person ever to perform a wing-suit jump above the Great Pyramids of Egypt.
A feat three years in the making, following a failed attempt over the Cairo Tower in 2012 due to risky weather conditions, Wednesday's epic flight almost didn't happen.
We got an exclusive interview with Dumont himself, who filled us in on the details of yesterday's jump, which involved freefalling out of a military helicopter at 2,000 meters high and parachuting to the last standing ancient Wonders of the World.
"This was one of my favorite jumps," he told us. "It's in the top three, because of the visuals. It was insane, seeing the pyramids and seeing them get bigger and bigger."
For a man who has 10,000 skydives and 2,000 base jumps from around the world under his belt, top three ain't bad.
So, how was the jump?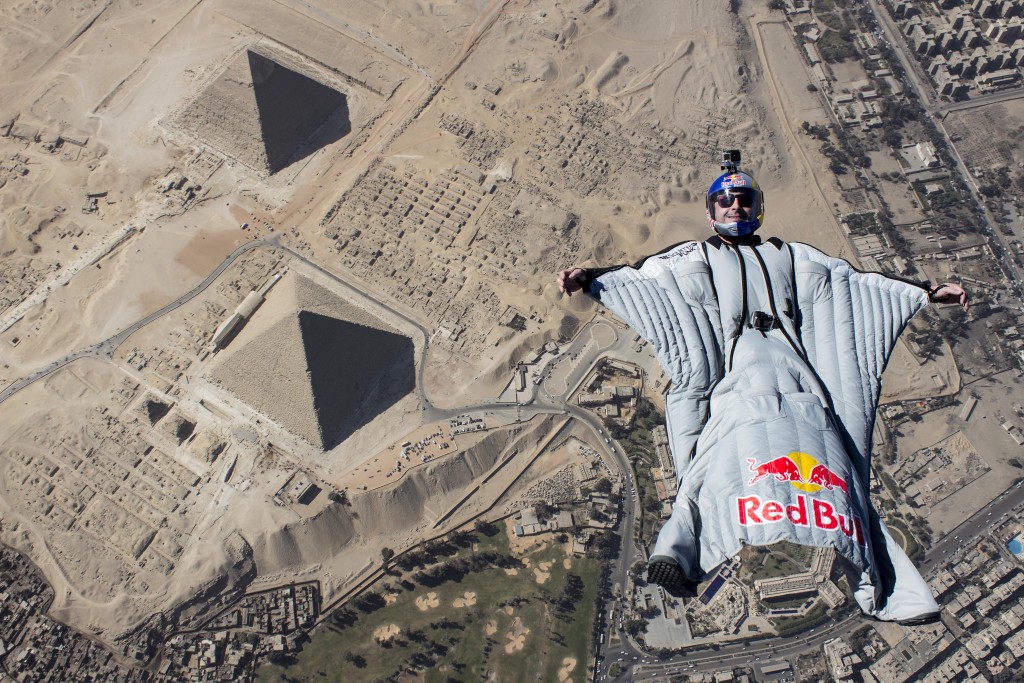 I was in Dubai last week; we trained for here, so we had the same line of flight and same position and everything, so when we got here we knew exactly what to do.
And for the plan, it was perfect.
We were lucky to just have the opportunity to do it.
I was super excited, of course, I've been here [in Egypt] before and there's really cool parties here as well. People were super nice.
For me, it was a unique experience, but we had to handle the wind. The sun was there, it's just the wind. Especially, a place you don't know, the pyramids and everything, you take precautions.
I was focused. I know what I do, but I don't know the place. So I was really focused and prepared for the worst, because the wind can change like this [snaps his finger], but we did it.
A parachute is just a piece of fabric. You hang there and if it blows you back, it blows you back, you don't have much power.
Walk us through it.
We went to meet the pilots, but we had to wait because of the haze and the mist above the city, which is usual, but they need visibility to fly the helicopters, so we had to wait.
And we waited I think from 7:30 'til 10:30 or 11:00, and then all of a sudden, they had sufficient visibility, so they said, 'OK we can go'. So we checked the wind, we checked the parachutes, everything, and we just went for it.
So we flew from the military base to the pyramids and we were, I think, 2,000 meters high and we spotted a place to jump and then we flew over the pyramids and landed completely in the wrong place!
And the wind at that altitude was super strong, I could feel it. You lose forward speed.
We thought we could go further, to the third pyramid, but the wind was too strong.
Then we landed in the wrong place, which was a good place, next to the middle pyramid. And then some young guys came to us and asked, 'Where are you coming from?' and I said, 'From Mars!'
Were you nervous? What was going through your mind?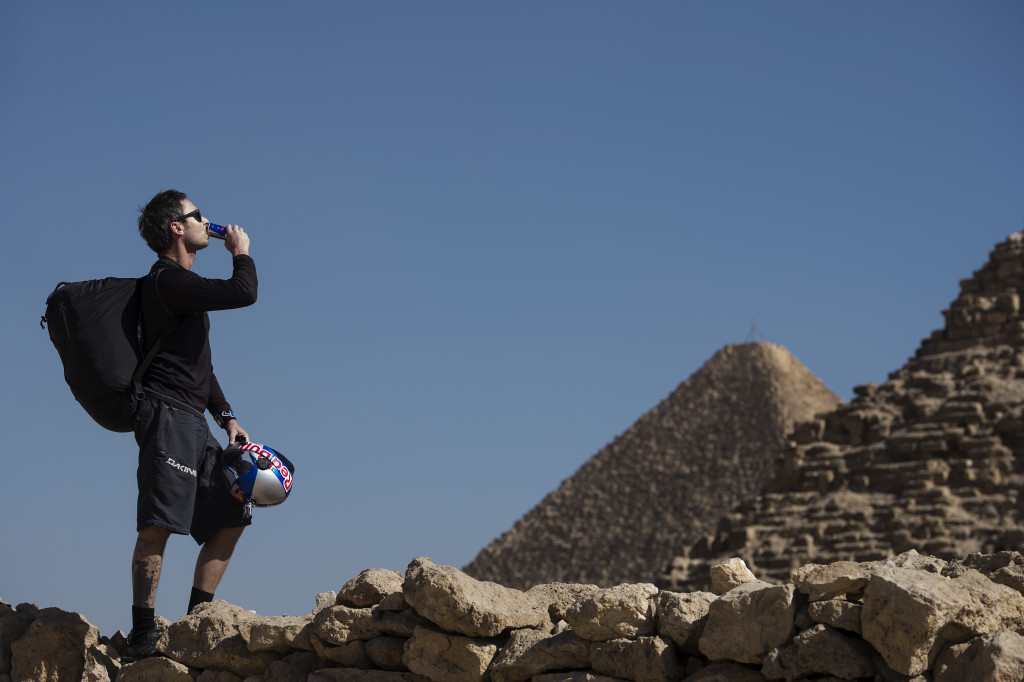 I was focused. I was excited. I tried to turn my fear into excitement because I know when I'm ready to go, I'm ready to go. There's no turning back, so I just go for it.
You just think about what you have to do. You think about flying. You're in the present moment, so you don't really multitask or think about the thing you have to do tomorrow or what you did yesterday. You just fly. You just enjoy the moment… basically you're connected with your environment and the way you fly and the way you feel.
What do you do when you're not jumping out of helicopters?
I'm a sports psychologist, so I give a lot of keynotes, I speak a lot for companies, I give seminars, I teach. And then I fly!
Performance Psychology is mental training for professional athletes. It's raising awareness for performing people, or people who are committed to something, and helping them to reach their goals. It's making people perform better and understanding how their mind works so they can perform better in their field, whether it's sports or corporate.
You can start something and tell yourself, 'OK, what if?' and then it's fear of failure. Or, 'Yes, I can do it and I will do it and I'm engaging and committed to be something I want to be'.
The day I'm not learning anymore, I quit.
Do you have a message for Egyptians who look up to you?
Pursue your dreams. If you have a dream, just go for it. And I think i'ts the right moment. With everything that's happened [in Egypt] and the changes now, it's the right moment just to break free and do your stuff. Follow your dreams. Go for it.
WE SAID THIS: Special thanks to Cedric Dumont and the Red Bull Egypt team!