The finals of Egypt's biggest fitness competition, the third season of ELFIT, took place last weekend, with athletes from around the region competing to be crowned ELFIT champions.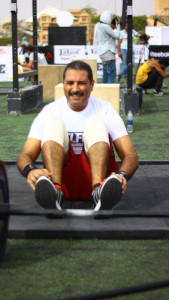 Charlotte Hick took first place in the females category, with Haitham M. Magoub winning the males category. In the master's competitions, Denise Ewig won first place for females age 35+, while Ahmed Galal Elatal placed first for males age 35+ and Naser Gomaa topped the males 45+ category. Meanwhile, the Silver Giants won both competitions for male and mixed teams.
"ELFIT was a great experience that I haven't done before," ELFIT competitor Julia Alexan told us. "It pushed me to my max in training and I was very happy to lift a personal best of 40 kilos at the event, even with an injured shoulder."
"I hope next year they add more obstacle courses and general fitness, like the handstand walk and ropes earlier in the set of workouts," the Bake Rolz & Stix-sponsored athlete explained.
ELFIT took place as part of one of the country's biggest health and fitness events,  Egypt Fitness Fest. With activities for the whole family, exercise enthusiasts of all ages gathered at Katameya Sporting Club for a fun weekend focused on an active lifestyle.
Top instructors gave sessions in CrossFit, Zumba, TRX, Pilates, Les Mills and more, while the kids' zone entertained all the mini fitness freaks. The healthy cooking station and equipment expo also provided attendees with valuable information about everything they needed to know to eat healthy and live well.
WE SAID THIS: Congratulations to all the ELFIT competitors and winners!