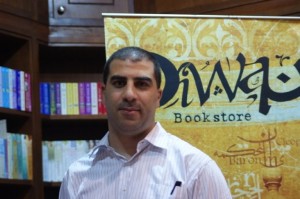 One of the few Egyptian authors who writes in English, Tarek Refaat writes on the side since his main job, a regional position, keeps him up in the air.
Although Refaat writes part-time, he is a dedicated author who follows a rigorous work ethic, one that has produced two "chick lit" novels so far.
It took Refaat only one month to write each of his books. He would go to work at 7 am, an hour and a half before anyone got there, and write continuously, producing at least 1,500 words a day.
For Refaat, this was the easy part. The hassle is in the publishing and marketing of the books. He finds the obstacles to reach the reading community incredible, and feels the publishing scene in Egypt is not based on services as it should be.
Both his novels can be found on Amazon and downloaded as e-books. With help from self-publishing service Lulu and friends in the United States who helped him format his book digitally, he managed to overcome the Egyptian market's limitations.
"The writing/authors community abroad is so supportive and helps with reviews and boosts sales," Refaat said.
Refaat's books were supposed to come out in January 2011. A combination of bad luck, poor timing and, of course, the political situation in Egypt led to the fact that not many people realized when his books ended up coming out in May of that year. There wasn't much fuss about them because the whole country was talking politics and revolution.
Refaat dreams of having a best seller and people holding his books, although he shies away from the arrogance that sometimes accompanies writers.
The main theme running through his writing is how time and people develop a person. His first book was Ribbons and Heels, although it was published second.
Ruptured was more appealing to the Egyptian publisher that he had contacted (Shabab Books). At the time, there was a rape case that had made the tabloids. Refaat explains how he wanted to approach the subject in a non-conventional way. He wanted to address how society's perception affects the victim by either helping them heal or tearing them down. He wanted to impart to his readers that there is always hope, even in the darkest moments.
In general, he feels Egyptians give in too much to their problems. Many people succumb to a pattern of helplessness and depression, while he feels there are always possible solutions. He believes that people should be more resourceful and try harder to find answers to their day to day problems.
Giving up is submission to misery, in Refaat's view. For him, people have to learn to continue to find what they want to do, and do it. "Life is all about hope, and people should strive towards it. In some ways, I hope my books give hope," he said.
His relationship with writing started when he was just nine or 10 years old. He began by describing what he saw around him. At fourteen, he wrote his first analysis in Arabic called "Elnass" (people). Refaat explains how it was a description of people who surrounded him, a way for him to define the people in his life.
He studied computer science at university and did not think at all of studying literature. He enjoys reading history and biographies, and finds them more touching than fiction because they are based on real events. His favorite authors are Paul Brickhill and Stephen Ambrose.
He's currently working on several books. These days he has a bit of a writer's block, but being the positive person that he is, he believes it's only a matter of time that he will be at it again. So look out soon for Tarek Refaat's new book.
WE SAID THIS: Check out this profile of Magdy El Shafee, Egyptian author of banned graphic novel Metro.