Access to jobs, health care, education, and other services are made possible by road infrastructure. Therefore, It is a critical component of a community's localized development as well as a country's national and global economic progress. In light of this, initiatives to reduce traffic and pave the way for new roads and ways are always applauded, as they provide more options for individuals seeking various services. Many Middle Eastern governments have expressed interest in this topic. The United Arab Emirates (UAE) is the most recent country to do so, with a new project scheduled to be completed between 2023 and 2027.
However, let us take a step back and acknowledge the prior efforts made by Dubai's Road and Transport Authority. According to Gulf News, the overall length of Dubai's road network increased to around 18,000 lane-kilometer by the end of 2019, up from 8,715 lane-kilometer in 2006. From 13 bridges in 2006 to 119 pedestrian bridges and underpasses in 2019, the number of pedestrian bridges and underpasses has expanded dramatically. Road accident-related fatalities have also decreased, from 22 instances per 100,000 of the population in 2006 to only 2.3 cases per 100,000 of the population in 2019. Furthermore, the overall length of cycling routes has expanded from 10 kilometers in 2006 to 425 kilometers in 2019.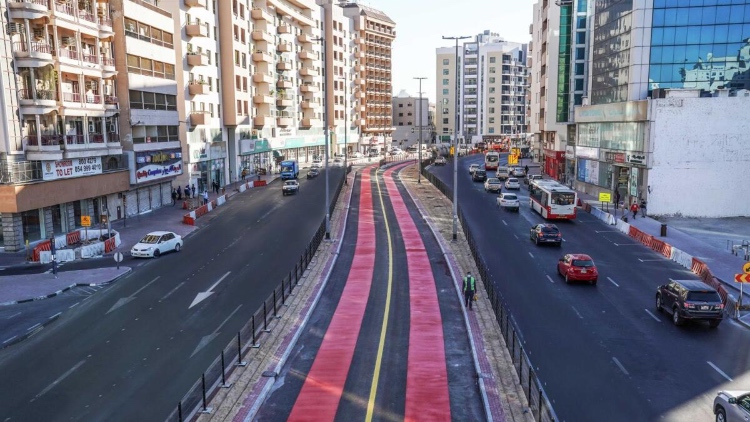 The RTA's major purpose is to improve the quality of urban living by implementing initiatives that provide inhabitants with a sense of ease, and who doesn't want to spend less time stuck in traffic and on public transportation? Well, the RTA has launched a completely new effort aimed at extending bus and taxi lanes for around 37 kilometers. This new initiative will reduce bus travel times by up to 44% in some places. These kinds of lanes have proven to be successful in a number of major American and European cities according to LovinDubai's interview with Mattar Al Tayer, director-general and chairman of the Board of Executive Directors of the RTA. They shorten travel times, boost adherence to on-time bus departures, improve taxi arrival times, and encourage more guests and people to use public transportation.
The RTA's programs and projects assist Dubai greatly by reducing traffic and waiting times, as well as motivating people to use public transit. Additionally, as the city experiences less traffic, attempts to create a greener and less crowded environment become viable!