Donald Trump Released His Plan for 'Peace' in the Middle East and Here's What You Need to Know
Via Al Arabiya.
On Tuesday, Donald Trump, the president of the United States of America, and Benjamin Netanyahu, the prime minister of the state of Israel, announced an Israel-Palestine peace plan, 'the deal of the century' as Trump likes to refer to it.
For decades, the Israeli-Palestinian conflict has been the paradoxical centerpiece of regional politics. World leaders came and went, yet the struggle remained as urgent as it was fifty years ago. From U.S. President Lyndon B. Johnson's failed negotiations to the almost successful Oslo Accords of 1993, a peace deal seemed out of the question. Yet, the former real-estate mogul and current president of the United States claimed on the campaign trail that he will untangle the Gordian Knot of the Middle East to bring peace, but at what cost?
In the published 'Vision for Peace', a two-state solution is suggested, however, unlike that of the Oslo Accord's, the resolution does not return the pre-1967 borders to the Palestinians; Trump's plan retains Israeli sovereignty over the western side of the Jordan river, the whole of Jerusalem, and control over Jewish enclaves and settlements scattered through the Palestinian territories. A miles-long tunnel is to be constructed to connect Gaza to the eastern Palestinian territories.
The Palestinians would get a peripheral suburban region of Jerusalem, rather than East Jerusalem proper, to be the capital of their newly-established state.
It is worth denoting that Palestinian officials refused to even sit at the negotiation table, stating that the American approach was one-sided. In fact, a number of U.S. lawmakers have raised concerns over the supposed peace plan with Senator Christopher S. Murphy, Democrat of Connecticut calling it "a total abandonment of decades of U.S. Middle East policy."
For years, U.S. administrations supported a deal that maintains the pre-1967 borders with only minor adjustments. However, with the rise of Trump, and his moving the U.S. embassy from Tel Aviv to Jerusalem, a mandate that was customary to be postponed by every President every six months, the Israelis gain control over the Palestinian borders under the guise of security concerns.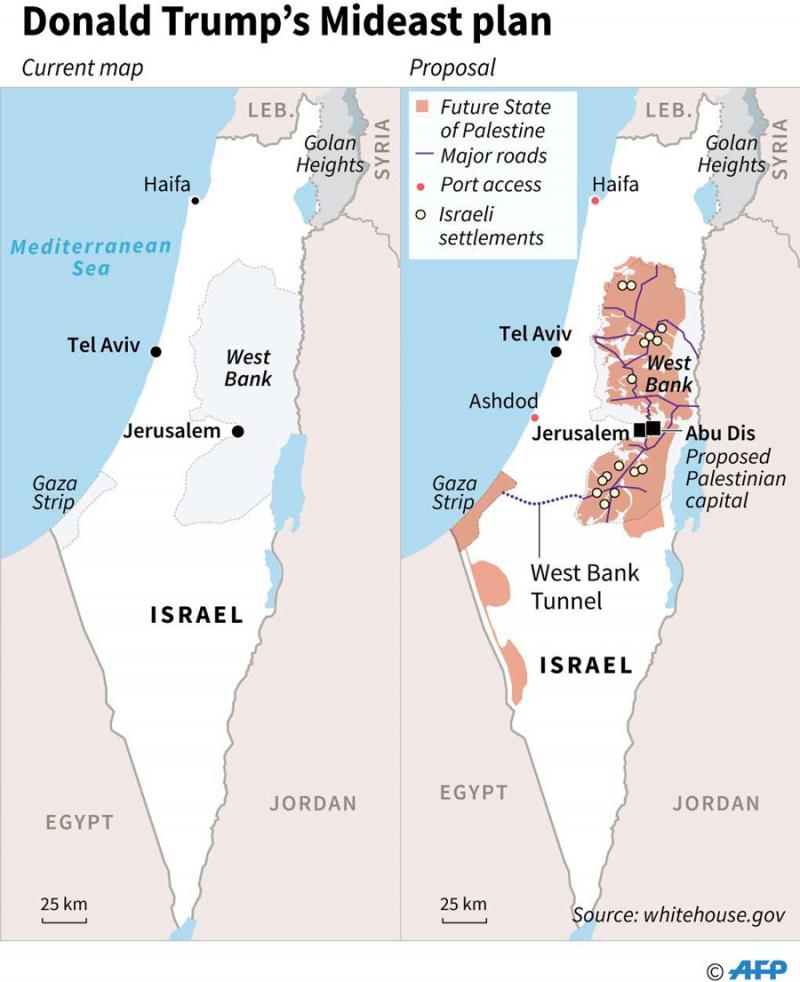 Right now, a number of Arab states gave the plan their blessing, but the Palestinian people are expressing serious concerns.
"After the nonsense that we heard today we say a thousand no's to the 'deal of the century,' " said Palestinian Authority President Mahmoud Abbas. "We will not kneel and we will not surrender."
With another stalemate looming in the horizon, one could only ask if this really is a step in the right direction.
WE SAID THIS: What do you think of this plan? Tell us your thoughts in the comment section.