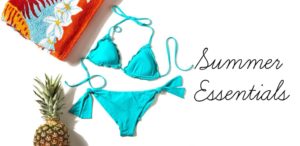 Welcome to my fashion column "Dolabk," I'm Monaliza Wahba and I'll be your online personal stylist savior. Dolabk is a sort of a fashion blog that brings you practical style posts with a little bit of beauty tips and tricks, the Dos and Don'ts, accessory styling bits and latest trendy news and styles that I will help you fit them into your Dolab – hence the name. As you all know, Dolabk means Your Closet, but I guess you're wondering how to pronounce it – DolabAk or DolabEk? Well, let's cut to the chase and say it's both as I will be addressing both: him and her. The reason behind this column is that I want to share my years of experience in the fashion industry with you to help you know who you are, what's your personal style and how to develop it, and it really feels good when you know you can look good on a budget, cause who says No to extra cash, ha?
As an image consultant and fashion/personal stylist, I've dressed up celebrities, models and clients, and I have to say this: presenting yourself to the world is crucial in different aspects in life, whether it's in the business world, making new friends, joining a new community or going on a date/blind date. It also shows on your personality how confident you are or how you interact with people and how you come across to people, because you know, people do judge the book from its cover, we're all human and the first impression we get is mostly from the outer look.
So fashion gives everyone the chance to express themselves and show their inner beauty by coating it with the right style, whether it be vintage, urban or a mix of both. There is no limits, rules or ending with the lengths a person can take when it comes to expressing themselves through fashion. That's so deep, I know, but I promise I'll keep it light and fun because that is what a style blog should be, right? Okay so, that's all about me and my blog in a nutshell, it's time to get down to business.
The clouds have parted, the sun is shining, and summer is here! It's vacay and beach time, which means it's the dresses, shorts, cute tops, swimsuits and sandals season. Here's a basic formula that goes into dressing for the summer: everything has to be either lightweight, flowy, or casual. I've rounded up 10 essentials for you to get your summer fashion game on point. You're welcome.
OFF-THE-SHOULDER BARDOT TOPS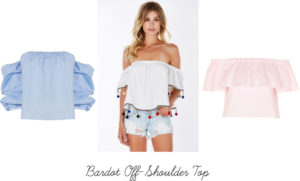 These off the shoulder tops have managed to stick with the changing seasons and are on the verge of becoming a closet staple. Effortlessly chic, they give any outfit a 60s hippie Bardot-esque feel. Pair it with shorts, boyfriend pants or even a skirt. The amount of ways you can style it is endless, meaning it's a new staple you'll reach for on the weekly.
FLOWY SHORT CAFTANS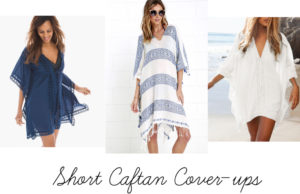 Who said cover-ups should be boring or be a scarf wrapped around you? Welcome to 2016 where cover-ups are more than that. These short Caftan-like dresses are so comfortable to wear, but also appropriate enough to go have your breakfast at the hotel buffet and then head directly to the beach, no need to go up to your room to change. They really do come in handy.
THE SPOT-ON ONE PIECE SWIMSUIT
Okay, so this is my favourite one. The practical one-piece is popping up in stylish vacation shots everywhere, and we understand the appeal. These swimsuits work on all body shapes, and they are so comfortable where you don't have to worry about the "girls," they're always in place. Flattering yet supremely sexy, it's easy to wear to the pool then out for sandy-footed drinks (pull on a pair of denim shorts to transition easily).
PLAYFUL PLAYSUITS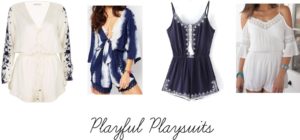 Rompers (or playsuits) have been on trend for a while now and they're actually making it to the closet must-have list. They're so easy to dress up or down, and they come in handy, especially in beach parties, where you can't go too glam-y or too casual. Here's where playsuits save you.
MEET THE BIRKS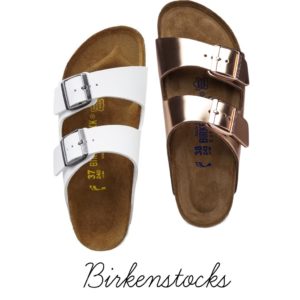 It's hard to go wrong with these Birkenstocks, they are super on trend this summer. They're perfect for when you want the comfort of sliders, but the style of sandals and the glorious thing about them is that they're super easy to style. Pair them with shorts and a tee for a laid-back, casual feel or dress them up with a romper or maxi dress.
SLIP-ON DRESSES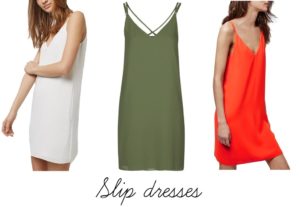 Back from the 90s, the slipdress trend is again picking up this summer after Balenciaga, Celine and Calvin Klein sent them down the runway last season. You don't have to leave the slinky trend to the bedroom. You'll probably get more use out of the piece than you'd think. Pair it with a strappy sandal or Birks, and if it's a bit chilly out there, you can have a light kimono or a jacket jeans on top depending how cold is it out there.
SUNDRESSES FOR A SUNNY DAY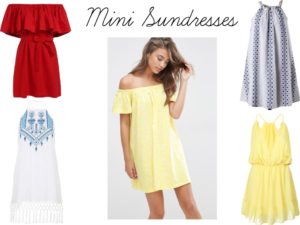 Sundresses are the ultimate wardrobe must-have: just throw-on and go. They are the easiest way to perfect your seasonal style. When the weather's warm, you don't want to worry about coordinating complicated outfits. That's why I love a good summer dress that you can throw on and know you'll look good. To find one you'll be able to style all sorts of ways, look for a hemline that hits near the knee.
GO GREEK WITH THESE LACE-UPS
We've seen lots of sandals come and go in the past seasons, but these babies are there for eternity. You just can't go wrong with them and they've become a closet staple. They have the same casual feel as flip-flops but are more polished. They go with almost everything: dresses, shorts, skirts and jeans (pick a cropped pair that allows the ankle wrap to be seen). If you have a pair, don't ever throw them cause they always come crawling back every season.
2-IN-1 BODYCON DRESSES
Bodycons are great for a day and a night outing. They are so in this season and are very versatile when it comes to styling them. Dress it up for a night out or dinner with friends, but also count on it as a go-to for lazy errands or early morning walks with the dog. Pair them with sandals or sneakers and a Denim jacket or heels and statement earrings. They're definitely a must-have this summer.
DON'T FORGET TO WRAP IT UP!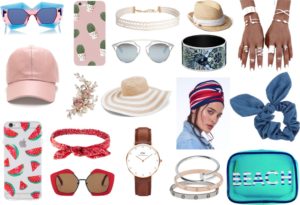 Last but not least, accessorizing. Accessories can take your plain frock from drab to fab. It's essential to spice up your outfit, but be careful, don't over do it. If you feel awkward when it comes to accessorizing, stay tuned for an article about that. I'll be writing about the importance of accessorizing and how to do it properly. In the photo are some must-have accessories that you'll need like the Daniel Wellington watch and the Cartier bracelets. So keep it simple until I give you the accessory guide.
WE SAID THIS: Stay tuned for more fashion and styling tips from Dolabk with Monaliza. Check us out every Thursday for a new article. If you have any questions, let us know by commenting below.