Credit to the Artist: Selim El-Leithy, the Young and Bold
Via Selim El-Leithy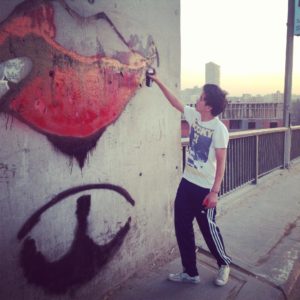 This Friday, we're delving deep into the world of Selim El-Leithy. He's an 18-year-old graffiti artist, who is currently in London for his college education; enrolling at UAL's Central Saint Martins to study art.
Graffiti, to him, was just an art of spraying names on the walls, and gangs making statements on the walls of the subway in the United States. But Jan25 happened and had his entire perception on graffiti redefined.
"I was 12 years old and I found myself surrounded by artists like Ammar Abo Bakr and Ganzeer." These Egyptian graffiti icons showed El-Leithy that graffiti is more than names and statements, "it's more of retelling the country's history on its walls."
Jan25 has sure changed many of our lives, but it sure has taken a very different turn on El-Leithy's. He started practicing his graffiti skills on a neglected tunnel close to the Cairo-Alex desert road. His unique brand of art was appreciated by many, to the point that he was asked to decorate walls and ceilings of houses, restaurants and venues.

He took his first step into the business in 2014, when he decorated ceilings at Mince's Nozha branch. Next time you visit, go to the ladies'/men's room, look up and there he is! He also contributed in a gallery for pop artists in Dubai Mall, Lido, and the parties venue "The Temple" in Qasr El-Nil.

He likes to dedicate his street art to reflect reality. He likes to blend art into the lives of the underprivileged. "A low-paid citizen will never think of visiting the galleries in Zamalek for example to look at art and appreciate it. That's why I prefer to have my art displayed in areas within the reach of citizens' daily routines, like bus stops for example."
WE SAID THIS: El-Leithy dreams to pull off artwork that could be compared to that of Egypt's graffiti icons, and that's something we're sure he's capable of.