Children and animal sacrifice has been an ongoing social media debate for years. This Eid, Facebook has been set on blaze by an old resurfaced photo of a nursery re-enacting animal sacrifice in front of children. The slit in the animal's throat, along with the fake blood on the floor have been causing outrage among Facebook users.
People blamed the nursery for inappropriately exposing children to such brutality as the sight of blood should not be taken lightly with the young ones. It was not just the nursery photos that left people horrified, it was parents proudly covering their kids in blood as well.
Many have come to the nursery's defense claiming that this is a religious fareeda that children should be aware of at such young age, adding that they've all seen animal slaughter as children and they grew up just fine. As long as the child is safe, wants to be there and the sacrifice is humane, there is no harm in children being exposed or even participating in the religious ritual.
But it was a post by Menna Salah Negm that just made me pause and think. We're not sure if her argument is based on any psychological study, however everything she wrote makes perfect sense, at least this is what I felt as a parent. Negm stated that exposing a child to blood will not man him up, as many parents believe. Before the age of 8, the child is not fully aware of the concept of sacrifice, the sensitive nervous system is highly affected by the sight of blood and his wild imagination and fear of past events can leave him traumatized.
Children don't often express fear immediately, sometimes it comes later as panic attacks, aggression, violence or even urinary incontinence. The consequences can be avoided if parents realize that just because kids are fine during the sacrifice, it doesn't mean it has not harmed them subconsciously one way or the other.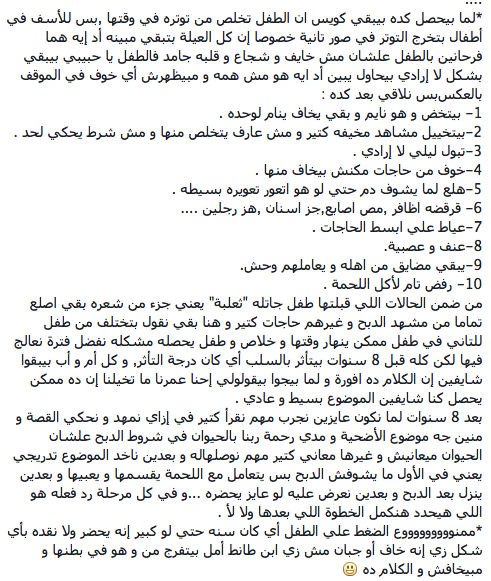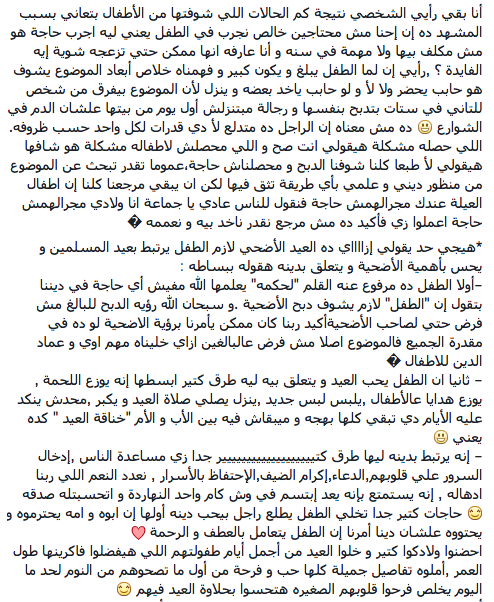 WE SAID THIS: Tell us what you think!