Here's how the story goes: Carla's always been the fashion guru of her family, and her sisters constantly borrowed her clothes, so that every time they were asked where their fabulous outfit was from, the answer would be, "Carla's closet!"
And so online boutique Carla's Closet was born, featuring pieces handpicked by Carla and her sisters Lora and Dina, and making international designers available in the region. We sat down with the Doss sisters to find out more about their impeccable taste and what they think of the current fashion trends.
How did you come up with the idea for Carla's Closet, and how did you first get started?
The three of us studied abroad and were exposed to a lot of different designers in the west, and so we realized that there was a large gap in the Middle East for designers who offer affordable yet high quality and creative pieces.
People tend to stick to what they know; however, with the large inflow of expatriates into the region, we noted that there would be a demand in this market for these designers.
So we started conducting research on designers from all over the world, selecting only those who provide both quality and creativity. Most of them were extremely excited to set foot into the region!
Carla's Closet was launched last summer, and you've already expanded beyond UAE deliveries; which other countries do you deliver to and about how long do the deliveries take?
Deliveries take a maximum of four working days to countries outside the UAE. Within the UAE, packages are delivered the next working day. The reason we expanded to countries outside the UAE is because we received a lot of requests specifically from Egypt!
What do you think of the current fashion scene in Egypt? And what can Egyptian fashionistas find on your website that they can't find anywhere else?
We are in love with the fashion scene in Egypt! We think it has evolved drastically in the past few years, with many taking risks and experimenting with different styles. However, the market in Egypt is limited to a few known stores, so the majority of people tend to shop at the same places and wear the same things.
Carla's Closet brings in designers new to the Middle East but renowned in their own countries, and makes them easily available for our customers in Egypt. Most of our pieces come from runway designers that offer affordable clothing such as Sass & Bide, Mara Hoffman, Alice McCall, Bec & Bridge and Rachel Pally.
How has your Egyptian background and growing up in the UAE affected your sense of style?
Our style started evolving in our late teenage years and blossomed when we went to university. Being abroad, we were exposed to so many runway designers with a vast array of styles.
We realized that being in the UAE, one didn't get much exposure to the fashion industry, so we thought why not introduce these very talented designers to the region.
Describe a typical Carla's Closet client.
She's individual, fun, unconventional and not afraid to stand out. She can go from street style to red carpet and look perfect in both.
She looks for quality not quantity, as well as distinct, limited pieces that are not abundant in the market. She's the busy woman with unique style who loves fashion and prefers the convenience of online shopping.
In your opinion, who are the best dressed Arab or Egyptian celebrities and bloggers?
Two of our favorites are Alia El Esseily and Mariam Yehia. They are the ultimate chic and they always tend to experiment with both international and local designers. They know how to make anything look good!
What do you think people should be buying now? What is the next fashion trend?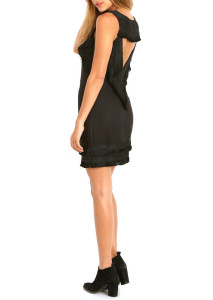 To be honest, we do not follow specific trends and we always think people should wear pieces that are unique and timeless. We always stress on the unique part because no matter what time of the year it is or what trend is floating around, if your pieces make a statement they will turn heads no matter what!
However, this time around, we noticed that Fashion Week was all about the 70s, which embraced statement prints and power shoulders just to name a few.
How do you choose your pieces and what is your favorite item currently on the website?
In simple terms, we buy what we like. Needless to say, quality is our number one requirement as can be seen from the designers we carry. However, when choosing the pieces to stock in our store, our top criterion is timelessness. As much as we love edgy clothes, we also believe that you should be able to wear any item of clothing more than once in its lifetime.
We don't stock mainstream items like plain t-shirts or regular bottoms. All our items are handpicked based on design, quality and edge. As a customer, you can expect to find pieces for everyday occurrences, as well as glamorous outfits befitting a special night out, or even a wedding party!
We love our Mara Hoffman "Open Back Mini Braided Dress", which is a gorgeous open-back mini dress which features braids and fringes along the edges of the dress.
Another favorite of ours this season is the Bec & Bridge "Nomadic Long-Sleeve Top", which features a cute bow above the draped open back blouse.
Also, our Mara Hoffman "Pyramid Pullover" is perfect for both the season and region! This cozy crew-neck sweater features a pair of camels on the front.
Anything else you would like our readers to know about you?
At the end of the day, we, the owners of Carla's Closet, are three girls with a love for fashion who got tired of always hunting for that perfect piece. You don't have to be a professional in the industry to know what's in and what's not, so we choose to only stock items we believe are truly distinguished, and will satisfy every other fashion lover out there.
And as we love to say, "Your style tells your story, so dress the part!"
WE SAID THIS: Don't miss 7 Must-See Boutiques in the UAE!