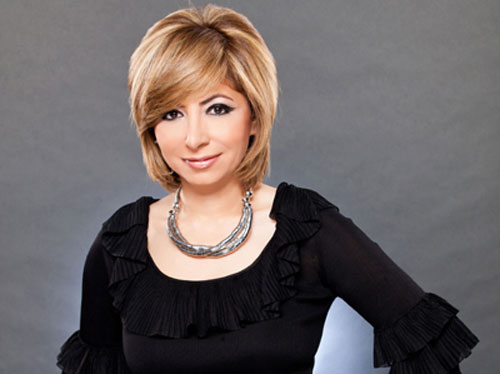 Egypt's biggest journalist, broadcast presenter and talk show host, Lamis ElHadidy, has been known for years for her serious no-nonsense tone. Her CBC show "Hona El'asema" has been tackling politics and economy ever since we first saw her. Yet, for the past few month ElHadidy has been showing us a completely different persona and we kind of love it.
Although ElHadidy was ranked as the 34th of the 100 most powerful Arab women in the world by Arabian Business in 2015, she had no problem unleashing her inner entertainer twice this year.
That time she joined the brilliant cast of Saturday Night Live Bel Arabi and had them perform a whole skit right in her studio, spoofing her and she joined in as well
When she allowed the same cast to spoof her relationship with husband, Amr Adib, and of course her hair bangs. That was simply epic!
Her Abla Fahita duet that went viral because el-Abla dared think she can beat the most viewed lady on CBC
And last but definitely not least, when she had it in her to actually sing and perform live in the Duplex. This definitely took a lot of courage 
https://www.facebook.com/abla.fahita/videos/696625443841729/
WE SAID THIS: Are we actually falling in love with Lamis ElHadidy?