One of the best things about spending Ramadan in the Middle East is the different Ramadan tents, or "kheimas" in Arabic.
People tend to go there at night to relax and socialize with friends and family over shisha, games, entertainment and food.
Of course, Dubai is known for it's extravagance, so with two weeks left of Ramadan, make sure you get around to checking out one of these gorgeous tents:
Palace Courtyard, The One & Only Royal Mirage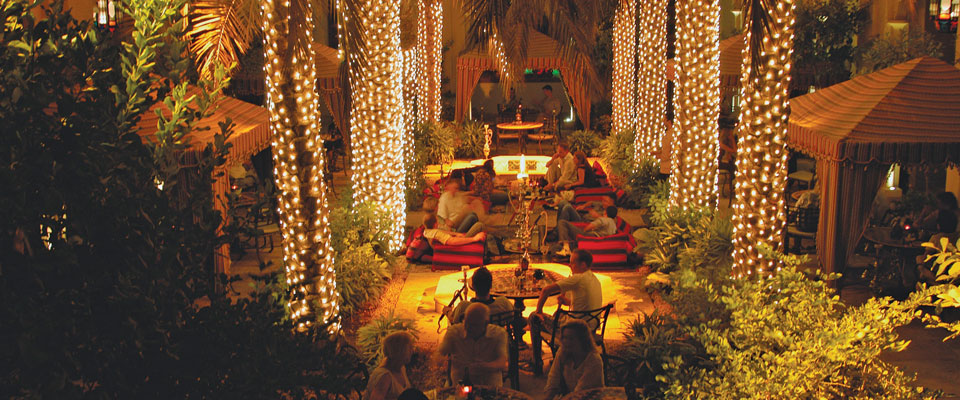 We love this tent for it's cozy and vibrant "Arabian Nights" atmosphere. With a very Moroccan feel and beautiful warm lights and colors, it's perfect for a relaxing post-fitar shisha and cup of Moroccan tea. The menu offers hot and cold mezzas, Arabian desserts, tea and shisha – simple and oriental.
There are two courtyard Ramadan tents in the same property, so make sure to specify the Palace when driving into the hotel. There is a minimum charge of 50 AED.
For restaurant information and reservations: +971 4 399 9999
Al Majlis, Madinat Jumeirah Arena
Al Majlis is the epitome of Dubai extravagance. Lavishly decorated with a massive star chandelier, crystals and arabesque patterns, this enchanting tent can fit up to 1000 people. It's open every night of Ramadan for fitar and again for suhoor from 9:30 pm to 2 am.
For restaurant information and reservations: +971 43666730
Asateer, Atlantis Hotel
Asateer is located at the famous Atlantis hotel on the Palm Jumeirah. The gorgeous tent seats up to 900 people and is open for both fitar and suhoor.
The fitar menus cost 195 AED a person, including juices. At 9:30, the suhoor begins and only guests over 21 years old are invited to relax with shisha to the sound of live traditional oud.
They also offer a prayer room and free wifi, if you feel the need to get in touch.
Downtown, Downtown Dubai (Next to Burj Khalifa)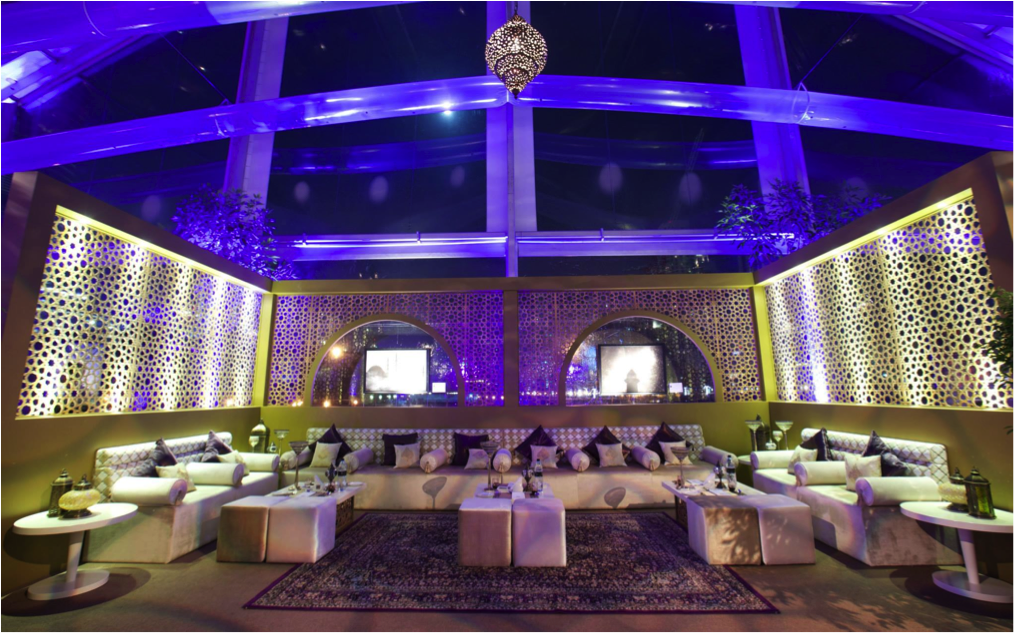 Right in the center of the city, Downtown provides guest with an array of options in one single tent.
Located at the foot of the world's tallest building, the Burj Khalifa, the tent has a courtyard seating area, a garden seating area with a glass view of downtown, and a private majlis seating area.
Don't forget the relaxing shisha, Emaar catered food and gorgeous décor. Who knew Ramadan could be so glamorous?
For restaurant information and reservations: +971 44238883
Bab Al Shams, Bab Al Shams Resort
Sometimes you need some peace and quiet. That's when you jump in your car and drive 45 minutes out of the city to the beautiful Dubai desert. The Bab Al Shams resort is a short drive away from the main city, and the perfect place to really feel the Arabian touch in Ramadan.
With temperature-controlled tents, it doesn't matter how hot it is outside. You can sit back, relax, and enjoy a hubbly bubbly shisha in the dunes of Dubai. There's entertainment, including music and tanoura dancers.
For restaurant information and reservations: +971 48096194
WE SAID THIS: Don't miss 7 Things We Love About Ramadan!