#100DaysofMyDubai – Day Six: 50 Shades of Sketchy Touring Al Mamzar
Aerial shot of Al Mamzar Beach Park during the day.
I'm sorry Dubai… this one isn't nice.
When you first arrive to Dubai, you are very much likely to stumble upon the word "Abra". The Abra is a wooden ferry, a traditional means of transportation that is both affordable and spacious (maximum 8-10 people on average in one Abra).
But for tourists, the Abra is more than just a service, it is one of the most prominent cultural icons of this city, one that showcases the "other" side of Dubai. Cruising on one is a breathtaking experience that you definitely shouldn't miss if you are here.
As a tourist, you are most likely going to experience this cultural icon in the following areas:
Madinet Jumeirah – Abra Tour
Dubai Creek, Deira & Bur Dubai – RTA Abra
Downtown Dubai – Fountain Lake Ride
Though they are beautiful, romantic and the closest thing we have to Venice's gondolas, they are also very well designed around the touristic experience.
So I, Dora The Explorer, decided to not go there, and instead check out the new, environmentally-friendly and relatively-untapped-by-tourists Electric Abra, which was recently introduced in an area not really known for its touristic appeal.
And that's how I went to Al Mamzar Lagoon, Dubai.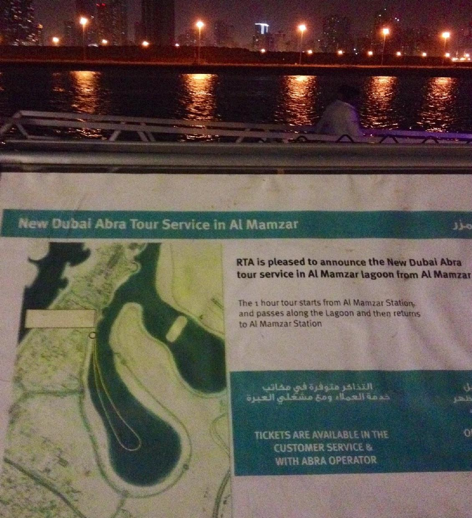 Note: If you know this area, I salute you, you get a +1. And if you know this area and actually went there, I will kneel before you with appreciation and give you a +100.
The cab driver I took from Emirates Towers didn't even know what I was speaking about and when we finally got there, guided by Google Maps, I asked him to take me to the Abra dock – and it was as if I was speaking gibberish.
We stopped two men around the beach to ask them, and they answered, "No Abra here. Go to Dubai Creek" and another one actually said, "I lived here for 10 years, we do not have an Abra or boat". Hmmm, guys, look at where I am pointing, yes, the blue lights right there – yup, THAT'S the Abra!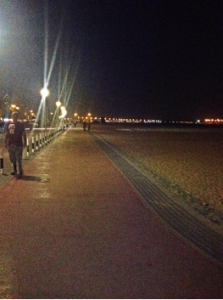 I left the cab and decided to walk to the blue lights, definitely underestimating the distance.
Spread out over 106 hectares, Mamzar Park has four beaches with palm trees, an open space for children and a pedestrian sidewalk. I must admit it is quite a beautiful sight and I did not at all mind walking.
However, word to the wise: Never go alone.
Other than the distance, I underestimated the amount of harassment (eye-teasing and verbal) that I would receive. The number of 4x4s that stopped, driving slowly as I walked, staring and calling out their numbers, was unbelievable.
I am totally used to this in Egypt, but the fact that it was happening in Dubai surprised me. There are occasionally areas where you get verbally harassed, but they are well-known and the guys give up easily if you don't give them attention.
This wasn't like that… What bothered me even more was the fact that this was happening to many of the women jogging or walking on the pathway. And no one bothered to stop and check if they were okay.
So I kept walking towards the blue light until I finally got to the dock.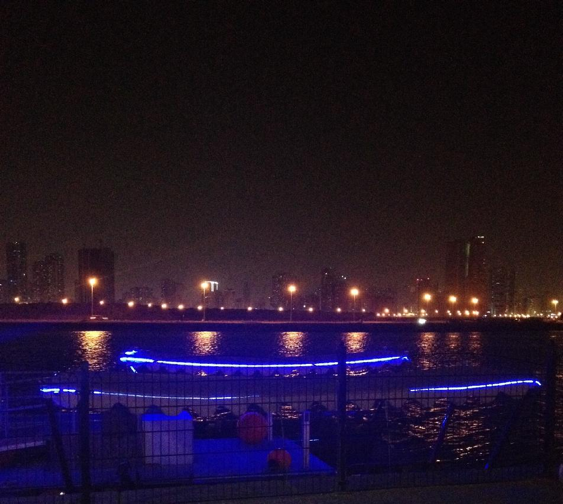 I paid 60 AED for a 30-minute ride alone around the lagoon, which was very relaxing.
The breeze was fabulous – absolutely no noise – and my driver Wahid was a really nice Pakistani man who kept singing as he drove.
It's quite ironic that even though I was alone with Wahid, completely cruising in the dark and in silence, I was not the least bit worried.
He even offered for me to drive and took a picture. After handing over my phone he said, and I quote, "Send to Facebook and do tag for me. You have Facebook?" Awwwww!
Finally, the cruise ended and I was back at the dock. It then it took me an hour of walking until I found a cab. Not a wonderful evening, but still, a great experience.
Tips & Tricks:
Go for the popular Abras.
Ensure you have a ride back home. Dubai Taxi Service: 04-2080808.
Do not wear revealing clothes.
Do not drink a lot of liquids before you head there.
And again, do not go alone.
WE SAID THIS: Check out Day Five of Rula's #100DaysofMyDubai adventures, when she went wake boarding at 7am, because why not?!