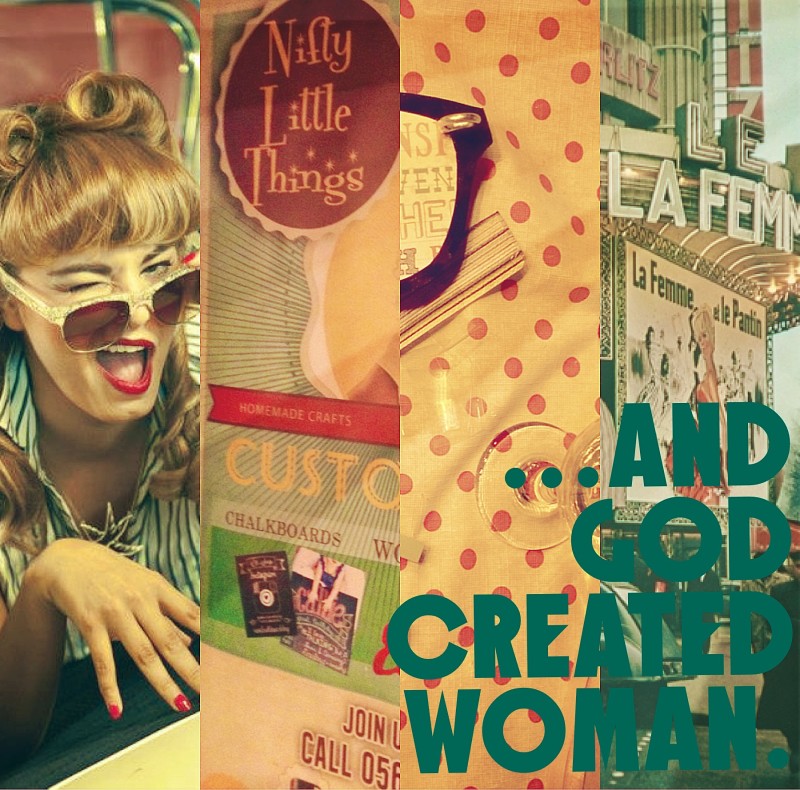 Mix some of Dita Von Teese's intensity with a little bit of Bridgette Bardot's bubbliness and you get @LizzyLizmar, CEO and Founder of Nifty Little Things, whom I call "Dubai's Femme Fatale".
On Day Eight of #100DaysofMyDubai, I got to meet Lizzy and a bunch of other ladies who really inspired me and reminded me of the power of a woman. And this is how it started.
I was supposed to attend a pottery workshop, one of Nifty Little Things many workshops, last Sunday, but couldn't get out of work. Two of my friends went and came back infatuated by 1. the experience and 2. Lizzy. I was intrigued and asked them to tell me more so that even if I didn't get the chance to experience it, I could write about it.
"Lizzy's branding was all about 50s and the pin-up style, but I was still shocked when I saw her in person. She's a walking pin-up girl with purple hair! And I wanted it – the hair, I mean." – Reshma Roy
"Before I knew it, an hour had passed by and I had gone from a lump of clay to a neat pot." – Reshma Roy with Zainee Kay at the Nifty Ceramic Workshop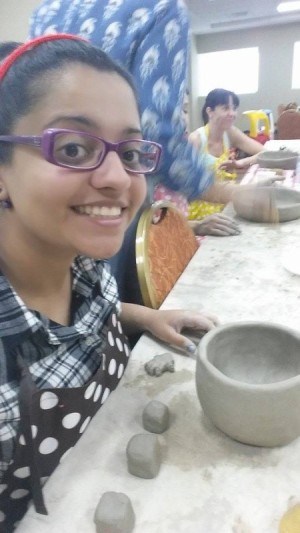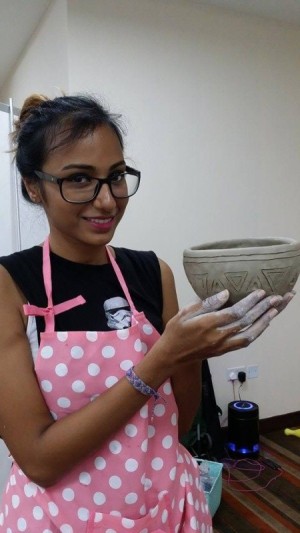 Luckily, I still had the chance to meet her. There was another event organized by Nifty, Remade DXB & My Ex Wardrobe at Fume, Pier 7.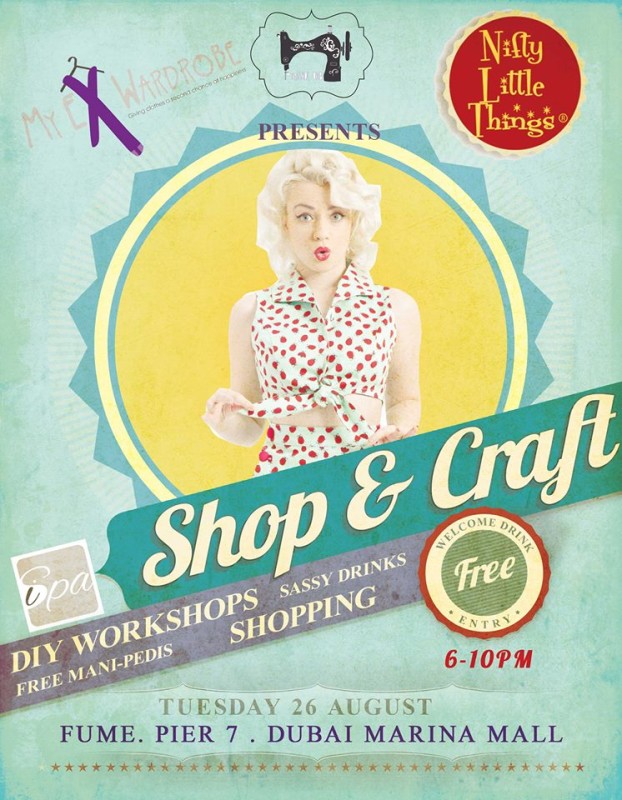 I've been to @FumeDubai once before and absolutely fell in love with it. The lighting, seating, service, the way it's so chilled out and the delicious food was enough to make it onto my top ten favorites. It also has a Lichtenstein blown up wallpaper outside its bathroom, need I say more?
I was so excited, it was all I was thinking yesterday. I couldn't wait to meet Lizzy, I couldn't wait to do something totally different and I was happy I'm finally unlocking the secrets of this city.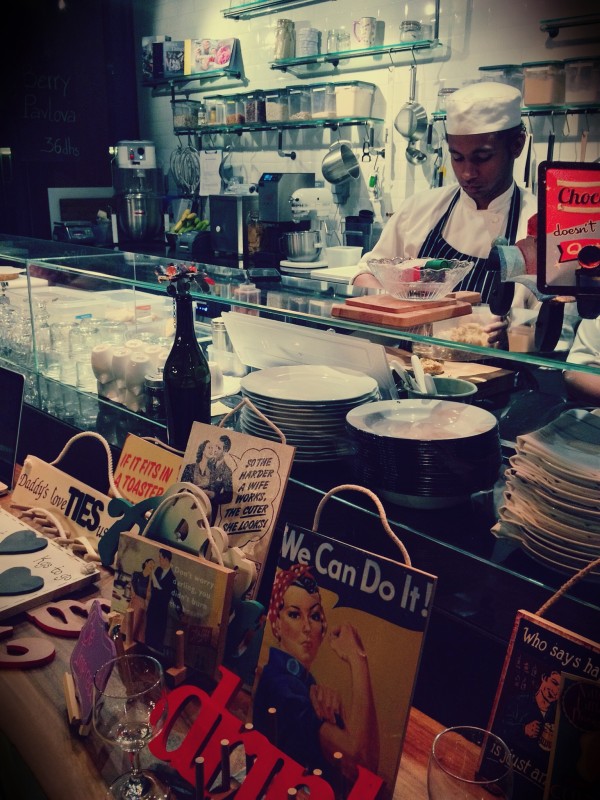 Walked in, positive vibe, great music, dressed up ladies, free cocktails flying around and lots of colors and vintage posters. It looked like I fell into Tumblr.
Let's get you in the mood: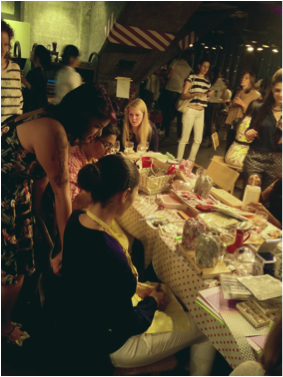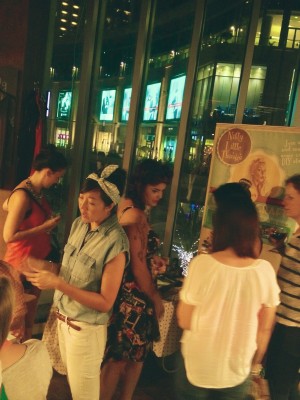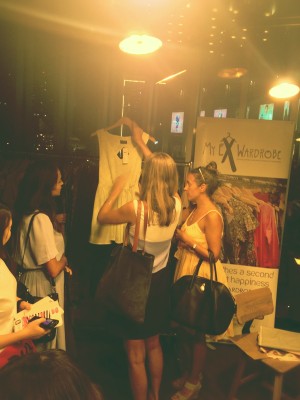 This retro-inspired event was a break from the monotonous dining and clubbing routine that Dubaians are known for and is the exact reason why Lizzy launched Nifty Little Things in 2013 when she got pregnant. Yes, this gorgeous woman has a beautiful baby girl and no longer has the luxury of weekend and late-night partying.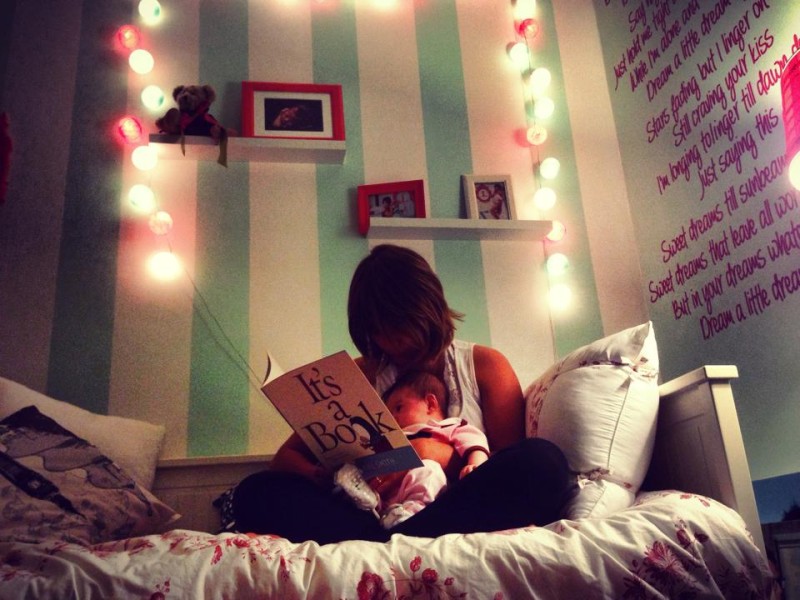 Back to Shop & Craft… I was walking around, going from one artsy-to-be lady to another. I told them I don't want to start crafting, I couldn't focus on one thing, I was bedazzled by everything and mesmerized by the amount of fun they were all having.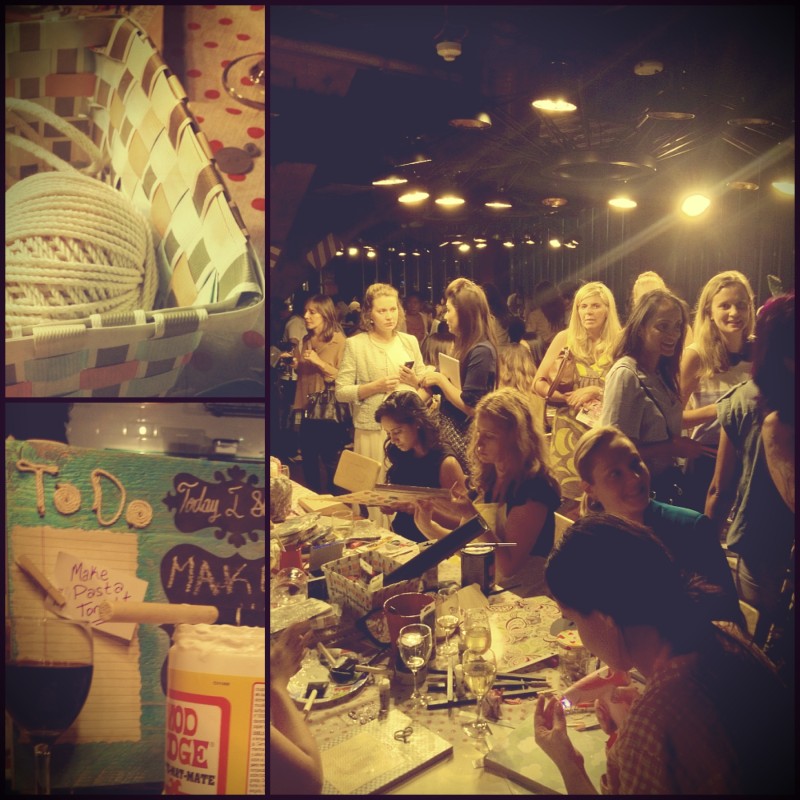 Girls just want to have fun!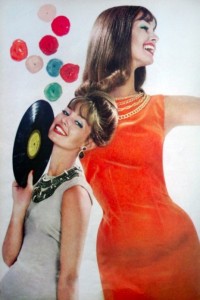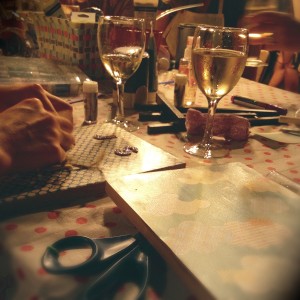 I also got my own piece to add onto my #100DaysofMyDubai Memorabilia Collection. Nothing more I could ask for at this point!
I was now happy and ready to leave. Everyone had already started packing, but I realized that it wasn't yet time to leave. It was time to mingle!
This is when I got to know Theresa Tsui, co-founder of reMADE DXB. One of my 100days will be spent with her and Paula (her partner) next week, but until then, a sneak peak on this amazing woman: She's another example of someone who followed their passion and started their own thing in Dubai, didn't conform to the lifestyle of materialistic possessions and has been loving her life here for seven years now.
Theresa, full of energy, confidence, positive aura and completely in shape, took me by surprise. When I got to know that she has an 18-year-old daughter who is going to college this fall – with the amount of Red Bull and cigarettes I consume per day, I'm definitely not going to look like that when I have an 18-year-old daughter! Time for change 😉
"People who follow all the rules and chase every trend tend to get forgotten – they look great, but they're not as memorable." – Dita Von Teese
* To Lizzy, for not being another brick in the wall.
Tips & Tricks:
Minimize this screen, and just jump to https://www.facebook.com/NiftyLittleThingsDubai/events. If you haven't been to one of those workshops and met those women, you are completely missing out.
WE SAID THIS: Don't miss Day Seven of Rula's #100DaysofMyDubai challenge where she discovers the "World's Thinnest Pizza".