#100DaysofMyDubai – Day 10: The Endless Search for the Perfect Getaway
When you no longer see Burj Khalifa, that's a sign that you're in trouble...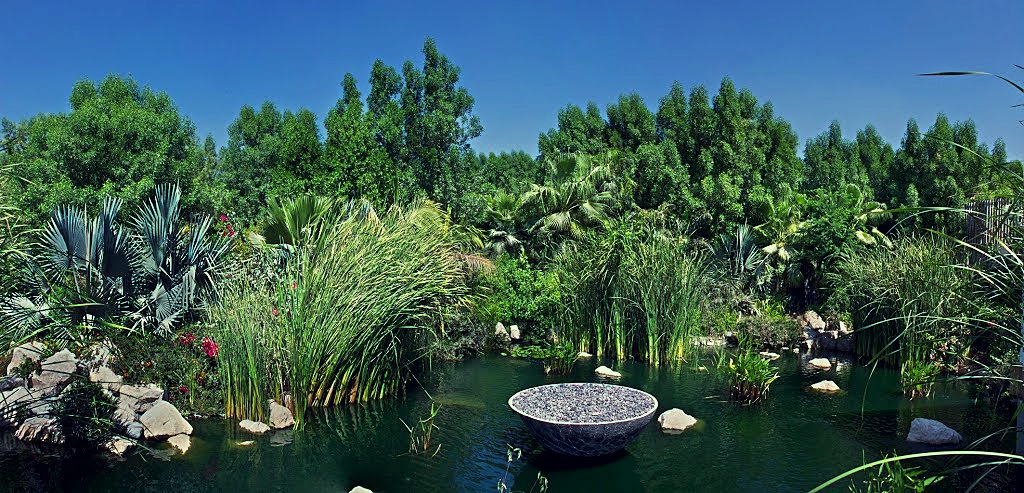 While Dubai's modern architectural landscape is awe-inspiring, it is only natural to crave, every once in a while, a more simpler, humble and grounded atmosphere.
Here's to the endless search for the perfect getaway, clutter-free landscapes and peaceful surroundings. Day 10 of #100DaysofMyDubai: discovering @TheFarmDubai.
The Morning After
Waking up from a sleep-deprived night to a couple of missed calls, a lot of WhatsApp messages and an overwhelming feeling that I really do not want to face what the world has for me today – that's the epitome of "the morning after".
Regardless of the actual intensity of the baggage you wake up carrying on these mornings – and the fact that the baggage is probably minimal, but you do not have the energy nor the ability to see its true weight – we all face those moments of wanting to walk around holding a DND sign.
Luckily, I can actually afford putting up a DND sign, and I had the #100DaysofMyDubai, my savior, as the perfect excuse.
A lightweight dress, a pair of sandals, my sunglasses, phone on silent and I am ready to leave the ordinary behind.
Unfamiliar Duality
In the cab, this is the landscape that appears as the driver says we are getting close to the place. Being an original cliché of a typical woman, my biological compass stops functioning and I really have no idea where we are – I couldn't even see Burj Khalifa!
So, I ask the driver, "Wait, where are we going? We're still in Dubai right?"
"Yes," he answers. We better be! This thing isn't really called #100DaysofMyAbuDhabi or #100DaysofMySharjah!!!
Turns out, @TheFarmDubai is located inside Al Barari compound, which is on the opposite side of the Emirates Road from Global Village. The irony is that in terms of cost and time spent on the road, it's equivalent to a trip from Dubai Marina to DIFC.
The fact that it's not on Sheikh Zayed Road and surrounded by a beautiful skyline gives off the impression that it's in the Kingdom of Far Far Away.
Inside Paradise City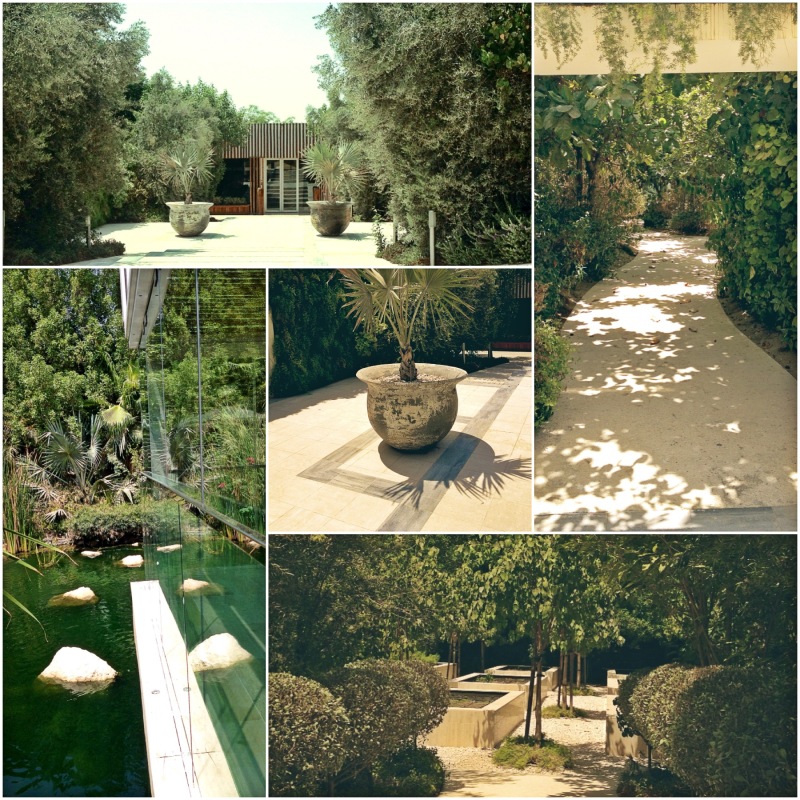 I contacted the PR team before I headed there and they were amazingly inviting and sweet via e-mail. Waiting for me was Maria, The Farm's Restaurant Manager.
"OH MY GOD! YOU'RE GORGEOUS!"
That's the first thing I tell her – no hello, no shaking hands, nothing. Just that. I admit not very "#100DaysofMyDubai" eloquent, totally scaring her off. Totally. But it's okay. She understands… I hope.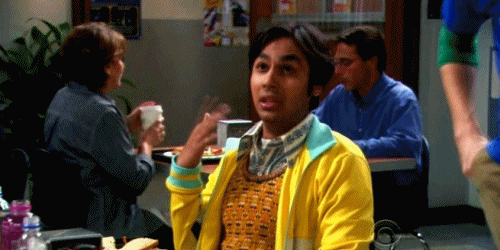 It gets better…
We started with a tour and a quick overview of The Farm's history, its mantra and what they do.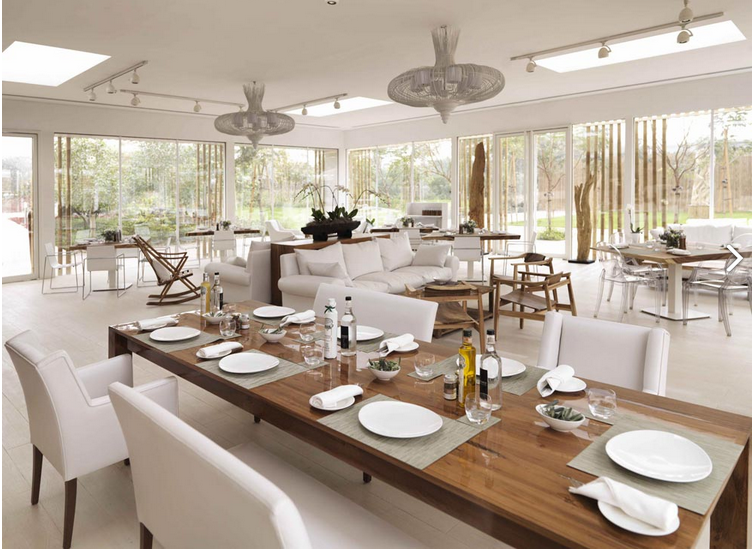 It's obvious how unique, distinct and exquisitely structured The Farm is. Owned by the Zaal Family, creators of the Al Barari residential compound and its entertainment facilities, The Farm is a contemporary eco-conscious creation from the set up to the fresh produce used in their dishes.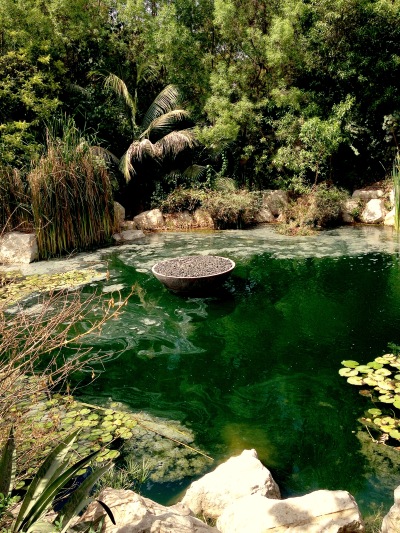 Slowly drifting, wave after wave…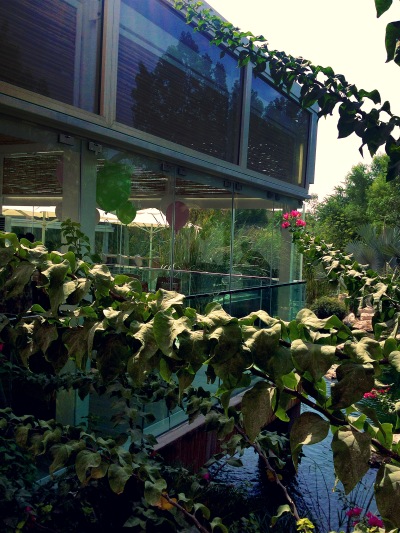 Hmm, remember my negative aura a couple of paragraphs earlier? Yeah, it's completely gone now. I am grinning, enjoying the breeze, admiring the waterfall, completely revamped.
Rejuvenated and relaxed, it was now time to feed my not-so-six-pack.
You Are What You Eat
Maria took me through the whole entire menu, option-by-option and ingredient-by-ingredient, which by the way, is on an iPad.
It's all made out of organic produce and fresh ingredients. They have a breakfast, lunch and dinner menu, catering to different tastes. They've also just introduced a Thai menu, which looked very appealing but the main dishes had a stronger impact on my tummy.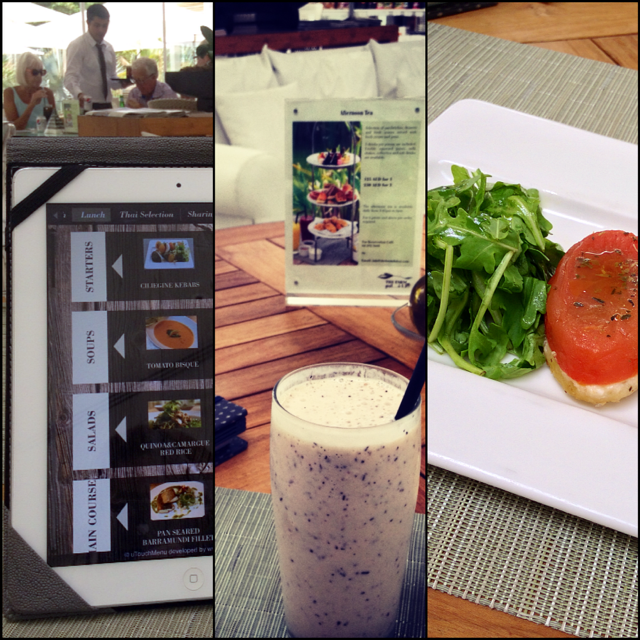 Maria chose the Tomato Tatin for an appetizer and Mushroom Risotto for my main course. I was very suspicious, though, as the photography in their menu is really really appetite-appealing.
So I had a challenge in mind. Since I am an ad-girl, I know exactly how to create stunning food shots and I know the amount of hours spent just to "style" a meal before we capture an image. So no menu on an iPad was going to fool me.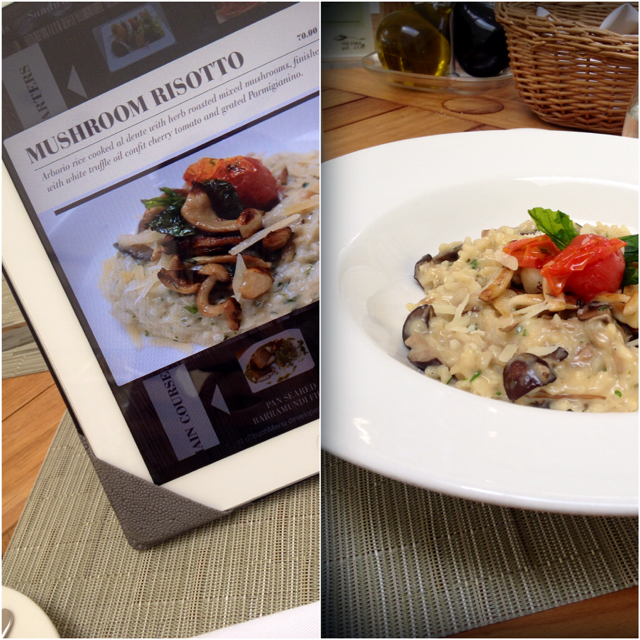 I lost the challenge, miserably. The Mushroom Risotto looked exactly like the image, if not better, and I devoured it in around five minutes maximum.
The Finale
One of @TheFarmDubai's hidden gems is their packed organic food and gifts corner. I don't really cook, so I skipped the food items and went for the gifts corner.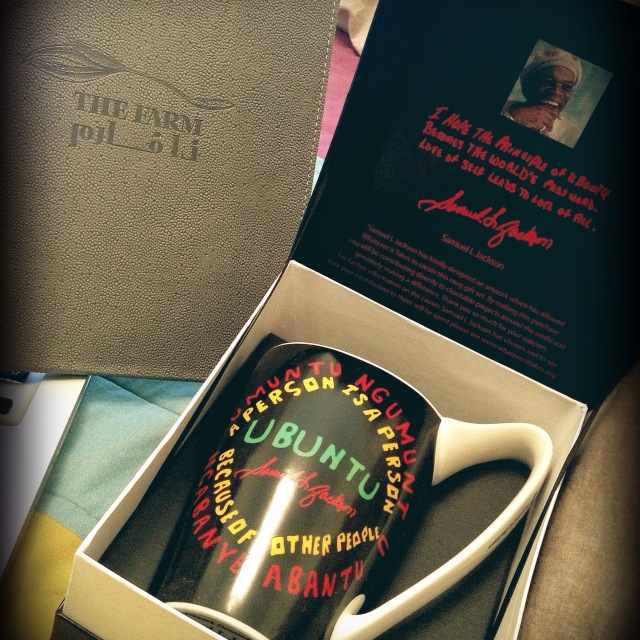 A fabulous tour, a phenomenal meal and a little bit of Samuel L. Jackson later, I was on my way home. I messaged my buddy, the one and only influencer, @TheAdly – who I was supposed to wake up and take with me, but I forgot – full of regret, telling him that if he doesn't come here, he is missing out on a lot.
@TheAdly reverts back 30 minutes later saying, "Ok. I'm on my way."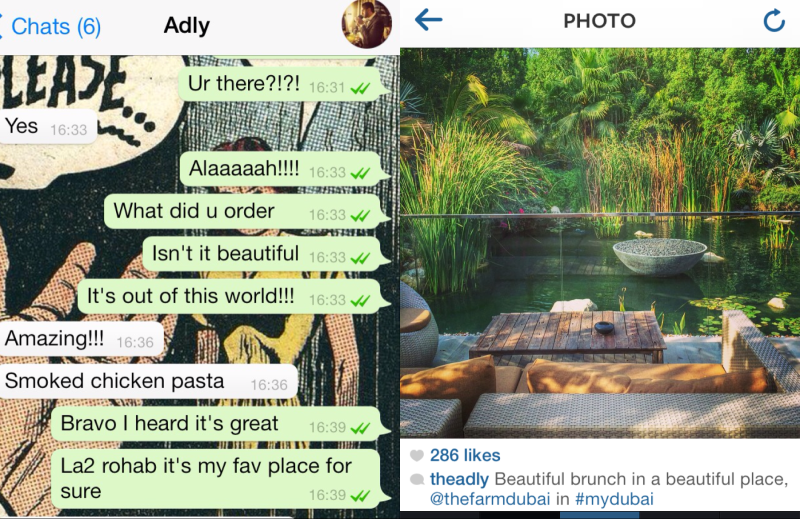 Happy times!
"Make visible what, without you, might perhaps never have been seen." – Robert Brensson.
* To Peach Bharvaga and Maria Parshina, thank you for making this an unforgettable experience. It would have not been the same without your passion for @TheFarm.
Tips & Tricks:
If you're going for lunch or dinner, don't have anything to eat before. You will want all that empty space reserved.
If you are going by cab, make sure to take the cab's number and let him come back to pick you up – no cabs exist in paradise city.
Have an event? For birthdays, baby showers, engagements, corporate meetings and more, they have an area for private events and you can book it through their website.
Check out their Facebook page – they always have updates on what's happening, from live jazz to yoga classes and, I was told, a big surprise is coming soon as well!
WE SAID THIS: Catch up on Day Nine of Rula's #100DaysofMyDubai, when she discovers her inner artist at thejamjar!