Here's What Youri Zoon, World Kitesurfing Champion, Had to Say About Ras Sudr, Surfing, and Pursuing Dreams
We were lucky enough to witness Youri Zoon -the World Kite Surfing Champion – in action. And no, we did not have to travel thousands of miles to meet Zoon, because Ras Sudr's 360 Kitesurfing Center brought him to Egypt, for a huge and unique kitesurfing event, AKA their anniversary!
While the whole event was amazing – with top class international and national kite surfers all gathered in one place to celebrate the center's day of birth – we have to say that what really stood out to us was the extent to which this location was ideally designed for kitesurfing. We are not kitesurfers ourselves, but we do know that the wonderfully windy weather we witnessed, and the shallow waterfronts we swam in are things which go hand-in-hand with creating a pristine kitesurfing location.
The most exciting part of our trip, however, was when we got to sit down with Zoon himself, for a brief interview.
Q: We understand that this isn't your first visit to Egypt? Where else have you been so far?
Yes, this isn't my first visit to Egypt. This visit, however, has been really special to me. This is my first time here in Ras Sudr. We have been having some incredible wind, in this gorgeous location. I have also been to Hurghada's Makadi Bay. I think that Egypt has some incredible spots, with shallow enough shore lines, ideal for kite surfing like the one here at 360. Moreover, Ras Sudr has perfect weather for the sport. I think, next to Brazil, Egypt has to be one of my favorite spots for performing this sport.
Q: You have been doing a lot of clinics (kitesurfing lessons) with a lot of the kite surfers here today, what is your favorite thing about teaching?
I think my favorite thing would have to be just watching people excel at this sport, and watching them learn new things. I just love it when I witness someone learning to master a new move, or just learning to play this sport altogether.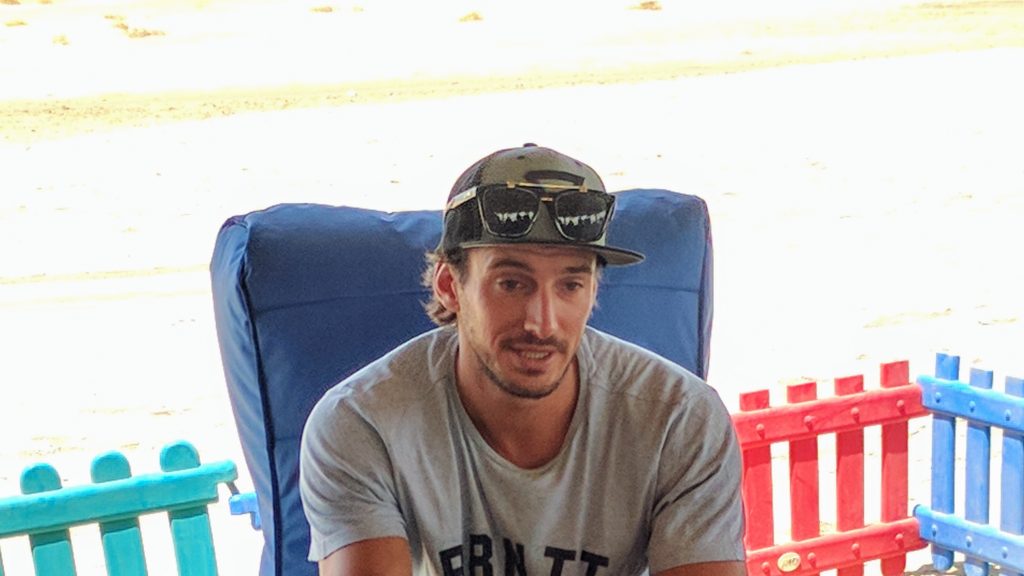 Q: What is you favorite thing about kitesurfing?
There are two things I love the most about this sport. Firstly, I really enjoy the freedom I experience while kitesurfing. Playing this sport is really freeing; it is genuinely like flying. My second favorite thing is the locations and the beautiful international destinations that I have gotten to visit, as a direct result of this sport.
Q: Out of all these international destinations, what would you say is your favorite one? And, why?
I would definitely have to say Brazil. The wind is just ideal there for kite surfing, and Brazil's landscape is just breathtakingly beautiful.

Q: If you were not a kitesurfer, what would you be?
I don't know. I have never thought of that, but I think it would still have to be some other water sport. Like I said, my favorite thing about this sport is the freedom I experience while in action, and the locations I get to visit because of it. Hence, I would definitely choose a water sport that can bring me both these things.

Q: You have chosen an unconventional path, you started playing professionally in high school, and you never went to college, what is your message to people – especially youths – whose dreams may take them down such unconventional paths?
I think there are too many people out there who would tell you "yes just fu** education, and pursue what you love!" I do not think, however, that this is always the wisest thing to say or do. While I am not at all against quitting a certain conventional life and career path in order to pursue what you love, you still have to be very strategic about how and when you chose to do that. I only decided to quite on education, for example, after ensuring that I am genuinely good at kite urfing, and that I can make a career path out of it. I started signing sponsorship deals and winning more and more internationally recognized awards, within this field of sport. It is not just enough to think that you are good at something; you need to ensure that other people see this in you, and that there is a viable and feasible path available to you, before you give up on everything to pursue what you love.
WE SAID THIS: Thank you 360 Kite Surfing Center for this wonderful and unique experience!