According to the Office for National Statistics (ONS), an estimated 46.6% of people in employment did at least some work at home in April of this year. Incredibly, 86% of those working from home did so as a direct result of the coronavirus, with this trend likely to continue indefinitely until a vaccine has been discovered for the virus. With remote working now increasingly prevalent in the western world, we ask how you can stay happy and healthy while doing your job from home.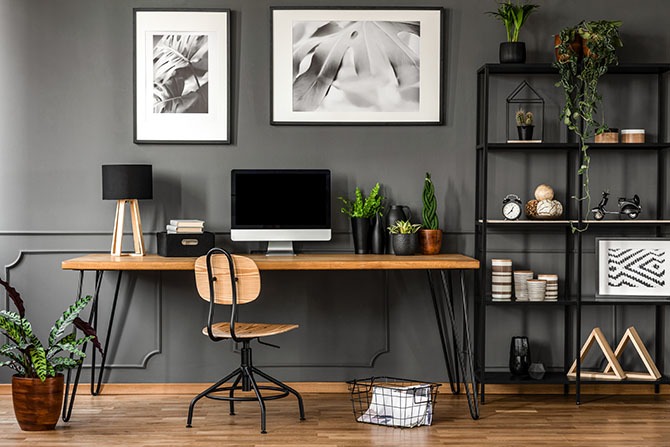 Create a Dedicated Workspace
If you're going to work successfully from home, it's imperative that you create a dedicated workspace away from distractions such as the television and the other people who share your living space. This also has safety implications, as it's far easier to maintain a decluttered workspace when it's separated from the rest of your home and utilized solely for the purpose of work.
To this end, your workstation must be both functional and entirely safe, so you'll need to ensure that you keep equipment such as your personal laptop, charger, and notepad close to hand and near your desk. From a safety perspective, using extension cables is a great way of creating an ergonomic setup and preventing wires from becoming serious tripping hazards.
Create a Viable Routine
This is also a key consideration, as creating a viable routine and work schedule also allows you to make time for physical activity and breaks away from the computer. For example, you're likely to save time during the day by not commuting to and from work, and you should consider using this to complete a physical workout.
Whether this involves going for a morning run or undertaking a weights session in the early evening, the key is to use the time wisely and focus on creating a healthier and more balanced lifestyle. You can also use the additional time to factor in breaks away from the screen, reducing the strain on the eyes and your posture over time.
Stay Connected with Your Colleagues and Loved Ones
Whether you continue to work from home indefinitely or as part of a further lockdown, it's important that you prioritize your mental health and stay connected to your colleagues and loved ones.
Of course, you're sure to connect with colleagues and managers through remote communication tools such as Zoom when working from home, but this isn't necessarily enough to compensate for the lack of corporeal interaction with people on a daily basis. Also, it's relatively easy for you to work extended working hours remotely, simply because the lines have been blurred between your professional and personal lives.
Altogether, this can create an inadequate work-life balance and an underlying sense of isolation, and the only way to overcome this is by proactively connecting with others and finding new ways of maintaining social ties.
WE SAID THIS: Tell us your thoughts in the comment section below.