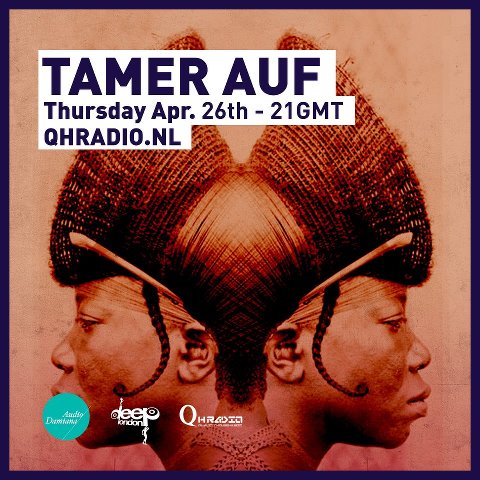 One of the most important stateside events on the dance music calendar, Miami's Winter Music Conference, will be celebrating its 27th edition in 2012. Having grown rapidly in the dance music scene worldwide, it has become an essential stop for artists, partygoers, promoters and labels. Winter Music Conference, in its 27th consecutive year, is one of the most publicized annual music gatherings in the world. A pivotal platform for the advancement of the industry, WMC attracts thousands of artists and music industry delegates from 70 countries and over 100,000 event attendees each year for a concentrated schedule of more than 400 events, parties, seminars and workshops.
This year, two of Egypt's most well-known DJs, whom I got the chance to interview, participated in the conference. Tamer Auf and Carlos both had different takes on the event.
Tamer Auf, as described in his personal biography, fuses classic dance influences (both underground and mainstream). Tamer Auf produces sleek and refreshingly upbeat sounds that merge tech undertones and deep house, tying them together with funky electronic beats. This year, he had a chance to participatein WMC for the first time, not just as a party-goer, but as one of the few Egyptian DJs to make an appearance in WMC.
I spent a few minutes discussing Auf's career and how it successfully took place during the conference.
Where did you play during this year's conference?
I played at the Red Bar, Beach Bar and The Shelley at the Catalina Hotel. They weren't official WMC events but they were happening during the WMC.
What genre of music did you play?
I mainly played Deep House. Started off with the sexy deep house tunes and then moved into the more hypnotic breed. My set was the closing set, which was from 3:00 to 5:00 AM, so I thought it needed that direction.
Did you include any original material?
None of my productions are ready yet for me to play in my sets. Once I have more time in my hand, I'll make sure that all my sets have original content, be it my own productions or edits of existing tunes.
How was the crowd's reaction to your set? Did it make a difference that you are from Egypt?
Well the DJ before me was playing to an empty dance floor. When I came on, I played a dramatic intro with a very cool track from Namito's "Of Mice & Hares". The bar had speakers outside of the hotel and the dance floor got pretty busy. By "pretty busy", I mean 30 to 40 people. The bar at the Catalina was quite small. I found out from the promoter that the dance floor was busiest during my set, and he actually offered to represent me in Miami and New York!
People were impressed to find out that I'm from Egypt; I actually got a couple of comments where people assumed I was from Miami because of my music.
Who were your favorite DJs/producers this year?
I listened to Carl Craig for the first time ever at Nikki Beach. I've never been impressed by any DJ like I was by him. He put the whole crowd in a trance and it was an incredible experience!
The Dirtybird Crew were also impressive. It seems like they are at a peak right now and will continue to dominate the sickest parties across the world in the coming years. Justin Martin, Claude Vonstroke, Catz n' Dogz and Eats Everything killed it during that day during a BBQ, followed by some indoor madness.
Have you attended any performances this year that you would like to share with us?

The Dirtybird BBQ is definitely at the top of my list of favorite performances. It was at a venue called Villa 221 in Downtown Miami, and the day was mostly spent in its outdoor garden.
My second favorite was a boat cruise called The Ship of Fools. It left the dock at 6 AM and returned at noon. Spending the early morning hours on a boat in Miami with 2 decks, featuring DJs such as DJ T. and M.A.N.D.Y. with an amazing crowd, was awesome.
Auf went on to describe the overall experience, "One last thing. I highly recommend any aspiring DJ/Producer to make this Miami music week an annual ritual to attend. It's very inspiring and shows you exactly what you're in for. It's a motivation more than anything. I'll be doing it every year and I plan on making my involvement even bigger than the one before."
To find out more about Tamer, you can visit his Facebook page.